Date:
Thursday, February 8, 2018
Description:
Weak snow at the ground continues to plague our snowpack. Though not a widespread problem, areas of unstable snow exist on steep, NW-N-E facing slopes right around treeline and above and human triggered avalanches up to 3' deep remain possible in these areas. I won't feel completely comfortable with these slopes for some time, maybe not even for the rest of the season if incremental snow loads keep adding to the stress. Dave Garcia's pit profile illustates the current snow pack structure well. Note the unstable base.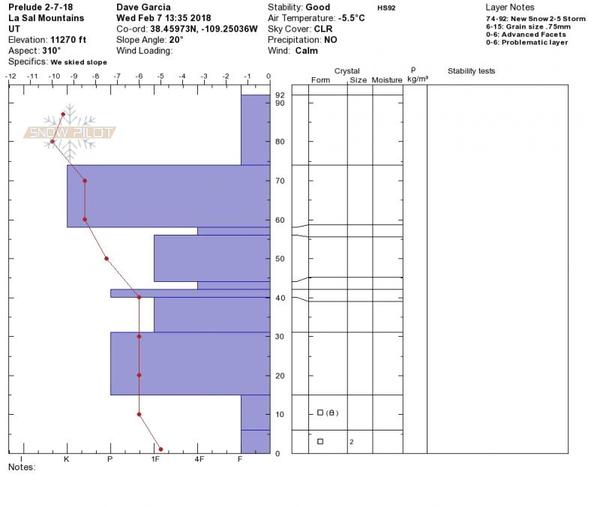 Special Announcement:
https://utahavalanchecenter.org/observations/36601Episode 3 of the UAC podcast is live. We talk with UDOT Avalanche Program Supervisor Bill Nalli on how he and his teams keep the Greatest Snow on Earth from avalanching over the open roads and highways of the state. Check it out on ITunes, Stitcher, the UAC blog, or wherever you get your podcasts.
The UAC Marketplace is online. The holiday auction is closed, but our online marketplace still has deals on skis, packs, airbag packs, beacons, snowshoes, soft goods and much more.
Current Conditions:
Tuesday's storm brought a much needed dose of around 6" of low density snow to the mountains making for a slight improvement in conditions, and bringing our meager base to within striking distance for off trail skiing. Coverage now ranges from around 16" to up to 3' in favored locations. A few diehards have ventured off into the woods, but deadfall and ground obstacles are still a serious issue. The strong sun yesterday affected the snow on exposed aspects. Dave Garcia was out and about and sent in this excellent observation.
Skies are clear this morning and It's 24 degrees at the Geyser Pass Trailhead. NW ridge top winds are averaging 10-15 mph.
Base depth at Geyser Pass Trailhead: 16"
Base depth in Gold Basin: 25"
New snow totals in Gold Basin.
Snow totals at the Geyser Pass Trailhead, (9600')
Wind, temperature, and humidity on Pre Laurel Peak (11,700')
Road conditions to Geyser Pass Trailhead: 3"-5" of snow exists on the road but many cars have made it up. 4wd and good tires are required.
Grooming conditions: Matt groomed all trails and set classic track on Wednesday.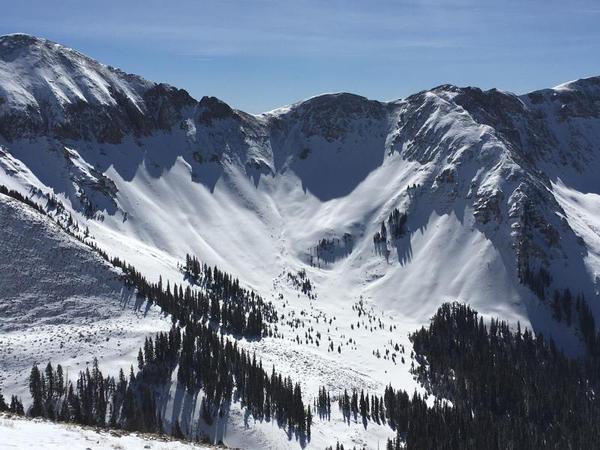 Upper elevation, north facing terrain is finally starting to look like it has a enough snow for turning. The problem is, this is precisely the kind of terrain where you could find avalanche problems. More on that below. Dave Garcia photo.
Mountain Weather:

Bottom Line:
The avalanche danger is MODERATE today and heightened avalanche conditions exist in steep, upper elevation terrain that faces NW-N-E. Human triggered, persistent slab avalanches up to 3' deep, failing on weak, sugary, faceted snow at the ground are possible in these areas. The danger also exists for triggering a stiff wind slab in upper elevation, wind exposed terrain. At mid and lower elevations the avalanche danger is generally LOW.
Description:
There may be a few wind slabs still lurking about formed by NW winds over the past few days. Be on the lookout for smooth, rounded, hollow feeling pillows of wind deposited snow. You are most likely to find them on the lee sides of ridge crests and terrain features such as sub-ridges or gully walls in upper elevation, wind exposed terrain. A triggered wind slab also has the potential to step down creating a deeper and more dangerous persistent slab avalanche.
General Announcements:
The UAC has new support programs with Outdoor Research and Darn Tough. Support the UAC through your daily shopping. When you shop at Smith's, or online at Outdoor Research, REI, Backcountry.com, Darn Tough, Patagonia, NRS, Amazon, eBay a portion of your purchase will be donated to the FUAC. See our Donate Page for more details on how you can support the UAC when you shop.
Benefit the Utah Avalanche Center when you buy or sell on eBay - set the Utah Avalanche Center as a favorite non-profit in your eBay account here and click on eBay gives when you buy or sell. You can choose to have your seller fees donated to the UAC, which doesn't cost you a penny
This information does not apply to developed ski areas or highways where avalanche control is normally done. This advisory is from the U.S.D.A. Forest Service, which is solely responsible for its content. This advisory describes general avalanche conditions and local variations always occur.