Comments:
We rode in the Franklin Basing Area today. With 12 inches of new snow, all slopes rode well today. South slopes began baking in the March sun by about 11:00. East slopes stayed dry through the day. The best riding was found on north facing protected slopes where the snow was still deep and dry.
We jumped on several cornices and slope cut many steep slopes on all aspects and did not get anything significant moving. The most significant thing we saw was some dry snow sluffing on steep 40 degree north facing slopes around 9000 feet elevation (see picture). There were signs of some mid-storm sluffing on these same slopes but no slab activity of any kind. We got a pretty good look at many slopes today where you would expect to see avalanches and did not see any avalanche signs other than the sluffing already mentioned.
By the time we got back to the Franklin Basin Parking lot, the snow was heavy and saturated. Lower elevations will have a significant crust on them in the morning.
On the way home from work yesterday I noticed several slide paths on the East face of the Wellsvilles that looked to have filled in to about 2/3 full travel (North Fork Hell's, Old Logway, and South Gibson).
On the way out of the canyon tonight it looked like there may have been a natural slab avalanche up Mill Hollow at 8600 feet direct North of Logan Peak.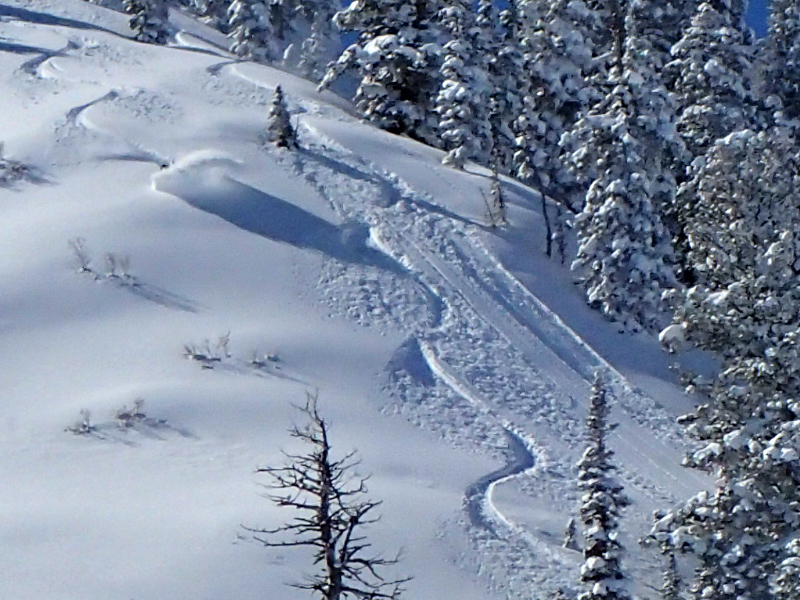 Snow Profile Coordinates: