Observation Date
Observer Name
Ament / Nauman
Region
Moab
Location Name or Route
Gold Basin -Talking Mountain Cirque
Comments
Today was a bonus round for this week's new snow. We were a bit skeptical that we'd find decent soft snow with no crusts, but Eric's recommendation to go high and north delivered us some remaining soft turns in heavy pow.
All over Gold Basin's high north aspects there were signs of folks going pretty big in steep alpine terrain. None of them appeared to have caused human triggered avalanches, but we still proceeded cautiously, one at a time across suspect slopes and near convexities. New snow and some mild winds had filled in others tracks that were laid down Wednesday right after the storm.
On a north facing slope, 150 vertical feet below a high ridge, we ran into some very firm wind sculpted snow. Then the sharp, pointy things came out to get us to the ridgeline safely.
This week's new snow has continually fallen right side up and bonded well to the old melt-freeze snow surface.
Our only significant red flag today was during a traverse of a steep north facing slope around 10,900'. We were kicking off impressive pinwheels that would reach the diameter of a small car tire before breaking apart as the rolled down the hill. Despite the building cloud cover all day, the warmth moved in and the snow surface was growing heavier in the afternoon. Time to get away from avalanche terrain.
With a pretty solid freeze on tap tonight, I'd guess that all but the highest, coldest north faces will begins to have thin crusts tomorrow. The transition to corn this week may be slow with cool temps, but today felt like we are turning a corner toward a more spring-like snowpack on all aspects.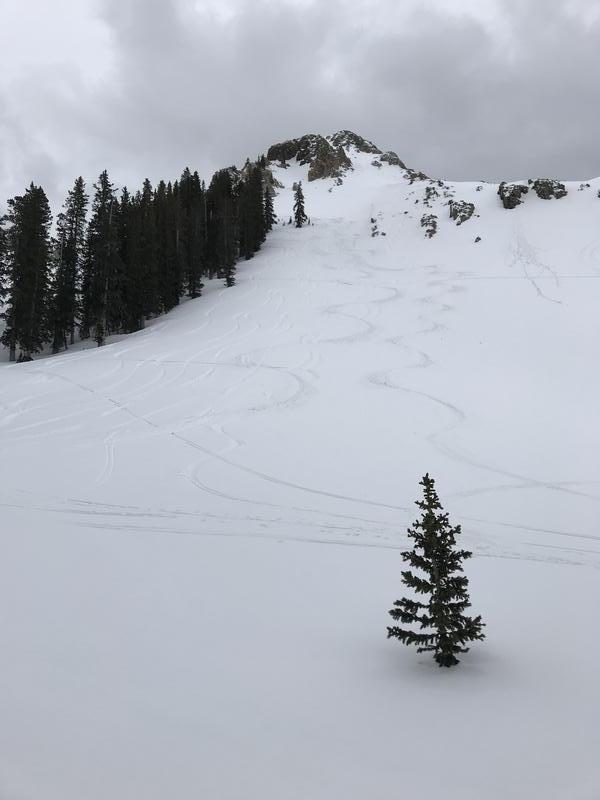 Today's Observed Danger Rating
Low
Tomorrows Estimated Danger Rating
Low
Coordinates