Observation Date
Observer Name
Evelyn, Nichole, Butch
Region
Ogden
Location Name or Route
Powder Mountain backcountry
Comments
Goal of the day was searching for old faceted pre-Thanksgiving snow.  Looked at two higher elevations, northerly facing slopes.  We found the facets, but the layer is very thin - maybe averaging 2 to 6 cm thick, up to 10 cm in a few places.  First two ECT tests in two different places - no fracture.  Third test, in the same pit as an ECTx - we got an ECT12.  There was no crust in the snowpack.
My overall feeling is on the high elevation, northerly facing slopes, the basal facet layer is so thin, that it's not continuous over the terrain, instead being broken by rocks and vegetation. I think there are only isolated places - above about 8500', northerly facing, with very smooth ground like rock slabs or grass - where you could connect a large enough area of the depth hoar for a slide to release.   Of note - we have few observations from the 9,000' to 9500' band in the Ogden area mountains, where the depth hoar could be a little more continuous.
Second snowpit profile above. Below, well developed, striated facets at the ground.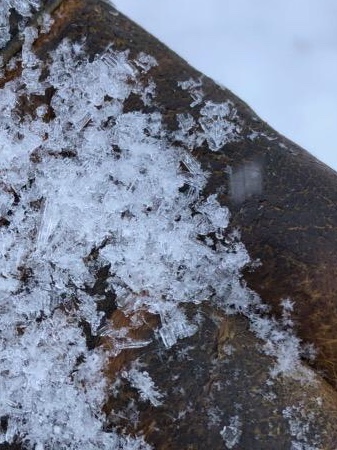 Today's Observed Danger Rating
Low
Tomorrows Estimated Danger Rating
Low