Forecast for the
Uintas Area Mountains
Issued by Craig Gordon for
Tuesday, January 22, 2019 - 3:11am
DANGEROUS AVALANCHE CONDITIONS CONTINUE ON THE EASTERN FRONT
In the wind zone at and above treeline the avalanche danger is HIGH. Deep, dangerous, human triggered avalanches are LIKELY on all steep wind drifted slopes, particularly those with an easterly component to their aspect.
Winds are penetrating steep terrain at mid elevations, where you'll find CONSIDERABLE avalanche danger and human triggered avalanches are PROBABLE.
In either case, any avalanche that breaks into deeper buried weak layers near the ground will result in a scary and potentially unsurvivable avalanche.
MODERATE avalanche danger continues on steep, lower elevation slopes facing the south half of the compass and human triggered avalanches are POSSIBLE.
Here's your exit strategy... simply head to big open meadows with no steep terrain above, adjacent, or connected to where you're traveling.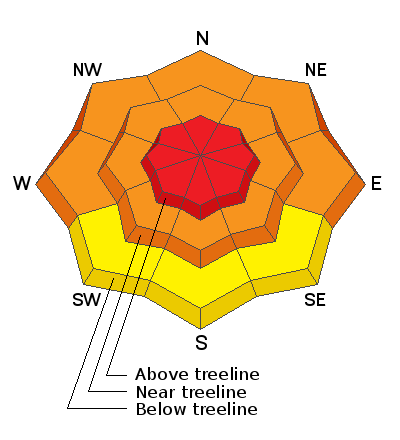 Learn how to read the forecast
here
Weather and Snow
While yesterday's storm underperformed, we still stacked up 8" of cold, dry, snow throughout the range. Skies cleared late last night, temperatures crashed into the single digits and yes, the moon remains larger than life. North and northwest winds are adding a bit of ruggedness along the high ridges where they blow 20-30 mph, allowing windchill values to register near -20 degrees... ouch. Unfortunately, strong overnight winds damaged large swaths of upper elevation snow and avy danger is High in the wind zone. But low elevation, low angle, wind sheltered terrain offers in your face surface snow and that rests on a soft, spongy base, with plenty o' rebound... mmm :)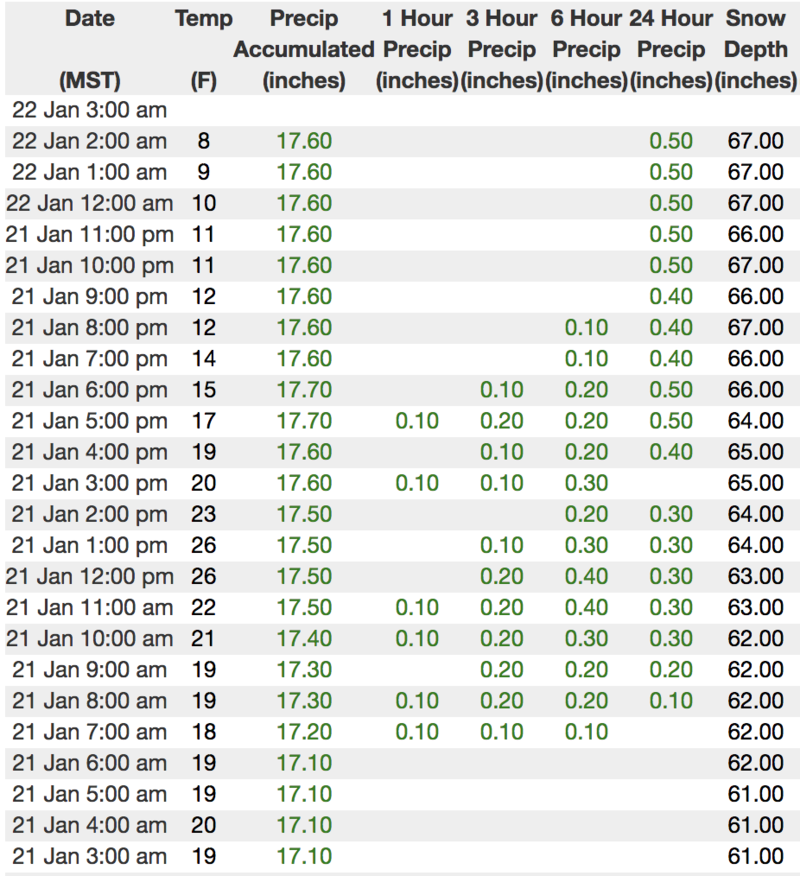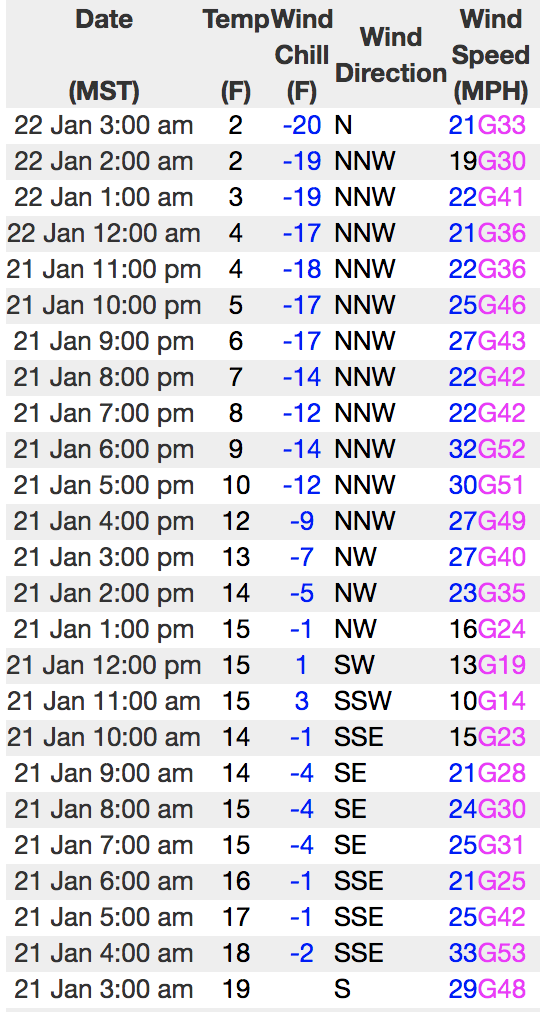 Above is hourly data from Trial Lake (9,945') and Windy Peak (10,662'). To view more regional weather stations click
here.
Recent Avalanches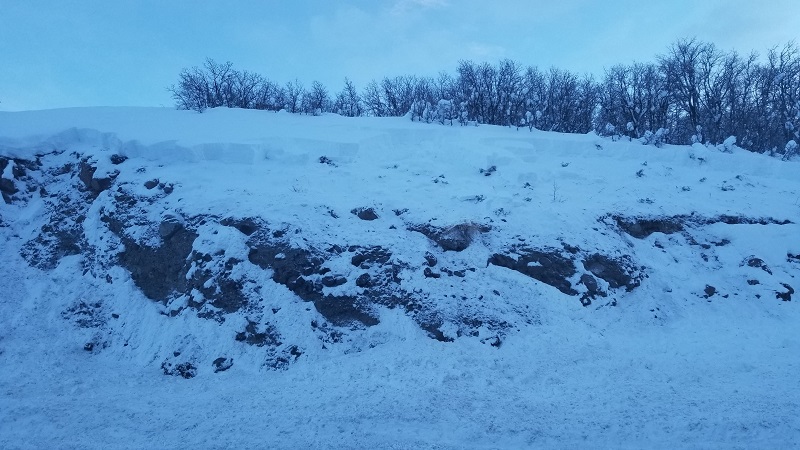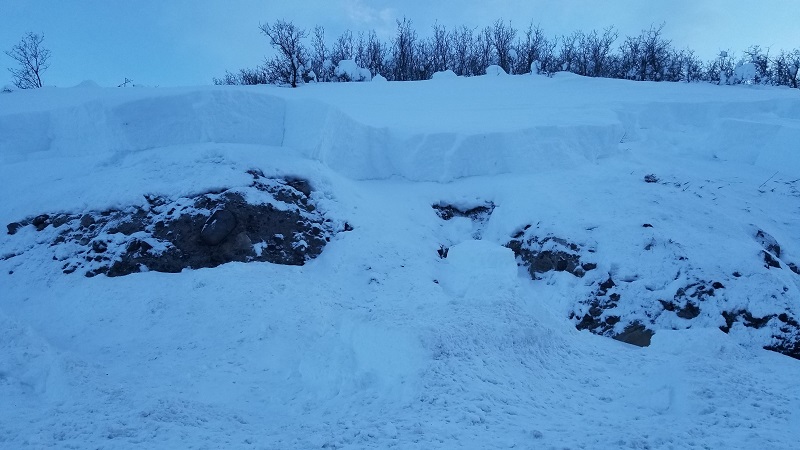 You know it's sketchy when the low elevation road banks come to life.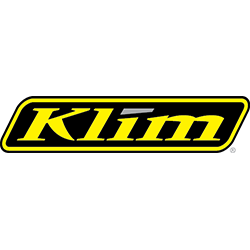 Avalanche Problem #1
Persistent Weak Layer
Type
Location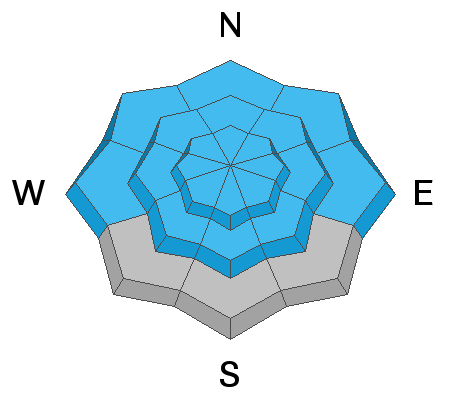 Likelihood
Size
Description
The avalanche warning might've expired, but the snowpack remains sketchy and the distinct possibility of triggering a deep, dangerous slide still exists. There's no mystery here.... as a matter of fact it's basic snow science. Now I'm no snow scientist, but what I do know is this... beginning last Thursday, the snowpack received a remarkable amount of snow, water, and wind. The bigger issue is all this added weight stacked up on a weak snowpack and it just needs a little break in the action and some time to adjust. What we need to do is practice a bit of patience and remember, in due time the pack will begin to heal and become a little less agitated. Right now however, we're at a critical juncture in the life of the snowpack where all it takes is for us to come along and collapse a slope, essentially knocking the legs out from underneath it, and now we're staring down the barrel of a dangerous avalanche.
So here's where it gets even more tricky. Many steep slopes throughout the range experienced a widespread natural avalanche cycle late last week, but recent snow and wind has filled in much of that evidence. So today it's all gonna look white and that's the challenge. You can ride some slopes without incident (perhaps they already slid) and think you're good to go, while an adjacent slope that remained intact throughout the storm, is just waiting for a trigger like us to roll up and tip the balance.
So how do we manage an unmanageable avalanche? We simply avoid it... avoid being on, underneath, or connected to steep wind drifted slopes. And here's your exit strategy... great riding conditions exist on low angle, low elevation slopes facing the south half of the compass. Done and done.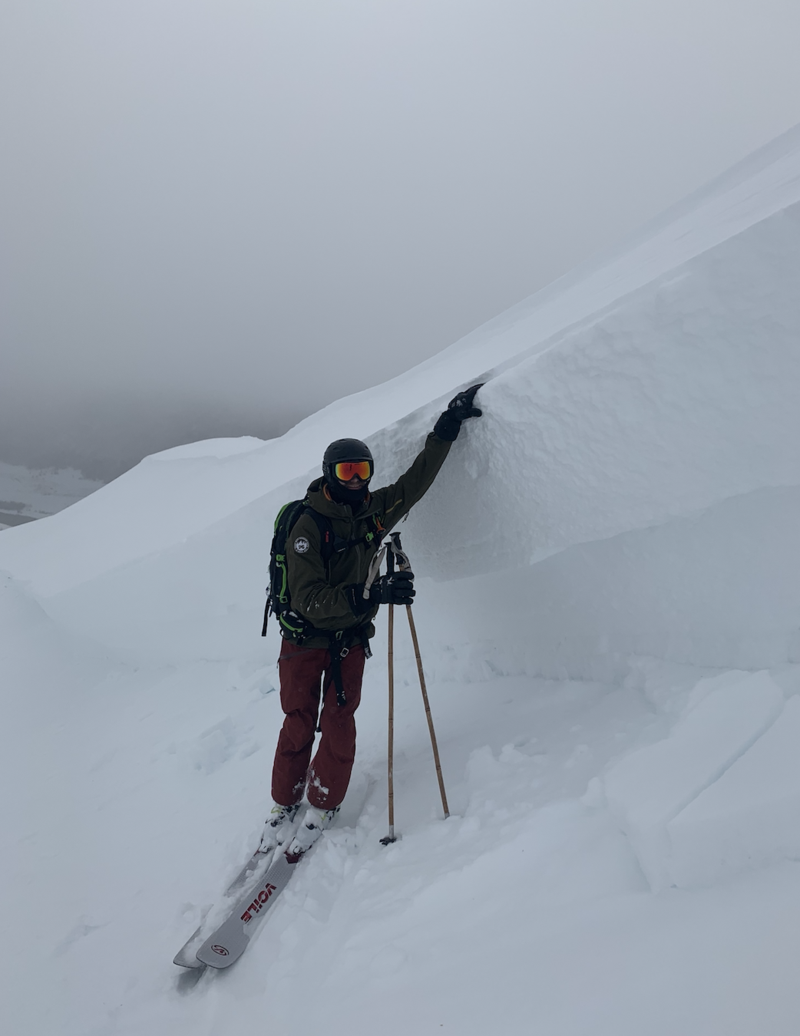 With a good thump Jason B triggered this monster Saturday on an upper elevation ENE aspect. Breaking 4'-6' deep and a couple hundred feet wide, this slide failed on weak, midpack snow and broke to the dirt in several place. Once triggered, these are the type of avalanche dragons that are coming alive in our snowpack.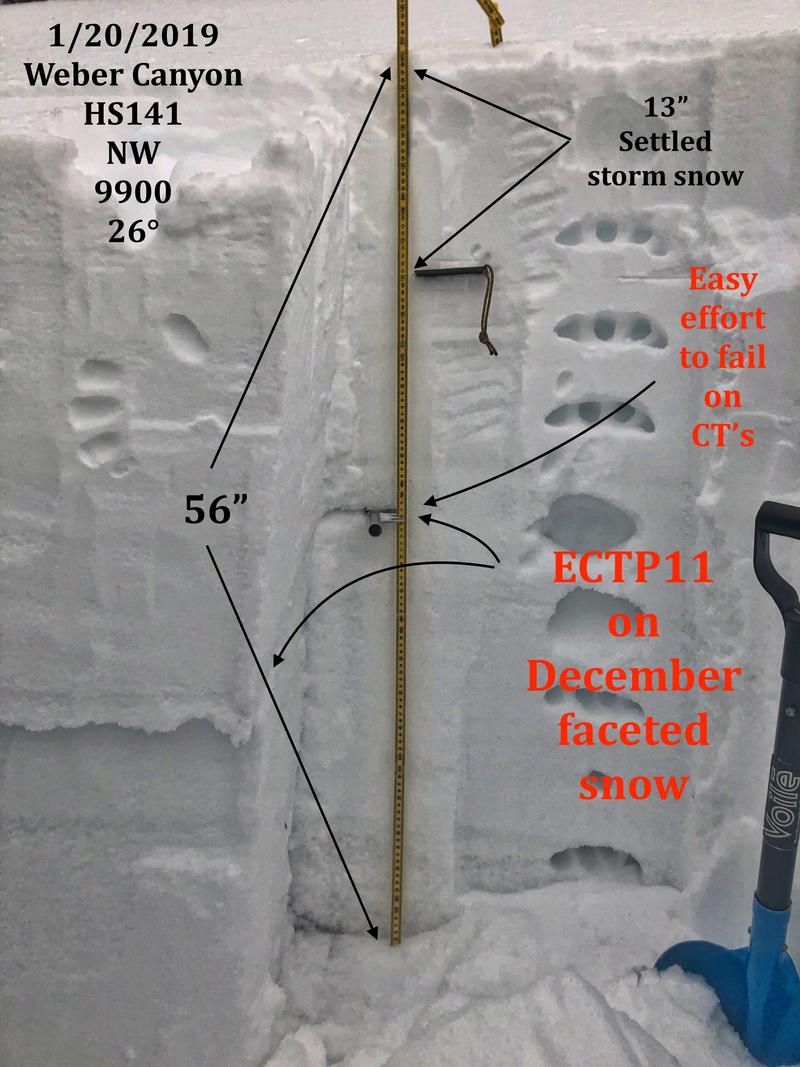 JG's beautiful pit profile clearly illustrates our current snowpack structure.
Avalanche Problem #2
Wind Drifted Snow
Type
Location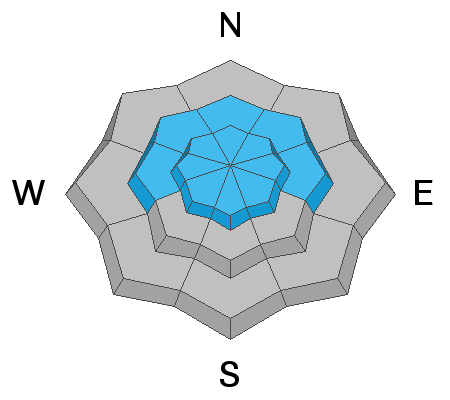 Likelihood
Size
Description
Winds are cranking and there's no shortage of snow to blow around and form fresh, stiff drifts along the leeward side of upper elevation ridges, in mid elevation terrain, and around chutes and gullies. Don't get fooled into thinking today's fresh drifts are the only avalanche dragon you're dealing with. Underneath the new drifts are old, connected drifts, that once triggered, will break deeper and wider than you might expect. Today you'll want to utilize all the awareness tools in your quiver. Look for obvious clues to unstable snow like shooting cracks out in front of our skis, board, or sled. Also remember to avoid any fat, rounded piece of snow especially if it sounds hollow like a drum. And finally the hugest clue... recent avalanches on the same kind of terrain you want to ride on.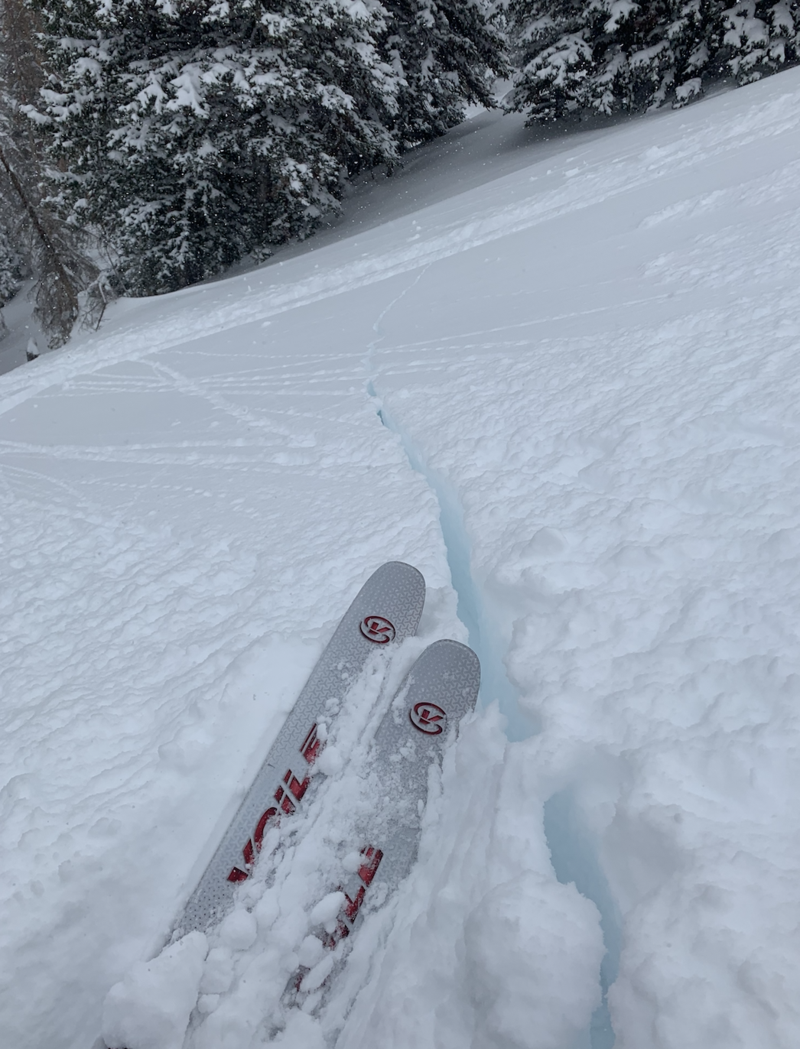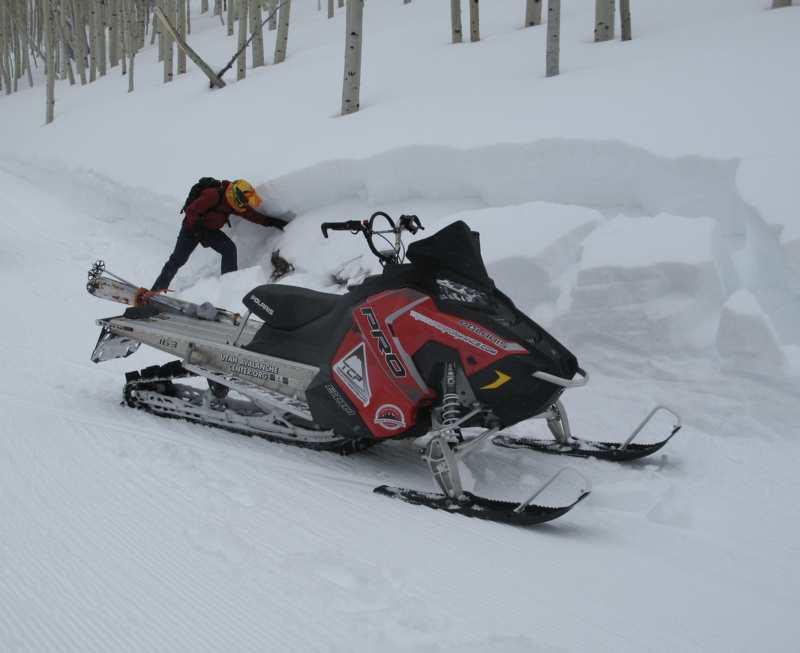 Road cuts are great test slopes where you can see how they react to your additional weight before committing to bigger terrain. My partner Jeff checks out a weak layer of sugary, faceted snow formed during the January cold snap.
Avalanche Problem #3
New Snow
Type
Location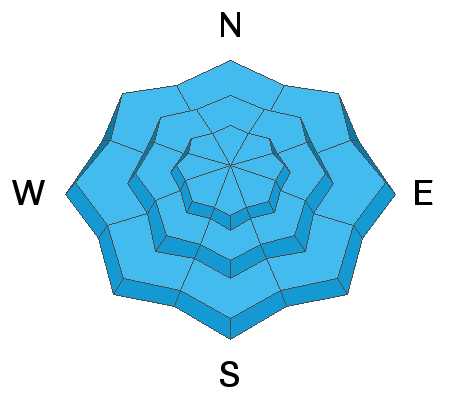 Likelihood
Size
Description
Recent storm snow remains reactive to our additional weight on all aspects and all elevations.
Additional Information
Expect partly cloudy skies with high temperatures climbing into the 20's and overnight lows in the single digits. Northerly winds relax during the morning, but increase late in the day as a small storm approaches for Wednesday. Nothing big.... perhaps 2"-4" by Thursday morning.
General Announcements
The information in this advisory expires 24 hours after the date and time posted, but will be updated by 7:00 AM Wednesday January 23rd, 2019.
If you're getting out and about, please let me know what you're seeing especially if you see or trigger and avalanche. I can be reached at craig@utahavalanchecenter.org or 801-231-2170
It's also a good time to set up one of our very popular avalanche awareness classes. Reach out to me and I'll make it happen.
This information does not apply to developed ski areas or highways where avalanche control is normally done. This advisory is from the U.S.D.A. Forest Service, which is solely responsible for its content. This advisory describes general avalanche conditions and local variations always occur.
Pages