Forecast for the
Salt Lake Area Mountains
Issued by Greg Gagne for
Tuesday, January 22, 2019 - 3:53am
The avalanche hazard is HIGH at upper elevations and mid elevations facing north through southeast, and CONSIDERABLE at mid elevations facing northwest through south as well as low elevations. The primary avalanche concerns are fresh wind drifts and storm snow, especially at the upper elevations and areas that received the most snow such as Little Cottonwood Canyon. Avoid slopes steeper than about 30 degrees and avoid avalanche runout zones.
The majority of avalanche fatalities in Utah have occurred with a Considerable hazard rating. Don't be fooled by evidence of stability today. Since this past Wednesday the Salt Lake and Park City mountains have received 3" to nearly 5" of water weight, and the snowpack needs time to adjust. Patience is the name of the game.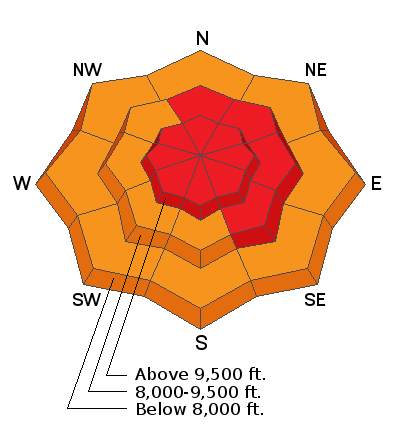 Learn how to read the forecast
here
Avalanche Warning
AN AVALANCHE WARNING CONTINUES FOR THE SALT LAKE CITY MOUNTAINS, where heavy snowfall and strong winds have created a HIGH avalanche hazard. Human triggered avalanches are very likely, and natural avalanches are possible. Avoid being on and underneath slopes steeper than 30 degrees, and avoid avalanche runout zones.
Special Announcements
On Friday, a skier was killed in an avalanche near Electric Lake on the Manti/Skyline Plateau. Their body was recovered Saturday morning. You can read the updated report - including photos and video from the accident site - by clicking
here
. The UAC extends our deepest condolences to their family and friends.
Weather and Snow
An impressive cold front arrived in the Salt Lake mountains around sunrise on Monday, with very heavy snowfall and strong winds lasting through most of the day, with snowfall rates at times a staggering 4-5"/hour. Storm totals are 1 - 2', with 1 - 1.5" of water weight. The highest storm totals are in upper Little Cottonwood, which typically fares the best with a northwest flow, but even mid elevations at 8000' received about a foot of new snow.
Temperatures this morning are in the single digits, but as my Dad used to say, at least the wind is blowing. Northwest winds picked up mid-day on Monday, and have been gusting generally in the 20' and 30's mph, but a few windier at about 10,500' have had gusts in the 40's. At 11,000' winds have been gusting in the 60's. Fortunately winds are forecasted to diminish during the day, with mid elevations gusting in the 20's mph, and upper elevations in the 30's and low 40's. Temperatures will be in the teens with partly cloudy skies.
Winds are forecasted to increase overnight, ahead of a weak system which should deliver a few inches of snow later Wednesday. Another similar weak system is possible this weekend.
Recent Avalanches
There was widespread natural avalanche activity yesterday, especially during the height of precipitation around midday. These were both storm slabs and long-running sluffs in the new snow. Human triggered avalanches were also reported, including very sensitive storm and wind slabs 1-2' deep and 50' wide (
excellent observation by Grainger/Young
). At the onset of the storm early yesterday, two skiers unintentionally triggered an avalanche on south-facing Emma Ridge and were briefly caught and carried, with fortunately no injuries (
observation
).
The south-facing slide paths of Little Cottonwood Canyon put on quite a show, with numerous slides from control work, but also natural avalanches.
With partial clearing today, we hopefully will get a better sense of the extent of yesterday's avalanche activity. [pc: Grainger]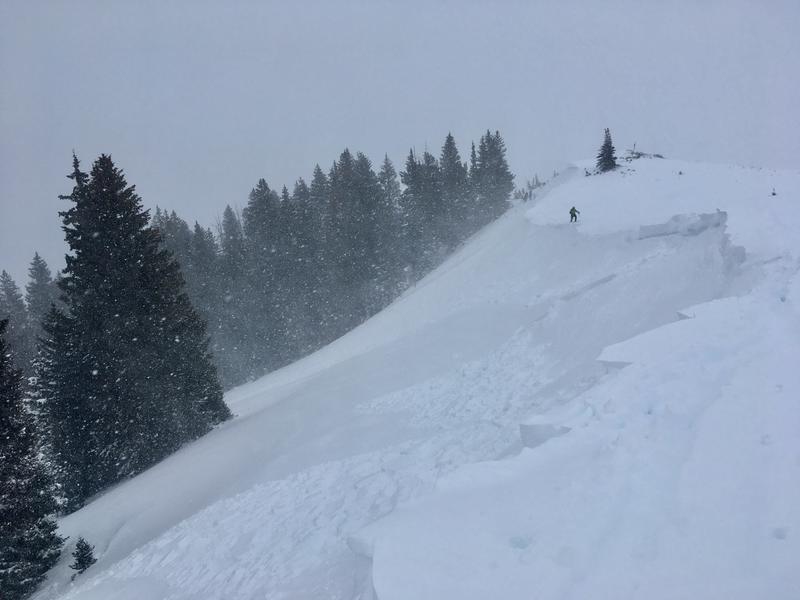 Avalanche Problem #1
Wind Drifted Snow
Type
Location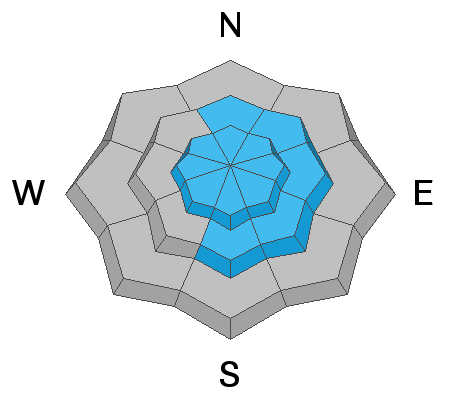 Likelihood
Size
Description
Persistent northwest winds drifted snow at the upper elevations on Monday, as well as some mid-elevation locations. With an abundance of loose snow available for transport, today's winds will possibly create fresh drifts, especially along exposed ridgelines. Two observations from Monday indicated sensitive wind drifted snow, including remotely triggering (from a distance) fresh wind slabs, as well as sympathetic releases (where one avalanche triggers another.) Avoid these fresh wind drifts by watching for evidence of recent wind drifted slopes such as rounded pillows of snow. Also avoid fresh cornices along ridgelines, especially on aspects facing north through southeast.
The photo below illustrates the windward direction (from right to left) which creates fresh cornices along the ridgeline, as well as rounded pillows of snow on the lee side of the windward ridges.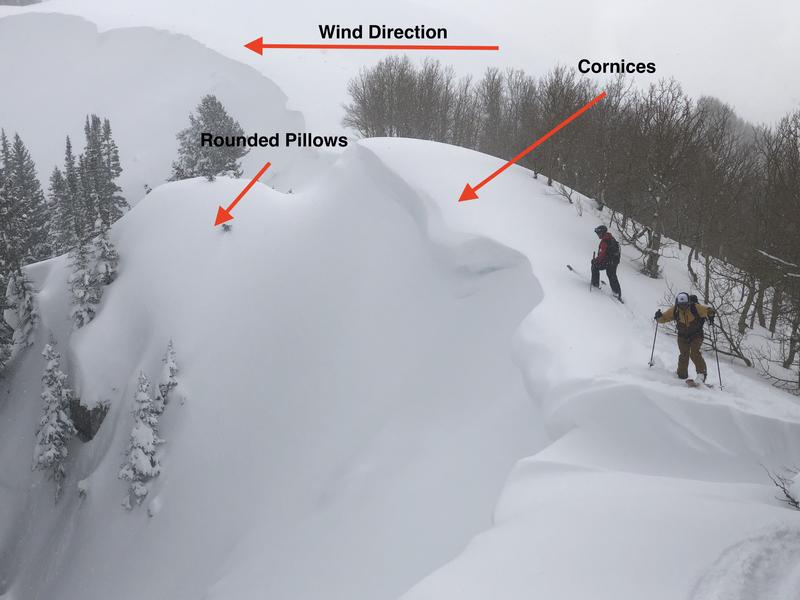 Avalanche Problem #2
New Snow
Type
Location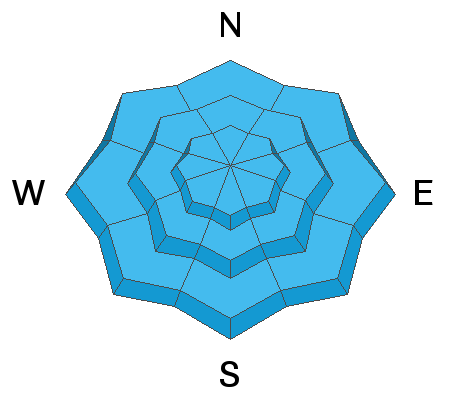 Likelihood
Size
Description
Monday's storm deposited a nice blanket of fresh snow, even at lower elevations. Although the storm snow should be much less sensitive today than yesterday, we did receive a rapid load of snow, and it needs a bit more time to settle out before becoming less reactive. For today you may find sensitive storm slabs, especially at the upper elevations that received the most snow, as well as loose sluffs. I also wouldn't rule out natural activity today, including long-running dry, loose-snow sluffs.
Finally, clouds, cool temperatures, and winds should keep the snow surface cool, but watch for any evidence of warming on solar aspects including rollerballs and wet, loose sluffs.
Avalanche Problem #3
Persistent Weak Layer
Type
Location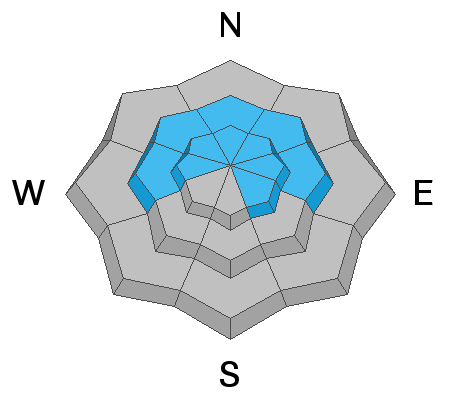 Likelihood
Size
Description
Our persistent weak layers continue to gain strength, and recent storm snow should ultimately help the stabilization process. But since last Wednesday, the Salt Lake mountains have received 3" to nearly 5" of water weight. This is a very significant load and the faceted layers need more time to adjust. In Nate Grainger's
excellent observation
from Monday, he mentions "We also found poor structure in the thin and rocky areas, isolated cracking to near-ground layers on slopes with S elements, and were surprised by one large collapse on ridgetop triggered from a rocky area." Mark Staples was in the mountains above Bountiful, and notes "somewhere between 7000 and 8000 feet the snowpack becomes dry and weak" (
observation
) which indicates faceted snow is possible at the transition between lower and mid elevations.
Additional Information
We have received several excellent field observations and reports of avalanches the last several days from "outlying areas" including the Sessions mountains, City Creek and Lambs Canyons, such as this remotely-triggered slide on Monday in Neffs Canyon (
observation
). As low elevation snowfall has helped fill in areas outside of the central Cottonwood zones, many are choosing to recreate in these outlying areas. No matter where you are traveling, treat all steep slopes as potential avalanche terrain!
Thanks to all snow safety workers on Monday including UDOT and professional snow safety teams at the resorts!
General Announcements
This information does not apply to developed ski areas or highways where avalanche control is normally done. This forecast is from the U.S.D.A. Forest Service, which is solely responsible for its content. This forecast describes general avalanche conditions and local variations always occur.
Pages