Description:
Watch this video (above) about things to watch for in the spring.
Special Announcement:
Ski areas are closing and each has a different uphill travel policy. Remember that areas open to uphill travel are no longer doing any avalanche mitigation work and must be treated as backcountry terrain.
Alta Ski Area is closed to uphill travel.
Current Conditions:
9:00 PM Monday April 30. After a very warm weekend, a cold front entered the Salt Lake mountains early Monday morning, with snow showers continuing through early afternoon before skies cleared. Snow totals were 4-8", with Little Cottonwood coming out on the higher end. One observer noted pockets of fresh wind drifts at the upper elevations from the westerly winds. 
For Tuesday, wet loose sluffs may be possible as the new snow warms from the strong early May sun as well as possible greenhousing. These sluffs shouldn't be large, but may be consequential if  caught below a steep runout zone entraining large amounts of snow.
With unsettled weather forecasted through Thursday, conditions may quickly go from cold, dry powder to wet, sloppy snow in a matter of minutes. Timing is everything. Be aware of changing rapidly conditions - especially if snow amounts exceed the 4-6" expected Wednesday and Thursday. 
High pressure is forecasted to move into the region late this week.
Year in Review - We'll be working on our 17/18 Annual Report in the coming weeks, but a few things of note regarding this winter.  According to our colleagues at UDOT Little Cottonwood where they've been keeping records since winter 44/45, the Alta Guard (UDOT LCC) currently sits at 42" of snow with 5.67" of water for April. April averages 66" with 6.65" water. (It seems unlikely that the weekend storms will put us anywhere close to that.)
For the season, the Alta Guard recorded 288" with 30.31" water. It's only the second time in 74 years of records that they did not break 300." This goes into the books as the second lowest snowfall on record (2014-15 was 274"), and third driest (1976-77 had 23.7" water and 2014-15 had 27"). If you plug April 2018 snow/water into our 74 year data set, our annual average drops to 486" snow with 45" water.
Still. Remember that days in the mountains are an absolute gift.  Good winters are a bonus.  Fortunately, this winter has taught us that the Wasatch - even in very lean years - offers a geography of hope. 
Mountain Weather:
April 16th's pre-frontal dust event was one to remember and dust on snow has many implications within the avalanche and snow hydrology fields.  A recent quick and dusty synopsis of an ongoing study by researchers here at the University of Utah can be found here.  With a little time, one can find a number of good articles and current research by many our our friends at (or previously) the U.  Some names you might recognize include Painter, Skiles, Landry (in Silverton), Steenburgh, Mallia, McNeally,  Maurer, Hahnenberger, Nicoll, Lin, Hallar, Bowling and others.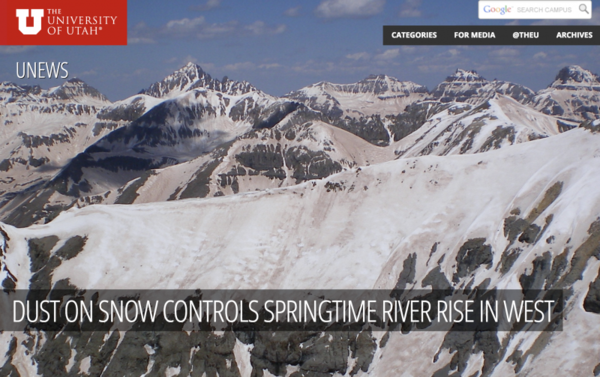 General Announcements:
CLICK HERE FOR MORE GENERAL INFO AND FAQ
The UAC has new support programs with Outdoor Research and Darn Tough. Support the UAC through your daily shopping. When you shop at Smith's, or online at Outdoor Research, REI, Backcountry.com, Darn Tough, Patagonia, NRS, Amazon, eBay  a portion of your purchase will be donated to the FUAC. See our Donate Page for more details on how you can support the UAC when you shop.
Benefit the Utah Avalanche Center when you buy or sell on eBay - set the Utah Avalanche Center as a favorite non-profit in your eBay account here and click on eBay gives when you buy or sell. You can choose to have your seller fees donated to the UAC, which doesn't cost you a penny
This information does not apply to developed ski areas or highways where avalanche control is normally done. This advisory is from the U.S.D.A. Forest Service, which is solely responsible for its content. This advisory describes general avalanche conditions and local variations always occur.
Pages