Forecast for the
Uintas Area Mountains
Issued by Craig Gordon for
Tuesday, December 3, 2019 - 3:51am
For today, in the wind zone at upper elevations, the avalanche danger is CONSIDERABLE. Human triggered avalanches are likely on steep slopes facing the north half of the compass, particularly those that harbor weak, pre-existing snow. Any avalanche that breaks to old snow near the ground will result in a deep and dangerous slide.
In addition, winds have been busy at work at mid and upper elevations and I bet there's a fresh wind drift or two that'll react to our additional weight. On steep, wind drifted, mid and upper elevation slopes you'll find a MODERATE avalanche danger and human triggered avalanches are possible.
Here's your exit strategy-
Wind sheltered low elevation terrain that held no old snow prior to the Thanksgiving storm generally offers LOW avalanche danger and human triggered avalanches are unlikely. South facing terrain with no old snow and big open meadows with no steep terrain above or adjacent to where you're riding is the ticket.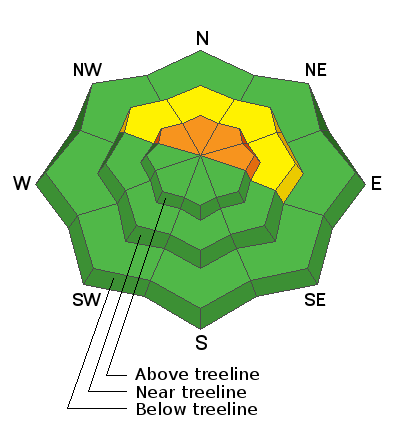 Learn how to read the forecast
here