Forecast for the
Uintas Area Mountains
Issued by Craig Gordon for
Monday, January 7, 2019 - 3:07am
Heads up... it's gonna get real out there today.
The mountain landscape has changed and dangerous avalanche conditions exist.
In the wind zone, at and above treeline the avalanche danger is HIGH. Human triggered avalanches are VERY LIKELY and natural avalanches LIKELY on steep slopes with recent deposits of wind drifted snow.
Any avalanche that breaks into deeper buried weak layers near the ground will result in a scary, dangerous, and possibly unsurvivable avalanche.
CONSIDERABLE avalanche danger is found on steep, wind drifted slopes at mid elevations, and human triggered avalanches are LIKELY, especially in terrain facing the north half of the compass.
Even low elevation terrain is getting in on the act where you'll find MODERATE avalanche danger on steep snow covered slopes.
If you're looking to ride today, simply head to big open meadows with no steep terrain above or connected to where you're traveling.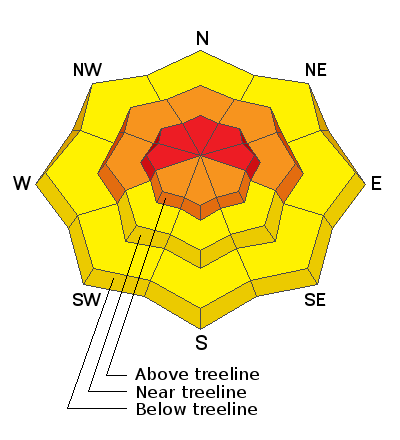 Learn how to read the forecast
here