Practice Sites
Avalanche rescue gear is useless without the understanding of how to use it. A real avalanche rescue is terrifying, stressful, and chaotic. To save your partner's life when you only have a few minutes requires beacon, probing, and digging practice.  Regularly practicing complete rescue scenarios, i.e., locating, probing, and digging up a buried pack is critical.  That is the best way to find weaknesses in your equipment or technique, like a probe that won't stay locked together or the frustration of digging straight down and finding yourself standing on your partner's head in a hole too small to work in.
Beacon parks provide an easy, convenient way to practice your skills.  The parks are free, open to the public, simple, and always on and available. To use the park, go to the control panel and select Beginner, Intermediate, or Expert. One to four targets will start transmitting a signal and a timer will begin. Pull out your beacon, switch to Search Mode, and locate the closest target.  Pull your probe out, assemble it, and probe for the target - when you hit it, it will turn off and you can more on to the next one.  Your total time will be recorded at the control panel. It is important to begin set up just as you would be in the backcountry - helmet, goggles, and gloves on, beacon inside your zipped jacket, probe folded in your pack, pack on your back.  That will help you find problems like difficulty in getting your beacon out and switched to receive with mittens on, difficulty getting your probe securely assembled, etc.
Wasatch Backcountry Rescue has partnered with Snowbird and Canyons to provide a beacon park at each resort (directions below). The Utah Avalanche Center and Backcountry Access have also installed a Beacon Basin at the Nobletts Trailhead in the Western Uintas, southeast of Kamas.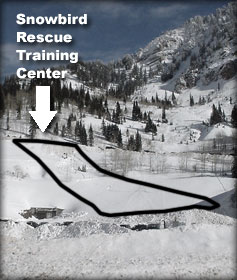 Snowbird:
If you go up Little Cottonwood Canyon to Snowbird Entry 4 take the bypass road and the RTC is located on the left side of the road just before the Powderbird's Heli-port.The second training park will be in summit county near the Canyons ski resort. Wasatch Backcountry Rescue hopes that the park will not only improve the transceiver skills of backcountry riders but encourage them to call the Utah Avalanche Center before heading into the mountains and to take an avalanche class to improve mountain awareness and safety.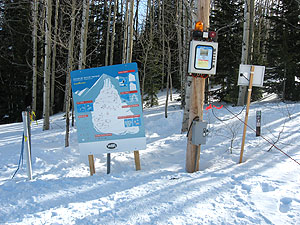 Canyons:
The Canyons Beacon Park is located mid-mountain, across the iron bridge as you head toward Tombstone , and is funded through Wasatch Backcountry Rescue.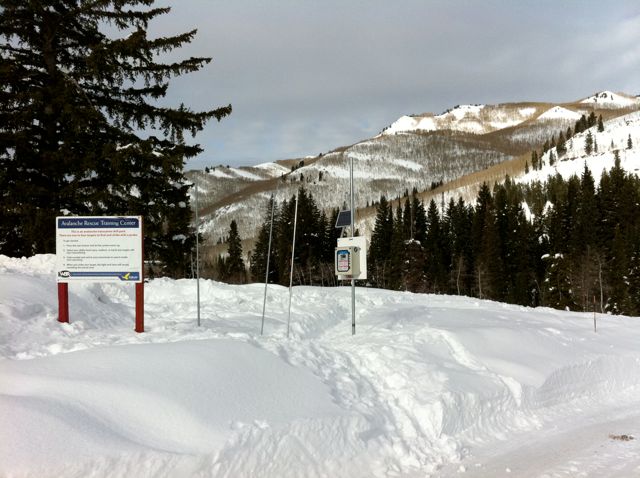 Solitude Mountain Resort 
Found on the west end of the Moonbeam Lot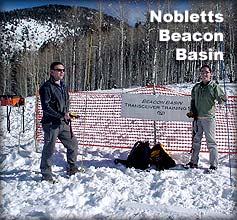 Nobletts:
This facility consists of eleven buried transceivers. To operate first open the control panel, insert batteries (be careful to make sure positive end is pushed into contacts), turn on the desired number of beacons by moving any switch (1 to 11) forward. Novices should practices with a single beacon exercise first.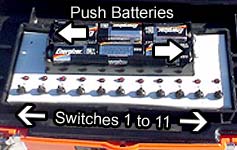 There should be extra batteries in the lid.
DO NOT DIG UP THE BURIED BEACONS!
There is a strike plate above each transmitter. When you hit this with your probe or shovel, you have found the beacon. Report any problems to
Craig Gordon.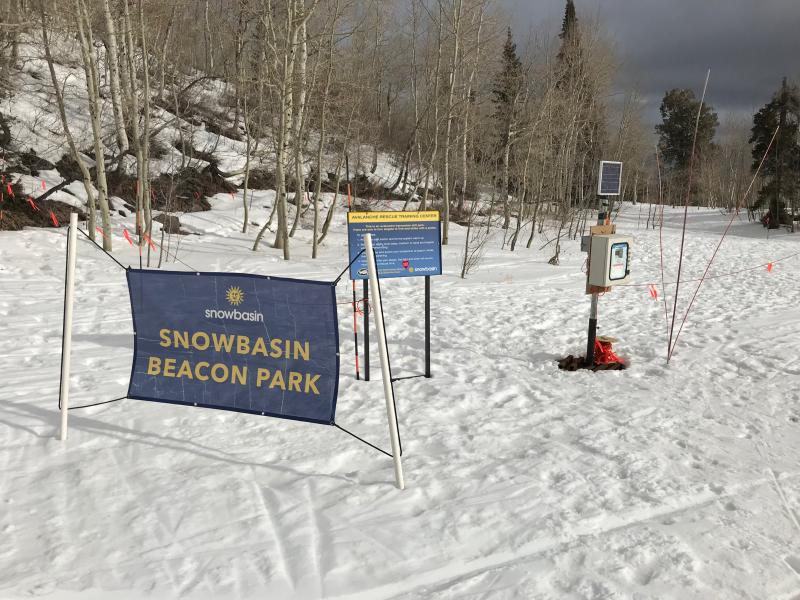 Snowbasin
The beacon park is located on the skier's left side at the bottom of Herbert's run. It is WNW of the bottom of the Middle Bowl Triple Lift. It is accessible by both lift accessed skiing and is conveniently located adjacent to our approved uphill travel route approximately half way up the route to ensure non-lift ticket holders can still take advantage of this great tool! Go
here
to read the uphill policies.