The danger roses for the Salt Lake mountains from Friday, December 9 through Thursday, December 15:

Summary: A long-duration storm that begins on Sunday evening and lasts through the week with 2.5' - 6' of snowfall in the Cottonwoods containing 1.5" - 2.75" of snow water equivalent (SWE) and 1.5' - 3' of snowfall in the Park City mountains (containing 1" - 1.5" SWE). Numerous natural and human-triggered avalanches are reported, with three avalanche accidents involving serious injuries and two requiring rescues. Most of the avalanches broke down 2-4' deep into the layer of faceted snow (a Persistent Weak Layer, or PWL) that formed during the mid-November dry spell. Much of the avalanche activity occurred at low and mid-elevations.  A huge thanks to Wasatch Backcountry Rescue (WBR) and Search and Rescue (SAR) for their rescue work in two separate avalanche accidents this week.
Saturday, December 10: Increasingly-strong south/southwest winds create sensitive slabs of wind-drifted snow at the mid and upper elevations with reports of wind-drifted snow 2-12" thick.
Sunday, December 11: Strong southerly winds and warming temperatures. Snowfall begins during the evening and persists through the remainder of the week.
Monday, December 12
: The UAC issues a Special Avalanche Bulletin (SAB) with a high danger on aspects facing northwest through east at the mid and upper elevations. Storm totals are 18-20" in the Cottonwoods with 12-14" in the Park City mountains. Natural avalanches Sunday into Monday morning during periods of heaviest precipitation intensity (PI). Avalanches are reported in
Daly Canyon along the Park City Ridgeline
(photo below).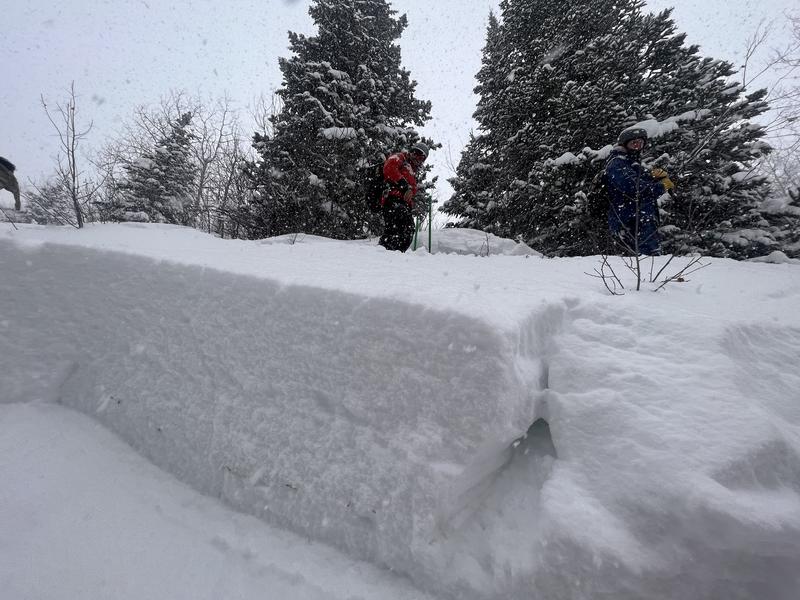 UAC forecasters Trent Meisenheimer and Mark Staples remotely trigger an avalanche in Beartrap Fork in mid Big Cottonwood:
Tuesday, December 13
: Snowfall continues with storm totals of nearly 3' in the Cottonwoods and 1-2' in the Park City mountains. An
avalanche accident in Pink Pine
 at 7,800' on a northerly slope that broke down 3' deep and 100' wide where a rider sustained injuries. Thanks to Wasatch Backcountry Rescue and patrollers from Alta and Snowbird for managing the rescue. (Photos below)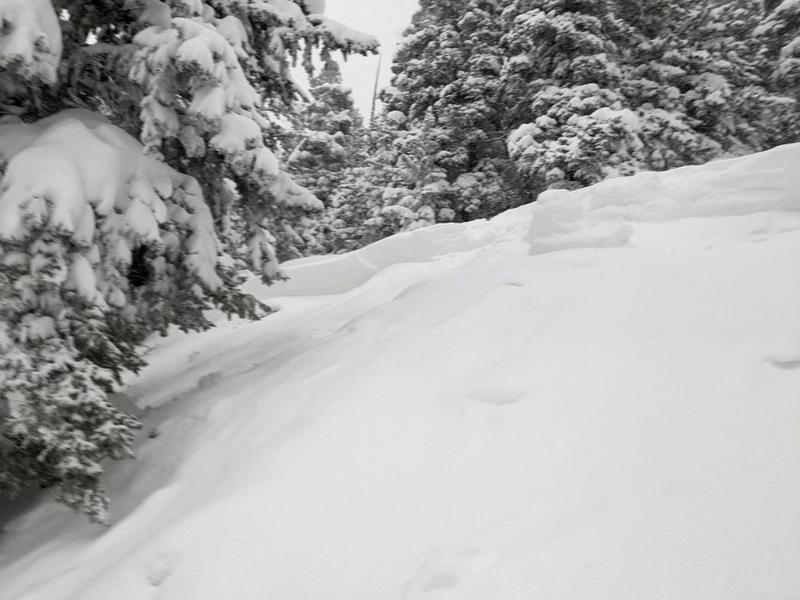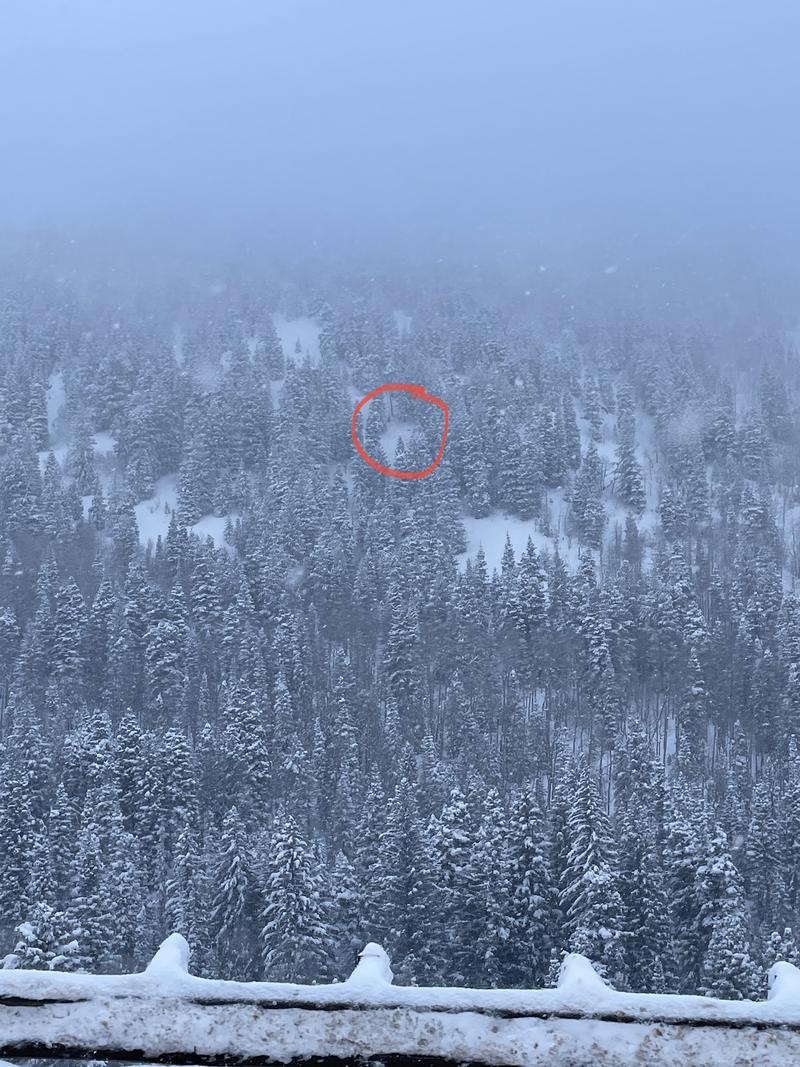 Drew Hardesty discusses the snowpack structure on a similar slope adjacent to where the avalanche occurred:
Wednesday, December 14: Snowfall continues. Storm totals are 3' to nearly 5' in the Cottonwoods and 2-3' in the Park City mountains. An avalanche accident at 7,200' on a northerly-facing slope in Thomas Fork in Neffs Canyon where a skier was caught and carried while sustaining serious injuries. Rescuers from WBR and SAR were finally able to get the victim down to an ambulance after an eight hour rescue in complicated terrain. The image below shows the approximate crown of the avalanche and where the victim ended up. The slide failed in the layer of November facets.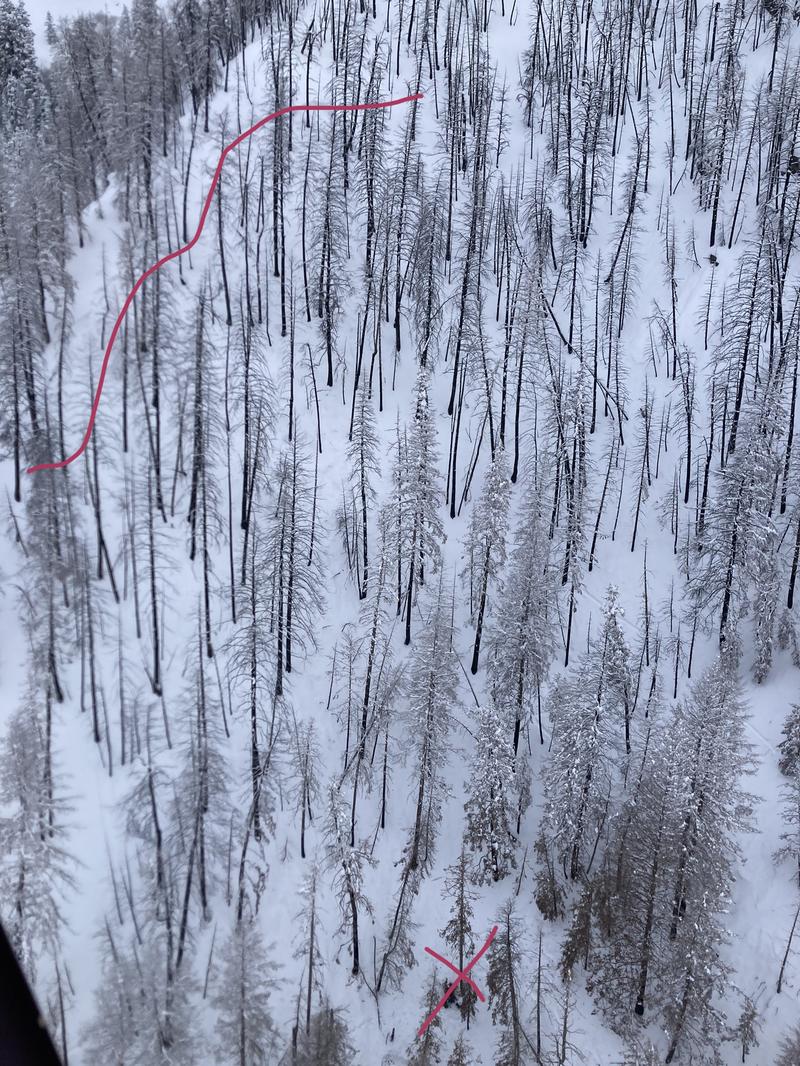 Thursday, December 15: After a brief break overnight, snowfall resumes with additional totals of 4-8". Winds from the west/northwest create pockets of fresh, sensitive wind drifts along exposed ridgelines.