Observer Name
UAC Staff
Observation Date
Tuesday, December 13, 2022
Avalanche Date
Tuesday, December 13, 2022
Region
Salt Lake » Little Cottonwood Canyon » White Pine » Pink Pine
Location Name or Route
Pink Pine
Elevation
7,800'
Aspect
North
Trigger
Skier
Trigger: additional info
Unintentionally Triggered
Avalanche Type
Soft Slab
Avalanche Problem
Persistent Weak Layer
Weak Layer
Facets
Depth
3'
Width
60'
Vertical
200'
Carried
1
Caught
1
Buried - Partly
1
Injured
1
Accident and Rescue Summary
Accident Summary
On the morning of December 13th, 2022, two skiers left the White Pine trailhead to ski in the Red Pine drainage of Little Cottonwood Canyon. They read the avalanche forecast for the day which was
Considerable
on northwest through east aspects at all elevations. They had transceivers, shovels, probes and had discussed both that day's forecast and the forecast from the day prior which was
High
danger. They made the decision to travel and ski on low angle slopes (less than 30-degree) in the trees.
They broke trail up to Red Pine and enjoyed a day of lower angle skiing. While returning to the trailhead, they accidentally descended below their skin track back which followed a traversing summer hiking trail. They decided to continue down slope towards Little Cottonwood Creek instead of putting skins on their skis to ascend back to their skin track to get to the White Pine trailhead. Skier 1 was in front of and downhill of skier 2 and triggered the avalanche just northeast of Pink Pine Ridge (see map below).
From further up on the slope the second skier saw the powder cloud of the avalanche. As she got closer to the steeper section of the slope where the avalanche occurred, she saw a 3' deep crown face and watched skier 1 disappear. Skier 2 immediately began a beacon search while yelling skier 1's name. Once skier 2 got a signal they were able to hear skier 1 respond and skied over to them.
Skier 1 was partially buried and wrapped around a tree with their upper body exposed. Skier 2 extricated skier 1 from the snow, determined that there were serious injuries, and called 911. Skier 2 stayed with skier 1 and supported them in a position of comfort until rescuers arrived. Both skiers had extra layers which they used to keep skier 1 warm.
Rescue Summary
Rescuers from Wasatch Backcountry Rescue, Snowbird and Alta Ski Patrols responded from the White Pine trailhead. They accessed the scene safely, stabilized and prepped the patient for transport. They used a backcountry rescue sled to take the injured skier downhill towards the Tanners Flat Campground, and across Little Cottonwood Creek to a waiting ambulance.
Accident Investigation
The day after the accident, December 14, 2022, forecasters from the Utah Avalanche Center investigated the accident site. With an additional 8 inches of snow and 0.21 inches of water, they did not go to the crown of the accident site as they did not feel conditions allowed for safe access. They dug a snowpit below the summer hiking trail and 300' above the rollover (where the slope angle got steeper and the avalanche occurred) and found 2-4' of new snow sitting on top of weak faceted snow (
see video below)
. A similar weak layer has been the culprit in numerous other accidents in the in the last week including:
This weak faceted layer has also been the reported weak layer in a number of avalanches reported on northerly facing aspects below 8000'.
Take Home
First and foremost - We aim to learn from accidents like this and in no way intend to point fingers at victims. We at the Utah Avalanche Center have had our close calls and know how easy it is to make mistakes.
When UAC Staff talked to to Skier 2 they said that what they would want to share witht the backcountry community was:
Don't be afraid to take a break, re-assess your plan, drink some water, have a snack, even when you're tired at the end of the day
Keep constant communication with your partner and if you don't feel good about something then say something
The human nature is that we get tired at the end of a great ski day and make compromises with ourselves, in this case we exited into unfamiliar terrain that fit the bill for what we had discussed avoiding in earlier conversations.
Thank you so much to the involved parties for being willing to talk to us at the Utah Avalanche Center. As a community we learn so much from these accidents and close calls. Please be respectful of anyone involved in an accident as we're all only a dice roll away from being in their shoes.
Photos courtesy of Wasatch Backcountry Rescue and the Alta and Snowbird Ski Patrols.
Photo 1- Crown face (S. Roller)
Photo 2-Crown face with rescuer entering bed surface (S. Roller)
Photo 3- Little Cottonwood Creek crossing (J. Kelly)
Photo 4- View of accident site from Little Cottonwood Road (M. Staples)
Photo 5- Crown Photo (S. Chovan)
Photo 6- Photo of debris pile (S. Chovan)
Photo 7- Rescuers in lower meadow (S. Chovan)
Photo 8- Rescuers running through aspens (S. Chovan)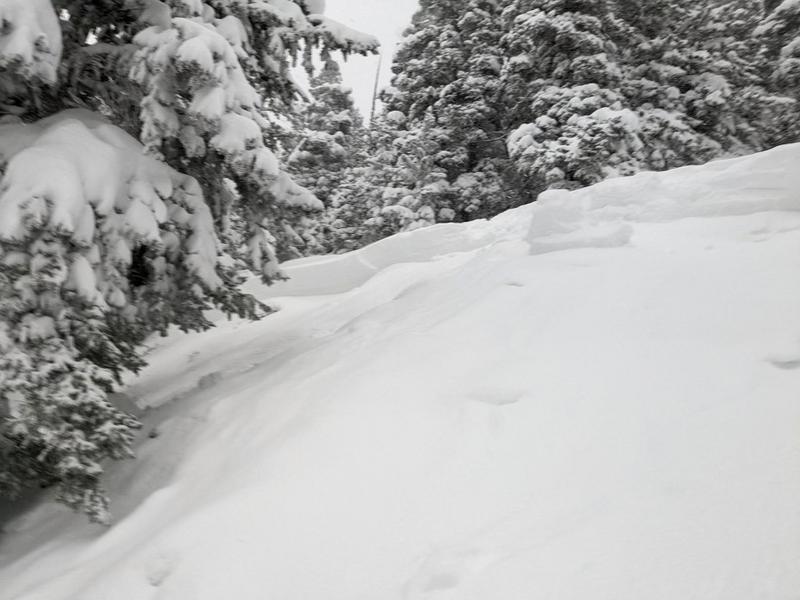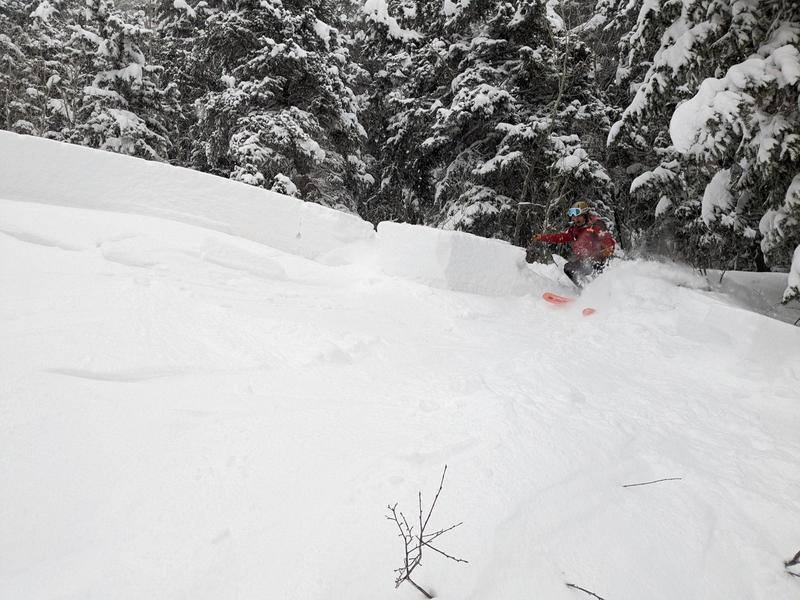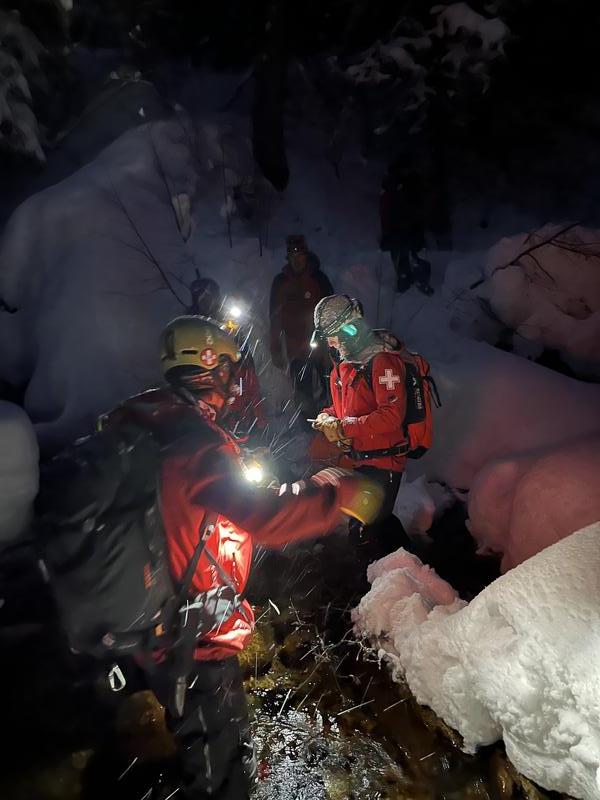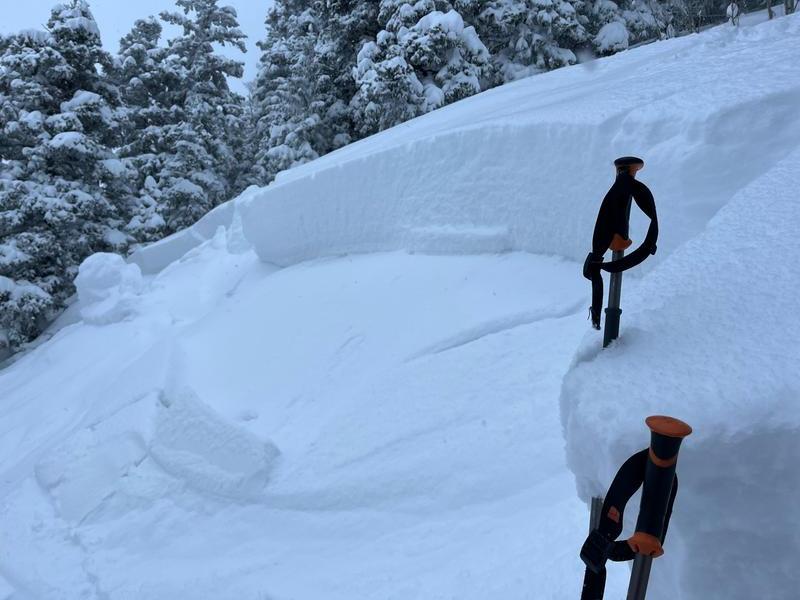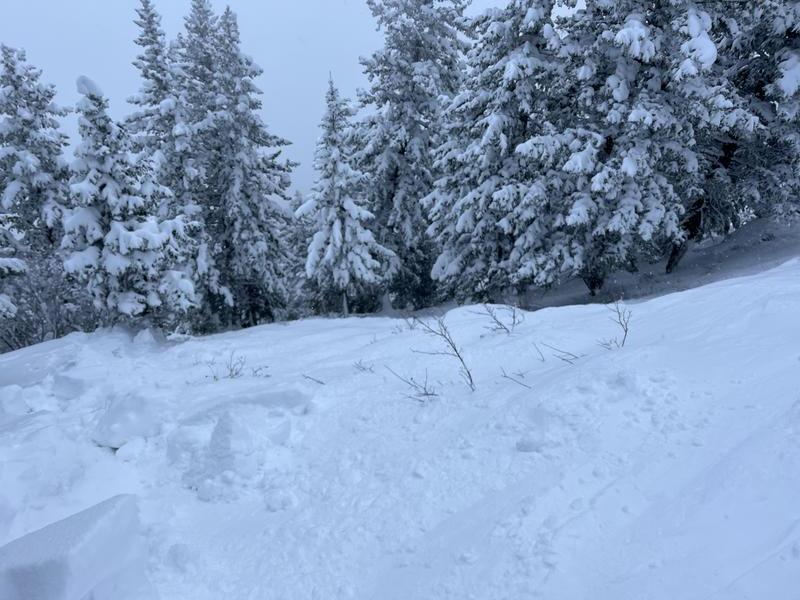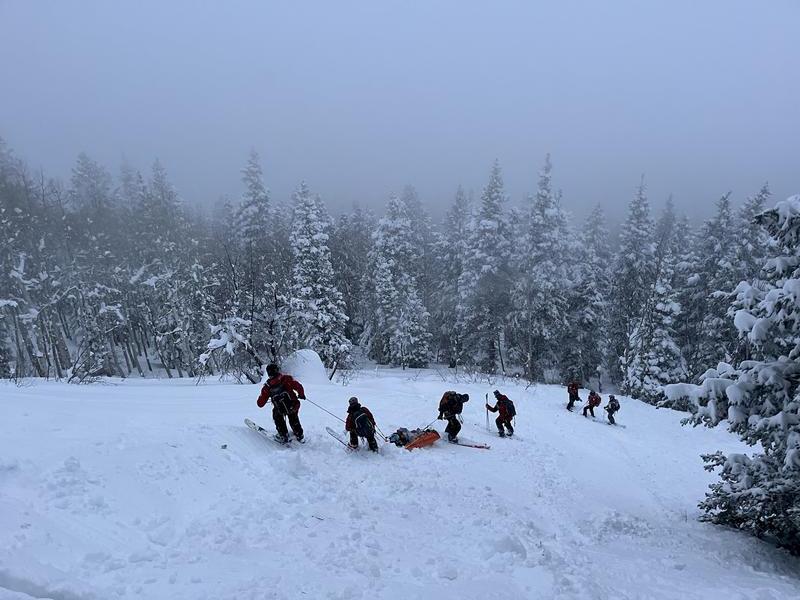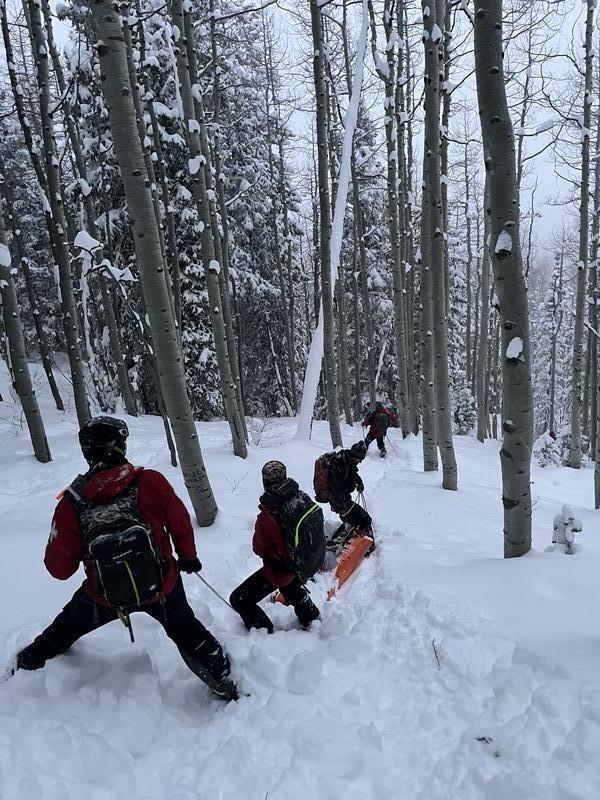 Terrain Summary
This was a steep north facing slope at 7800' above Little Cottonwood Creek and below the summer hiking trail.
Gold Arrow is White Pine Trailhead
Purple Line is the summer hiking trail
Red Marker is the site of the accident
Thick red line is the Wilderness Boundary
Weather Conditions and History
After a long dry spell in November the snow surface faceted throughout the Wasatch. This layer was buried on or around November 27th. Alta reported 38.5 inches and 1.96" of water in this most recent storm which is ongoing.
Snow Profile Comments
Profile completed roughly 300' above the accident site.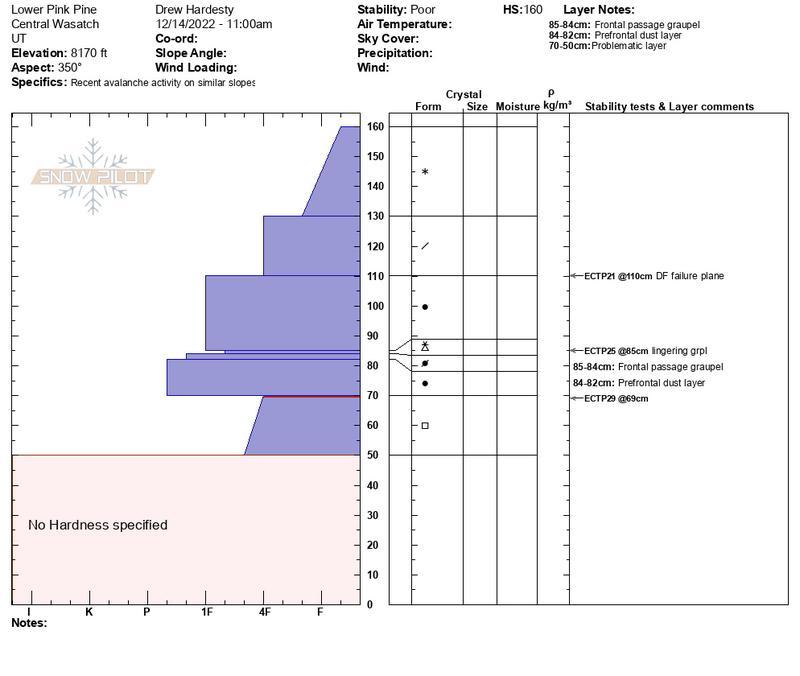 Comments
Collins Snowfall Data (approximately 4 miles east and 2000' higher in elevation than accident site) for December 2022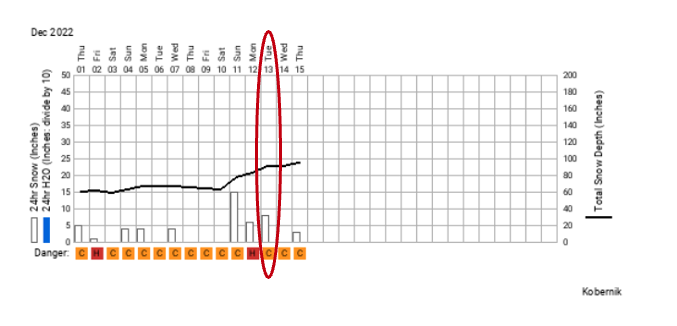 Video
Coordinates