Greg Gagne
Our
Week in Review
highlights significant snowfall, weather, and avalanche events of the previous week. (Click
here
to review the archived forecasts for the Salt Lake mountains.) 
Summary: Continued snowfall as well as natural and human-triggered avalanches, especially during the first half of the week. Avalanches occurring on aspects facing northwest through east where weak, faceted snow from October has been preserved. However, generally stable conditions reported on southerly aspects which were bare before snowfall began accumulating on Thanksgiving Day.
The danger roses from Friday 11/30 through Thursday 12/6

Friday Nov 30 - Strong winds and heavy, dense snowfall on Thursday Nov 29 lead to a high avalanche danger on upper elevation slopes facing northwest through east. Natural and human-triggered avalanches reported, including a remotely-triggered slide, a repeater, in South Monitor Bowl along the Park City ridge line. Common theme is these slides failed in weak, faceted snow down near the ground.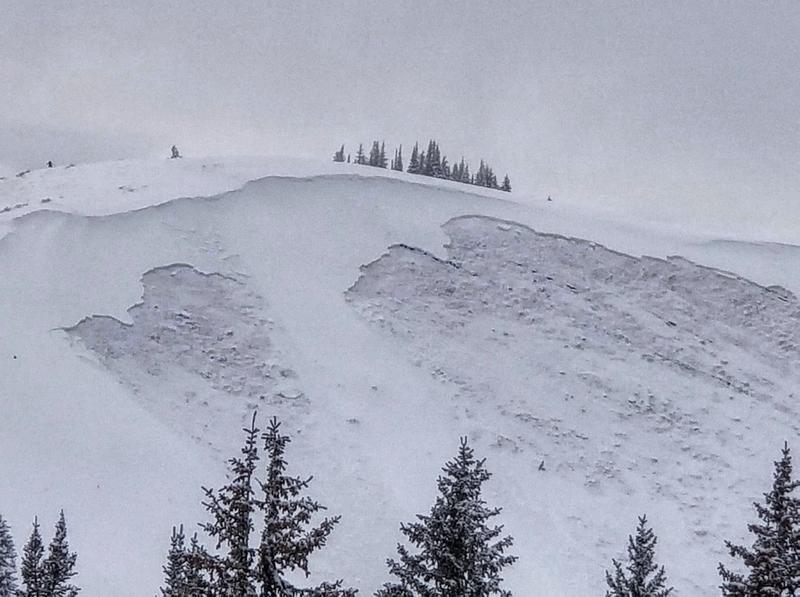 Saturday Dec 1 - Riders hit the much-safer south-facing slopes that do not have faceted snow at the ground, and avoid the more dangerous northerly aspects with a snowpack structure shown below. Multiple reports of collapsing indicating the unstable snow structure.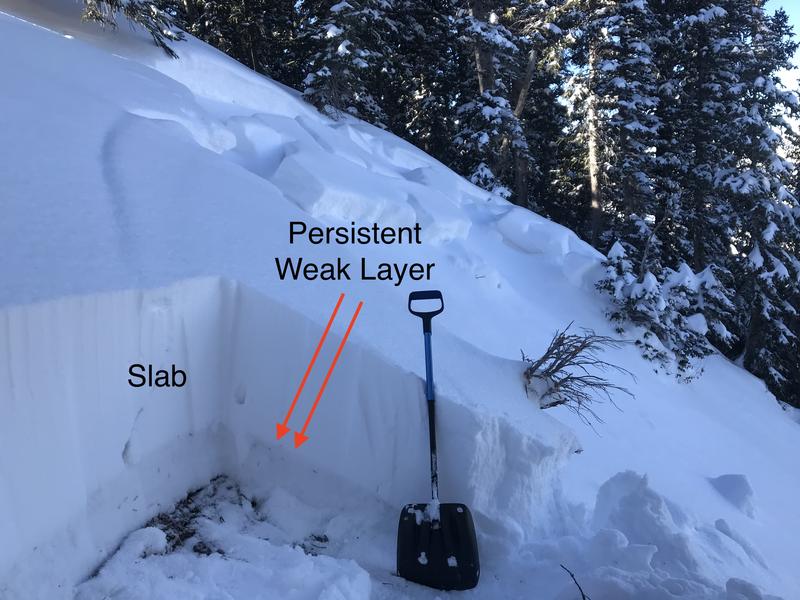 Sunday Dec 2 - Cold, northwest flow drops 3-12" of 5% density snow in the central Wasatch. As is often the case, upper Little Cottonwood fares best. The highest snowfall award statewide was 28" on the Manti La Sal Skyline. A remotely-triggered slide on the persistent weak layer on a northwest aspect at 10,000' in Cardiff Fork, and another at 8400' on a northwest aspect in Porter Fork in Millcreek Canyon, also failing on facets down near the ground.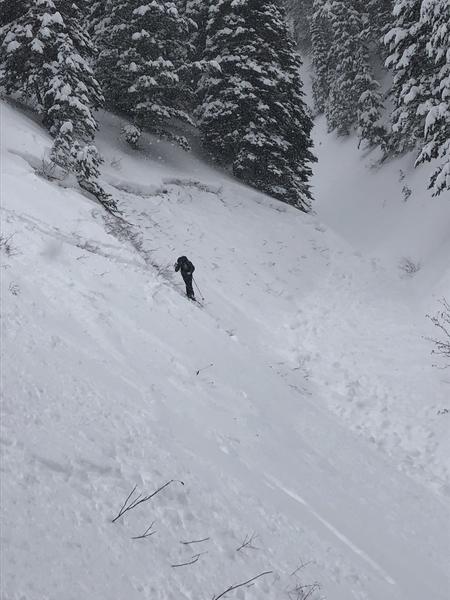 Monday Dec 3 - Snow showers deposit another 1-4", with minimal winds. Continued collapsing on northerly aspects, but field reports indicate stable conditions on southerly aspects. Natural avalanche in West Monitor along the Park City ridgeline:
Tuesday Dec 4 - Continued reports of collapsing, with stability on southerly aspects. Period of westerly winds drift some upper elevation leeward aspects. Nat Grainger in video below describes snowpack structure along ridgeline separating Millcreek and Big Cottonwood Canyons:
Wednesday Dec 5 - Collapsing still reported, but less often as the snowpack has adjusted to the recent storm snow. 1-2" of snow during the day reported in select locations. Control work at resorts still producing slides on faceted snow down near the ground.
Thursday Dec 6 - No avalanche activity reported, but full propagations from extended colum tests indicate that, although the snowpack is slowly gaining strength, avalanches remain possible on upper elevation northerly aspects.