Progression of danger roses for the Salt lake mountains for 2/2- 2/8. (Click on the day of the week for the archived forecast for that day.)
Friday
Saturday
Sunday
Monday
Tuesday
Wednesday
Thursday







Moderate Moderate Moderate Moderate Moderate Moderate Low
Summary: Warm weather helped strengthen the snowpack, and the persistent slab problem enters a period of dormancy. No avalanches were reported from this past week.
Friday Feb 2 - Quiet with a trace of new snow.
Saturday/Sunday Feb 3/4 - Warm and windy.
Monday Feb 5 - Continued west/northwest winds and 1-3" of dense storm snow (containing 0.1 - 0.3" water.) Warmth, wind, and dense snow have smoothed out old snow surface, and reports of good riding conditions begin to arrive.
Tuesday Feb 6 - Another 3-4" of storm snow, bringing a total of 4-7" to the Salt Lake and Park City mountains, with 0.5" of water. Sluffing in the dry, loose snow are the only signs of instability being reported. [ Mark White photo]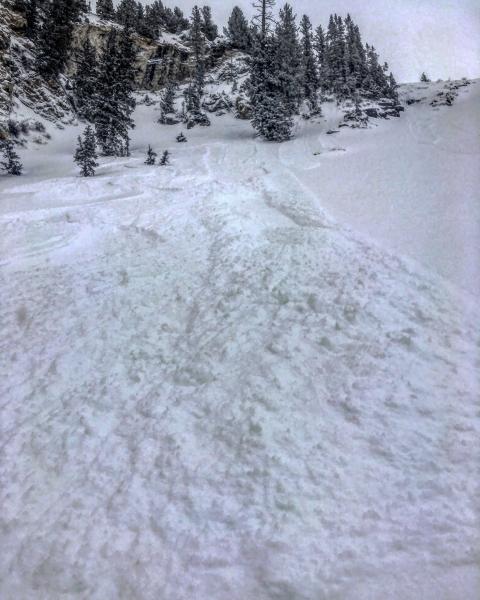 Wednesday/Thursday Feb 7/8 - Return to a warm, west/northwest flow, with minor wet loose sluffing.
On Thursday the UAC issues the first Low hazard rating since Saturday January 6, reflecting the (1)strengtheningsnowpack and (2) dormancy of the persistent weak layer. Poor snowpack structure (strong slab over weak facets) is still being identified, however the snowpack has shown evidence of adjusting to recent loads. Despite the Low hazard, the poor structure remains and it may become active once we get a new load of snow.