Description:
Our lingering persistent slab avalanche  problem exists at elevations 9000' and above, on slopes facing northwest through east (with a particular emphasis on north through northeast.) Thinner snowpack areas are particularly suspect – such as rocky rollovers as well as terrain outside of the upper Cottonwoods.
The likelihood of triggering one of these slides is low, but the consequences remain severe as the slide would break down 1 to 3 feet into deeper faceted layers. Human-triggered persistent slab avalanches over the past two weeks have taken out existing tracks, so any tracks - downhill or uphill - are no indication of stability. If you do choose to ride in terrain where this problem exists, be sure to consider the consequences such as being carried into trees or over rock bands.
The photo below is from last Friday's close call in the Meadow Chutes where the red arrow points to a portion of old tracks that were taken out by the remotely-triggered avalanche.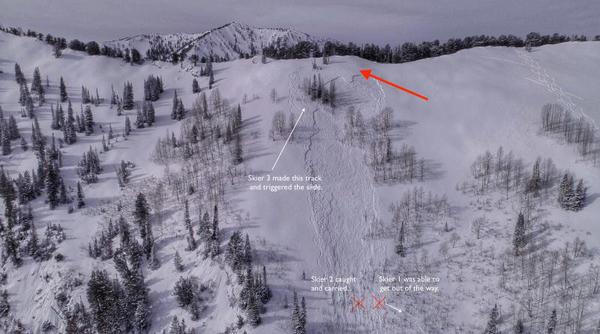 Low or Moderate? In my observation from Thursday's field day, I added some thoughts as to why we are rating the current hazard as Moderate.
Current Conditions:
Mountain temperatures are currently in the 20's F and winds are out of the west/northwest and generally light, averaging less than 10 mph, with gusts into the teens at 10,000' and 20's mph at 11,000'.
A trace to 1" of new snow was reported since yesterday afternoon. (Which, this season, is a pretty big deal.)
For January, Alta Guard station (8700') reported 51.5" of snow with 4.5" SWE (Snow Water Equivalent). The 74-year January average is 92"/8.6". (I know what you're thinking: "It snowed that much this January?")
Be sure to read our latest Week in Review for avalanche activity and significant mountain weather events from this past week.

Recent Activity:
No avalanche activity was reported from the backcountry on Thursday.
Mountain Weather:
Another warm one with mountain temperatures rising into the 30's F. Fortunately, cloud cover and west/northwest winds will make it feel more comfortable. Winds are forecasted to increase, gusting into the 20's at mid elevations, and 30's mph at the upper elevations. We may get an inch or two overnight.
Mostly cloudy over the weekend with maybe a snowflake or two in a northwest flow. Best next chance for snow looks to be Monday night. Beyond that .... not so good. 
Bottom Line:
The Avalanche Danger is MODERATE on steep, mid and upper elevation slopes facing northwest through north through east.  Human-triggered persistent-slab avalanches 1 to 3 feet deep and up to 200' wide are possible in isolated places, failing on weak faceted snow grains.  
General Announcements:
CLICK HERE FOR MORE GENERAL INFO AND FAQ
The UAC has new support programs with Outdoor Research and Darn Tough. Support the UAC through your daily shopping. When you shop at Smith's, or online at Outdoor Research, REI, Backcountry.com, Darn Tough, Patagonia, NRS, Amazon, eBay  a portion of your purchase will be donated to the FUAC. See our Donate Page for more details on how you can support the UAC when you shop.
Benefit the Utah Avalanche Center when you buy or sell on eBay - set the Utah Avalanche Center as a favorite non-profit in your eBay account here and click on eBay gives when you buy or sell. You can choose to have your seller fees donated to the UAC, which doesn't cost you a penny
This information does not apply to developed ski areas or highways where avalanche control is normally done. This advisory is from the U.S.D.A. Forest Service, which is solely responsible for its content. This advisory describes general avalanche conditions and local variations always occur.