Date:
Tuesday, February 6, 2018
Description:
The last persistent slab avalanches were triggered a week ago and this problem has been mostly dormant. Snowfall over the last 48 hours with 0.5 inches of snow water equivalent should only increase the odds of triggering a persistent slab avalanche a little bit.
The most likely places to trigger one of these avalanches are freshly wind-loaded slopes above 9000 feet that face NW through E. A good example of one of these slopes is one a rider triggered two weekends ago. Read more about it here and see the photo below (Zach and Cindi Grant).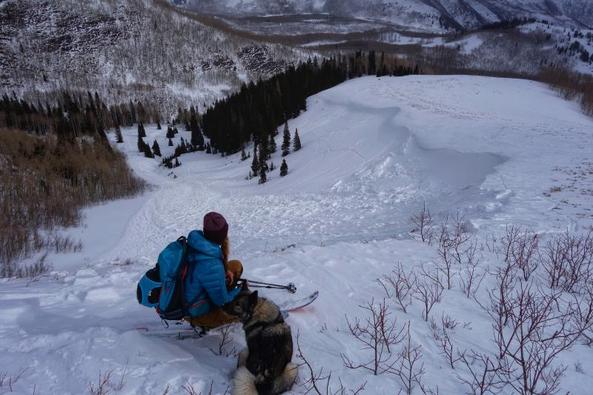 There is some good news. Weak facets on some slopes especially mid and lower elevations became slightly damp during recent warm weather as Evelyn found near the White Pine drainage yesterday and regular observer Mark White found yesterday on Reynold's Peak. Today's cold temperatures will help strengthen buried facets on these slopes. Watch the video below or go here.
Special Announcement:
Discount lift tickets for Alta, Snowbird, Brighton, Solitude, Snowbasin,and Beaver Mountain. Details and order information here. All proceeds from these go towards paying for avalanche forecasting and education!
Current Conditions:
Overnight 3-4 inches of new snow fell. This morning temperatures are in the low 20's F at trailheads and in the mid-teens F near ridge tops. Winds are blowing 10-15 mph gusting to 20 mph from the WNW in most areas. At 11,000 feet stronger winds are blowing 35 mph gusting to 50 mph.
Total precipitation since Sunday morning in the upper Cottonwoods has totaled 0.5 inches of snow water equivalent. While not a deep powder day, this snow has greatly improved conditions which weren't too great on Sunday. Additionally many slopes have been wind groomed over the last few days which has helped to smooth the snow surface and also improve riding conditions. Photo below shows yesterday's graupel snow (M. White).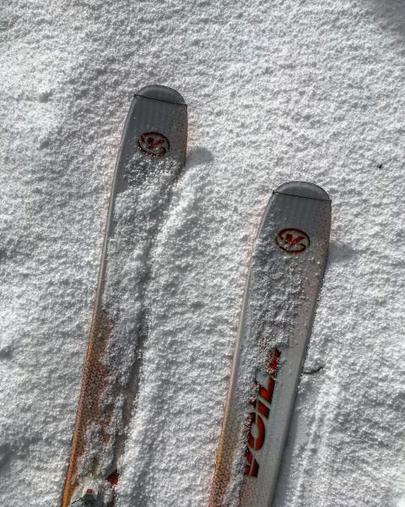 Mountain Weather:
Another disturbance will descend over northern Utah today bringing cold air and snow. Temperatures should drop a few degrees from where they are this morning an mostly be in the teens and low 20's F. As this disturbance approaches, wind speeds may increase a little, but overall they should continue from the WNW at 10-15 mph with gusts of 20-30 mph. At the highest elevations near 11,000 feet winds should remain strong and average 30-40 mph. Fingers crossed, but another 3-4 inches should fall today. We need every bit of snow we can get. The next chance for snow doesn't arrive until Saturday.
Bottom Line:
Today the avalanche danger is MODERATE for triggering a persistent slab avalanche on mid and upper elevation slopes that face NW through E, especially on slopes that are heavily wind loaded. Also the danger is MODERATE for triggering shallow wind slabs formed by today's WNW winds.
Description:
This morning's WNW winds combined with a few inches of new snow mean you could trigger a few shallow wind slabs. With a few more inches of snow expected this afternoon and a slight bump in wind speeds as this disturbance approaches, these fresh wind slabs should grow a little bit in size and increase a little bit in sensitivity.
General Announcements:
CLICK HERE FOR MORE GENERAL INFO AND FAQ
The UAC has new support programs with Outdoor Research and Darn Tough. Support the UAC through your daily shopping. When you shop at Smith's, or online at Outdoor Research, REI, Backcountry.com, Darn Tough, Patagonia, NRS, Amazon, eBay  a portion of your purchase will be donated to the FUAC. See our Donate Page for more details on how you can support the UAC when you shop.
Benefit the Utah Avalanche Center when you buy or sell on eBay - set the Utah Avalanche Center as a favorite non-profit in your eBay account here and click on eBay gives when you buy or sell. You can choose to have your seller fees donated to the UAC, which doesn't cost you a penny
This information does not apply to developed ski areas or highways where avalanche control is normally done. This advisory is from the U.S.D.A. Forest Service, which is solely responsible for its content. This advisory describes general avalanche conditions and local variations always occur.