Trigger: additional info:
Unintentionally Triggered
Snow Profile Comments:
Snow profile from 3/8 in Hell's Canyon, not far from the avalanche site.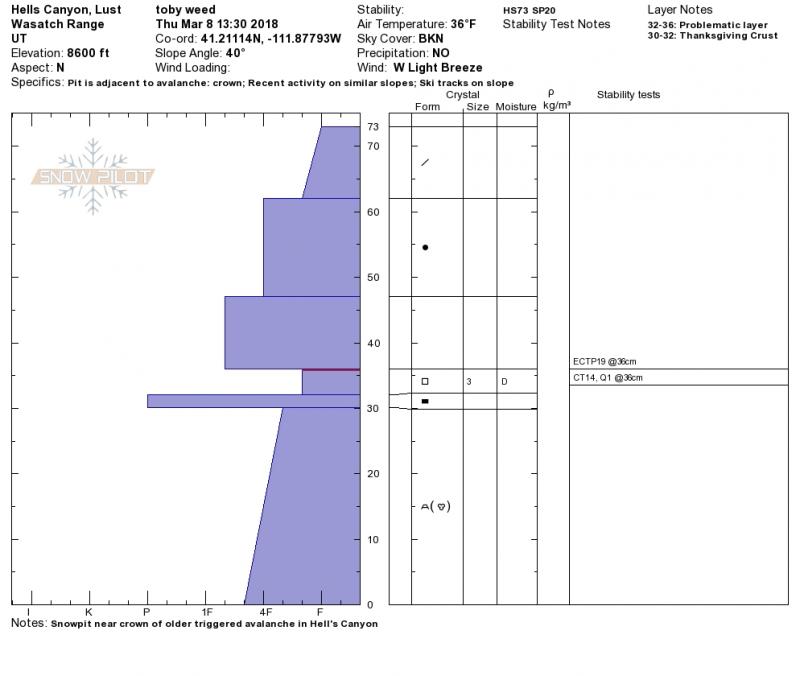 Comments:
A dangerous persistent slab avalanche was triggered by skiers who entered the backcountry from the ridge accessed by Snowbasin's Allen Peak Tram. The local skiers promply reported the avalanche to the Snowbasin Patrol, and said that the entire Technicolor path "cleaned out." Thankfully nobody was caught, since the dangerous avalanche traveled quite a ways out of sight down into Cold Water Canyon.
We decided not to venture into the site of the avalanche because of widespread poor snowpack structure in the area and the potential of triggering another avalanche. Sorry that more details and photos of the avalanche are not available.
A weak layer consisting of very loose, sugary, faceted snow from December has plagued the area all winter, and it is obviously still reactive. Snowpit tests in nearby Hell's Canyon showed moderately unstable snow and tendency for full propagation on the faceted layer.