Observation Date:
Saturday, January 20, 2018
Avalanche Date:
Saturday, January 20, 2018
Trigger: additional info:
Weak Layer:
New Snow/Old Snow Interface
Comments:
Party of 3 skied a NE facing line ~33º W of Porter fork pass (Sox's) without incident. On the second lap we traveled further to "The Ice Box". First skier traveled ~2 ft N over the ridge and bounce tested the slope while holding on to a tree. On the third bounce, the slope cut loose. The crown was approximately 150ft wide and up to 3.5 ft at its deepest points. The avalanche was found to have run ~800 yards. Upon arriving at the debris field the party switched their transceivers to search and fanned out across the debris. No signals were found and the party exited the canyon.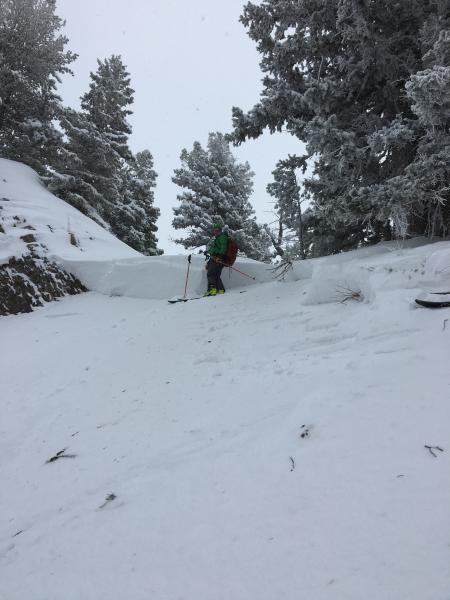 Comments:
Forecaster Note: Party reported hearing a collapse while traveling the ridgeline. Important to note that the party cleared the debris with a transceiver search (this is increasingly critical to do) and also called Alta Central to report the avalanche (though probably more important if adjacent to a ski area).