Observation Date:
Saturday, January 13, 2018
Avalanche Date:
Saturday, January 13, 2018
Location Name or Route:
Tony Grove Area, Just north of Castle Rock, near Naomi Peak
Trigger: additional info:
Unintentionally Triggered
Accident and Rescue Summary:
I went up to the avalanche site on 1/14/18... An obvious catch and carry, with good outcome. The 1' to 3' deep and 70' wide avalanche on a very steep slope is small compared to the terrain it's in, and no other avalanches were apparent in the area.
Snow Profile Comments:
Snow profile from 1/12/18 nearby, but about 600' lower in elevation than the avalanche.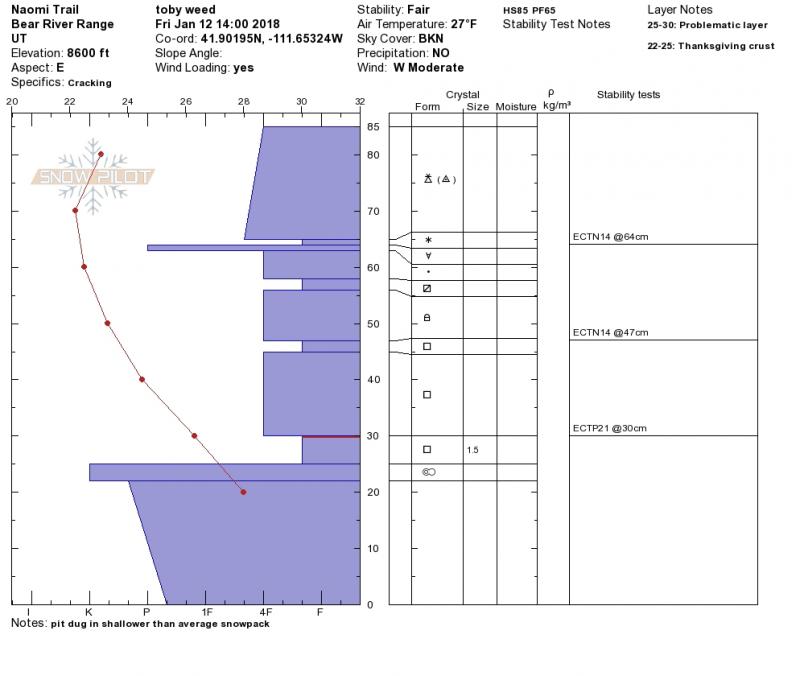 Comments:
We have limited details about a close call, with a rider and a triggered avalanche in the Tony Grove Area on 1/13/18. We hope to hear more of the story. If you see or trigger and avalanche in the backcountry, we'd love to hear about it.