Observation Date:
Wednesday, December 14, 2016
Avalanche Date:
Wednesday, December 14, 2016
Location Name or Route:
Caribou and Snake Creek Canyon
Comments:
Widespread Natural Avalanche Cycle occurred around 1300 during the Strong SW Wind and High PI period. All E, NE and N facing slopes off of Preston Peak and North Facing terrain off of the Caribou Ridgeline with angles > 35 degrees released Naturally with the initial 1 inch of Light Density Snow from overnight serving as the apparent Weak Layer. Crowns of up to 10 inches were observed with the average being 8 inches deep. Some of the Avalanches Observed appeared to have been triggered by Cornice Falls. Cornices were building Rapidly, and the paths were almost completely reloaded with in 2 hours.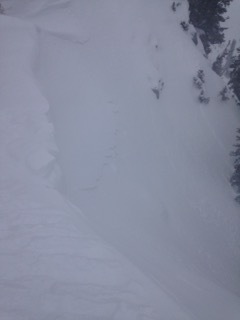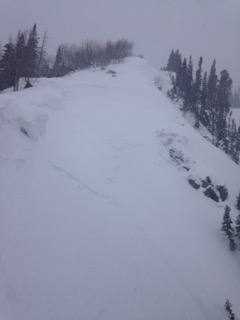 Comments:
Poor photo quality due to Intense Winds and Transport combined with Obscured Skies.