Description:
Today's west/northwest winds will easily transport the abundant loose snow into sensitive wind drifts. These will primarily be found on leeward aspects facing north through southeast, but with so much loose snow available for transport, these gusty winds can quickly create fresh drifts on any aspect at the upper elevations.
Fortunately, as the winds are forecasted to primarily be a concern along upper elevation ridgelines, this means if you stick to the low and mid elevations, you are less likely to encounter drifting and also find the best riding conditions.
Special Announcement:
There is a full backcountry closure on the north side of Little Cottonwood Canyon from Lisa Falls to Grizzly Gulch until 8 am. Highway 210 in Little Cottonwood Canyon will close at 6 am at gates B and C, with interlodge at the Town of Alta and Snowbird Village beginning at 6:30 am. Estimated opening is 8 am.
The latest edition of the UAC podcast is live - "A Conversation with Tom Kimbrough. Hemingway of the Wasatch". Tom is a retired climbing ranger in Grand Teton National Park, and a longtime avalanche forecaster with the UAC. A role model and mentor to many of us. Sit back and enjoy listening to Drew having a conversation with Tom!
Spend some time improving your rescue skills or learning about avalanches in this upcoming Salt Lake City area class:
Current Conditions:
Skies are mostly cloudy and mountain temperatures are in the high single digits through low teens. Snowfall overnight from the Cottonwoods to the Park City mountains range from 2-5". Storm totals since Saturday night are 30" in Little Cottonwood Canyon, 12-16" in Big Cottonwood, and 8-16" along the Park City ridgeline. 
Recent Activity:
Activity on Sunday primarily involved loose snow or small soft slab avalanching, especially during the early morning hours during a period of high precipation intensity where there was a brief spike in natural avalanches. The slides were breaking out within storm snow, down about a foot. Although the storm snow avalanches were not propagating very widely, they were running far distances and entraining large amounts of snow.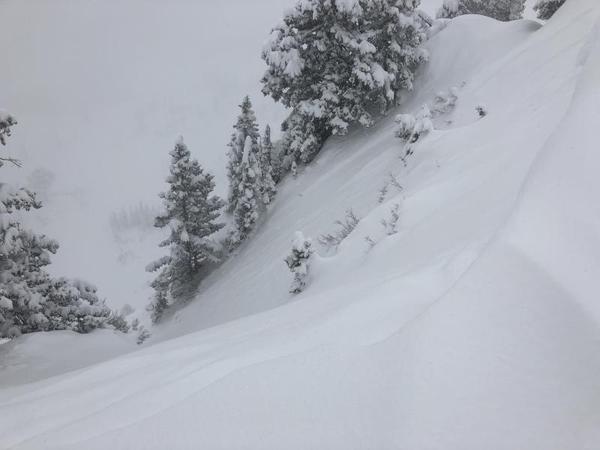 Pockets of sensitive wind drifts began to form in the upper elevations as wind speeds increased later in the day.
One avalanche that caught averyone's attention was from control work in the Park City mountains where explosives released a persistent slab avalanche that was 150' wide with a 10' crown. It ran on a layer of facets that formed early in February, and had been buried by storm and wind-drifted snow over the past month.
Mountain Weather:
We have a beautiful winter day in store with mountain temperatures rising into the teens under mostly cloudy skies. We may scrape out a trace of snow early this morning. Winds will be out of the west/northwest and gusty, especially along the upper elevation ridgelines. At the mid elevations, winds will average in the teens, with gusts in the 20's and 30's mph. At the upper elevations, winds will average in the 20's and 30's, with even stronger gusts. 
Unfortunately high pressure sets in, with a rapid warming trend by midweek. 
Bottom Line:
The avalanche hazard is CONSIDERABLE in upper elevations for fresh wind drifts, and above 9000' for persistent slabs. There is a MODERATE hazard for sluffing in the loose storm snow on steeper aspects. Fortunately, plenty of safer, 5-star riding conditions can be found on lower-angled slopes as well as southerly aspects. 
With what many are describing as the best conditions of the year, it is easy to let the brilliant riding cloud good judgement. Be sure to practice the usual safe protocol of exposing one person on a slope at a time and getting out of the runout zone at the bottom. Clearly communicate plans with your partner(s). If you do drop cornices or ski cut slopes, be absolutely sure no one is below you.
Description:
The late weekend storm quickly added 1-2" of water weight to the snowpack. As the retired director of the UAC - Bruce Tremper - would often say, "snow is like humans, and does not respond well to rapid changes". As evidenced by the explosive-triggered slide in the Park City mountains, this load may be enough to get faceted layers at the mid-pack as well as down near the ground to be become active once again. This terrain can be found above 9000' on aspects facing west through southeast. Today's gusty west/northwest winds will put additional loading on these slopes.
Fortunately, the terrain where these persistent weaknesses reside can be avoided. This includes the southerly aspects which will ride quite nicely, as well as lower-angled terrain as yesterday's storm snow settles out.
Description:
Other than fresh wind drifts and persistent slab concerns, watch for sluffing in the loose storm snow on steeper slopes. These sluffs can run long distances, and entrain lots of snow. Be sure to avoid getting carried over steeper cliff bands or into terrain traps. Ski cuts at the top of steeper rollovers are very effective at managing this hazard. This concern will be greatest in areas that received the most snow, such as upper Little Cottonwood.
Cornices are growing larger, and may break back further than expected. Be sure to give them a wide berth.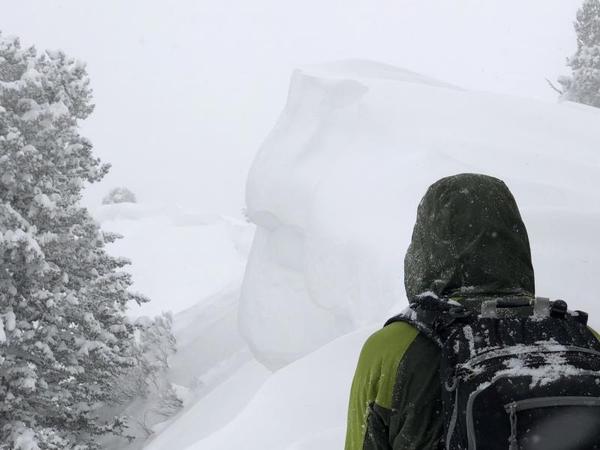 Although today's winds, cool temperatures, and mostly cloudy skies should keep the snow surface cool, if the sun does come out for any period, wet loose sluffs will be possible on steeper aspects. This is especially a concern at the lower elevations and in wind-sheltered areas.
The storm snow also provided some decent riding conditions in the foothills for the first time this season. Be sure to check out Mark White's observation from Grandeur Peak to get an idea of the coverage and stability issues at the lower elevations.
General Announcements:
CLICK HERE FOR MORE GENERAL INFO AND FAQ
The UAC has new support programs with Outdoor Research and Darn Tough. Support the UAC through your daily shopping. When you shop at Smith's, or online at Outdoor Research, REI, Backcountry.com, Darn Tough, Patagonia, NRS, Amazon, eBay  a portion of your purchase will be donated to the FUAC. See our Donate Page for more details on how you can support the UAC when you shop.
Benefit the Utah Avalanche Center when you buy or sell on eBay - set the Utah Avalanche Center as a favorite non-profit in your eBay account here and click on eBay gives when you buy or sell. You can choose to have your seller fees donated to the UAC, which doesn't cost you a penny
This information does not apply to developed ski areas or highways where avalanche control is normally done. This advisory is from the U.S.D.A. Forest Service, which is solely responsible for its content. This advisory describes general avalanche conditions and local variations always occur.
Rose: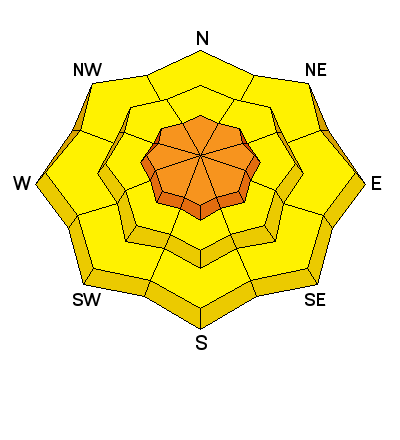 Rose: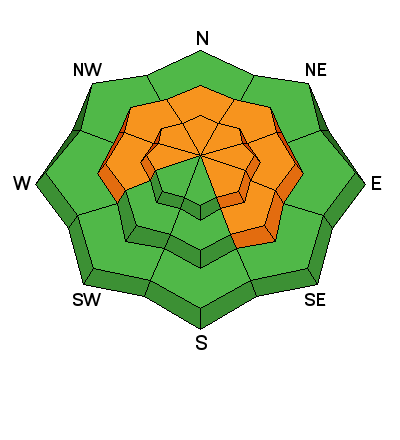 Rose: