Date:
Tuesday, February 6, 2018
Description:
It's been a week since slides were triggered on the weak, faceted persistent weak layers buried in the snow pack.  But with a lack of information it's still best to aviod the steep northwest through easterly facing slopes, especially where wind drifted, at the mid and upper elevations.  Then you can avoid triggering one of these slides.   Shallower, rocky snowpack areas are particularly suspect .    
Special Announcement:
Discount lift tickets for Alta, Snowbird, Brighton, Solitude, Snowbasin,and Beaver Mountain. Details and order information here. All proceeds from these go towards paying for avalanche forecasting and education!
Current Conditions:
Under mostly clear skies, it actually feels like winter this morning – temperatures are in the mid to low 20s. The west to northwesterly wind speeds are variable, averaging about 10 mph in the mid elevations of the Provo area mountains. To the north, the higher peaks have had 30 mph averages, with gusts in the 40s, the past 12 hours, probably similar to speeds across the high peaks of the Provo area mountains.
The Timpanogos Divide snotel site shows 2" of snow fell yesterday afternoon. If so, that's the most for the last 48 hours in the Provo area mountains. A lack of low elevation snow makes travel difficult in the Provo area mountains.
Recent Activity:
No avalanche activity reported from the Provo area mountains.
Tot he north, decent size dry loose sluffs were the only activity mentioned in the few backcountry reports.
Sluffs in Cardiff Fork. Mark White photo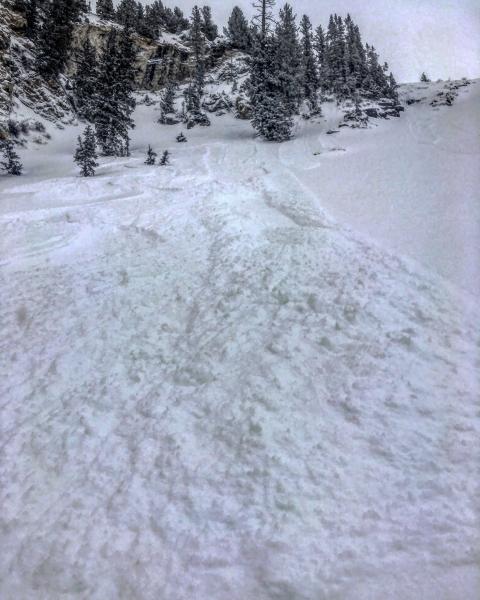 Mountain Weather:
A mild northwest flow will continue over the area through Friday. Mostly clear skies this morning, with increasing clouds this afternoon. Temperatures will warm to near 40 at 9,000'. The westerly winds will average 5 to 15 mph at the mid elevations, with the high peaks reaching averages of 25 to 35 mph at times, with gusts in the 40s. The next chance for a few inches of snow is Saturday.
Bottom Line:
The Avalanche Danger is MODERATE on steep, mid and upper elevation slopes facing west through north through east, for triggering a 2-foot deep slab avalanche failing on weak faceted snow grains.  Sensitive wind drifts can also be triggered on steep slopes. 
Description:
The westerly winds have been blowing on and off for days.  Expect to find a few wind drifts along the ridgelines, most widespread on slopes with an easterly aspect.  Avoid steep slopes with wind drifts, which often look smooth and rounded, or are on slopes below small, new cornices.  Old drifts may be hard and hollow sounding.
General Announcements:
CLICK HERE FOR MORE GENERAL INFO AND FAQ
The UAC has new support programs with Outdoor Research and Darn Tough. Support the UAC through your daily shopping. When you shop at Smith's, or online at Outdoor Research, REI, Backcountry.com, Darn Tough, Patagonia, NRS, Amazon, eBay  a portion of your purchase will be donated to the FUAC. See our Donate Page for more details on how you can support the UAC when you shop.
Benefit the Utah Avalanche Center when you buy or sell on eBay - set the Utah Avalanche Center as a favorite non-profit in your eBay account here and click on eBay gives when you buy or sell. You can choose to have your seller fees donated to the UAC, which doesn't cost you a penny
This information does not apply to developed ski areas or highways where avalanche control is normally done. This advisory is from the U.S.D.A. Forest Service, which is solely responsible for its content. This advisory describes general avalanche conditions and local variations always occur.