Observation Date
Observer Name
Trenbeath, Kelly
Region
Moab » Geyser Pass
Location Name or Route
Geyser Pass- Gold Basin-Dark Canyon
Comments
We stuck to terrain under 30 degrees and used lower elevation and lower angle slopes to travel between basins. One of the things I like to do when exploring new terrain is to take a look around and make terrain selections that allow me to get a feel for the area before committing to any terrain over 30 degrees. Even if an area is familiar (meaning I've been there seasons before) it isn't the same. When travelling to other ranges and snow climates I have to remind myself that this isn't like the snowpack at home.
I like to see how this season compares to others, check the avalanche forecast if available and get a feel for the terrain and snowpack prior to committing to steep terrain. This season the La Sal range is at
228% of normal
for
SWE (snow water equivalent)
which means there is a possibility of unusual conditions. Traditionally the La Sal range settles into a spring snowpack earlier than the Central Wasatch and this year it isn't the case. With all the snow things are not the same this year.
It was nice to see the terrain from the Geyser Pass area. The La Sal's are big mountains and we were able to cover a lot of distance on skis and snowmobiles. We looked at the site of the tragic Dark Canyon
avalanche accident
from January of 2019. The east face of Laurel Peak is big terrain with multiple aspects.
Photo of Dark Canyon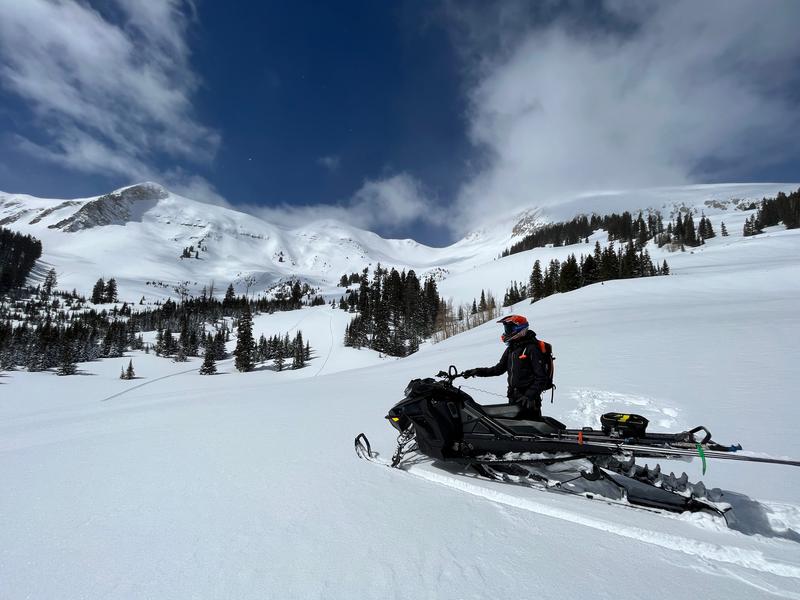 Today's Observed Danger Rating
Moderate
Tomorrows Estimated Danger Rating
Moderate
Coordinates