Forecast for the
Uintas Area Mountains
Issued by Craig Gordon for
Thursday, March 24, 2022
Heads up... record warm temperatures are on tap and that'll make our snowpack cranky and reactive to our additional weight!
Today's very warm temperatures help activate weak layers of snow now buried 2'-3' below the snow surface and the avalanche danger rises to CONSIDERABLE as the day wares on. Human triggered avalanches become LIKELY, especially in steep terrain facing the north half of the compass near and above treeline. Any slide that breaks to older snow will pack a powerful, buzz-killing punch.
Lower elevation terrain right around our trailheads gets in on the act and you'll find MODERATE avalanche danger on steep, north facing slopes where human triggered avalanches are POSSIBLE.
A robust melt-freeze cycle creates solid snow on sunny slopes which keeps avalanche activity at bay. LOW avalanche danger and human triggered avalanches are UNLIKELY on slopes facing the south half of the compass.
---
Scroll to the bottom for a note on slope angle and how to have a blast without entering avalanche terrain.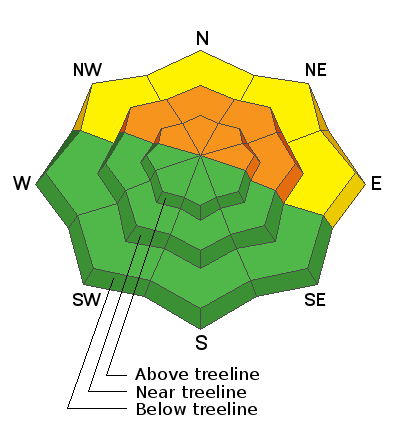 Learn how to read the forecast
here