Forecast for the
Uintas Area Mountains

Issued by Mark Staples for
Friday, March 18, 2022
Don't let the drop in avalanche danger fool you. On all NW-N-NE-E facing terrain as well as upper elevation SE facing slopes, the danger is MODERATE which means human triggered avalanches remain possible.
HOWEVER, the exact likelihood of triggering a slide varies A LOT from one slope to the next. On one slope you may not be able to buy an avalanche, while another slope may avalanche the instant you come near it. The danger rating is an overall average and does a poor job of conveying this variability.
---
On slopes generally facing south and receiving direct sunshine, the avalanche danger is
LOW
.
---
Scroll to the bottom for a note on slope angle and how to ride fun terrain without entering avalanche terrain.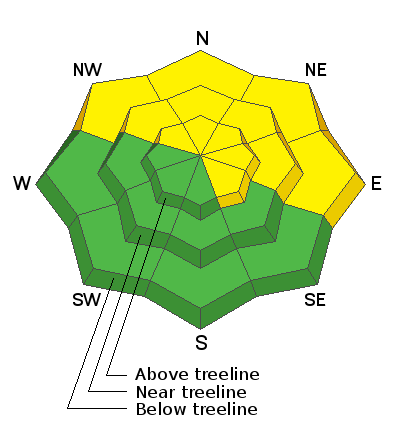 Learn how to read the forecast
here