Forecast for the
Uintas Area Mountains
Issued by Craig Gordon for
Saturday, March 12, 2022
HEADS UP -
Deceptively dangerous avalanche conditions exist for this time of year, especially on slopes facing the north half of the compass. Here's the catch... sunny skies, fresh snow, and outstanding late season riding lure us into thinking conditions are safer than they are and we're good to go. The snowpack isn't sharing our same emotions.
CONSIDERABLE avalanche danger exists today. Dangerously deep, human triggered avalanches are likely on all slopes (even well below treeline) facing NW, N, NE, and E, especially those with recent deposits of wind drifted snow. Any avalanche that breaks to old snow has the potential to deliver a devastating curve ball to your day.
Slopes facing west and south near and above treeline generally do not have a weak layer of facets, but with so much new snow, avalanches on theses slopes remain possible and the danger is MODERATE.
Looking for LOW avalanche danger? Well, then you've got plenty of options. Simply steer towards mid and lower elevation sunny slopes or choose a big, open meadow with no steep slopes above or adjacent to where you're riding.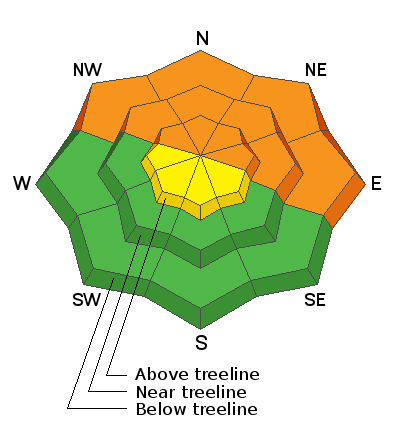 Learn how to read the forecast
here