Forecast for the
Uintas Area Mountains
Issued by Craig Gordon for
Thursday, March 10, 2022
HEADS UP... this is an unusually sketchy snowpack setup for us this deep into the winter, weak layers of snow teeter on the edge, and the avalanche danger remains elevated.
HIGH avalanche danger exists near and above treeline, where recent wind drifts rest on top of a pre-existing, weak layer of sugary snow. Both natural and human triggered slides breaking deeper and wider than you might expect are VERY LIKELY, especially on steep slopes facing the north half of the compass and particularly those with an easterly component to their aspect.
Even lower elevation terrain below treeline offers no shortage of weak, sugary snow where CONSIDERABLE avalanche danger is found and human triggered avalanches are LIKELY on steep, shady slopes near our trailheads.
Shift compass orientation to terrain facing south and you'll find more predictable avalanche conditions involving fresh storm snow. MODERATE avalanche danger is found on sustained steep, southerly slopes and human triggered avalanches are POSSIBLE.
---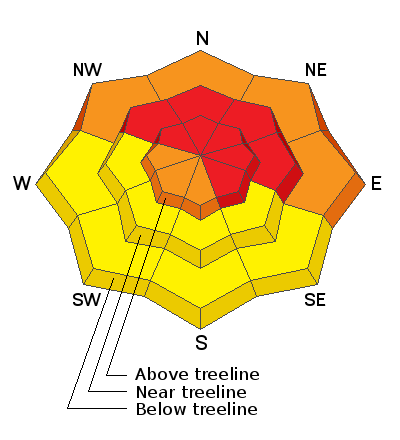 Learn how to read the forecast
here