Forecast for the
Moab Area Mountains
Issued by Eric Trenbeath for
Sunday, April 17, 2022
The avalanche danger is generally LOW but the La Sals are a big little mountain range comprised of large, complex, radical terrain. Unstable snow may still exist on isolated terrain features and here are some things to keep in mind:
Loose wet avalanches will be possible as the day heat up. Look for signs of instability such as rollerballs and pinwheels, and get off of steep slopes if they become wet and sloppy.
Unstable slabs of wind drifted snow may exist in upper elevation, wind exposed terrain. Recognizable by their smooth, rounded appearance, they may sound hollow underneath. Look for them on the leeward sides of ridge crests and terrain features such as gully walls and sub ridges.
Practice safe travel techniques and only expose one person to danger at a time. Even a small avalanche can be dangerous in consequential terrain.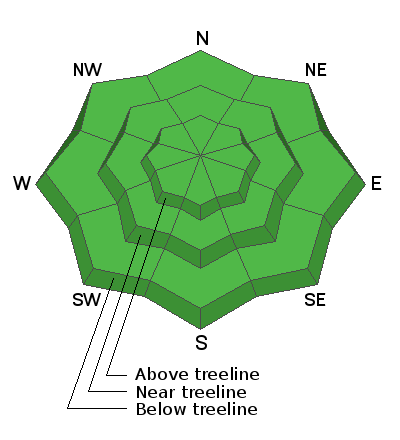 Learn how to read the forecast
here