Eric Trenbeath
Forecaster
The danger was "only" moderate that day. My friends and I had climbed up through south facing terrain looking to ski powder in an upper alpine north facing bowl. It was a beautiful day. The danger had recently dropped, and we didn't see or experience any outward signs of instability such as cracking, collapsing, or recent avalanches. When we reached the top of the ridge and peered into the bowl on the other side, we saw numerous sets of tracks. We quickly transitioned, dropped in one at time, and shredded the fresh powder without incident.
Wanting more and feeling good about things, we contoured around to a secondary shot. I dropped in and made about five turns when suddenly everything collapsed into a pile of sliding blocks. Glancing quickly over my shoulder I could see all my turns coming apart with a fracture 2'-3' deep well above me. The avalanche had broken much deeper than just the most recent snow. The next thing I knew I was cartwheeling, choking on snow, and thinking I was going to die.  
This is the danger of a persistent weak layer (PWL). Though they become less reactive and harder to trigger over time they persist, and when they do cause an avalanche, they are no less devastating then when the danger is considerable or high.
This is what keeps forecasters up at night. When the likelihood is trending down but the consequences remain the same. When it's been several days since the last storm or avalanche. When there aren't any outward signs of instability. When people are pushing it into more consequential terrain without incident. But the weak layer of faceted snow underneath persists.
Any avalanche professional will cite the old adage "never trust a faceted weak layer." Some forecasters even advocate for never dropping the danger to moderate as long as a faceted PWL poses the threat of a dangerous avalanche, especially when it is nearly impossible to predict which slopes are going to slide and which aren't. This is legitimate. When choosing a slope is a lot like rolling the dice with your life, moderate danger doesn't seem to cover it.
Most forecasters will eventually drop the danger from considerable to moderate as the overall likelihood or probability decreases, but does this mean that we now trust the weak layer? Are we ready to push the boundaries and jump into terrain steeper than 30 degrees when a PWL of faceted snow under a slab is likely to exist? We are not. The consequences of a failure are simply too high. Much higher than a moderate danger from avalanches involving wind drifted snow, or the most recent storm snow. These are deep and dangerous, potentially un-survivable avalanches.
Miraculously, I came out on top of the snow that day over 30 years ago. I knew I was lucky to be alive, and I never wanted to experience that again. In spite of it, I still have a passion for big lines and steep terrain. Moving from the Wasatch down to the La Sal Mountains near Moab, where weak, faceted layers are the rule rather than the exception, I've had to learn a lot of patience. Some years, the lines never even come in at all. But at the end of the day, it's far more worth it to wait and come home at night than the alternative. And when the avalanche problem type is a persistent weak layer, I'll never say the danger is "only" moderate.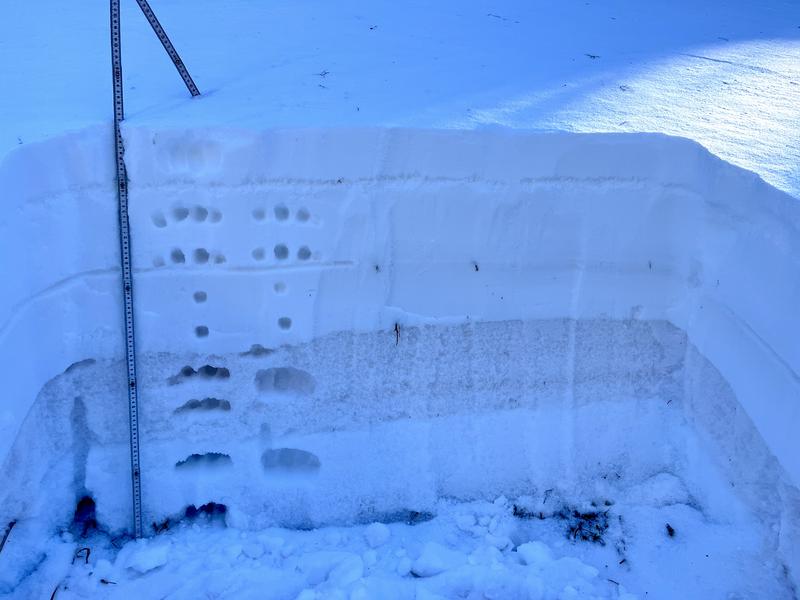 Photo illustrates weak layer of facted snow in the snowpack.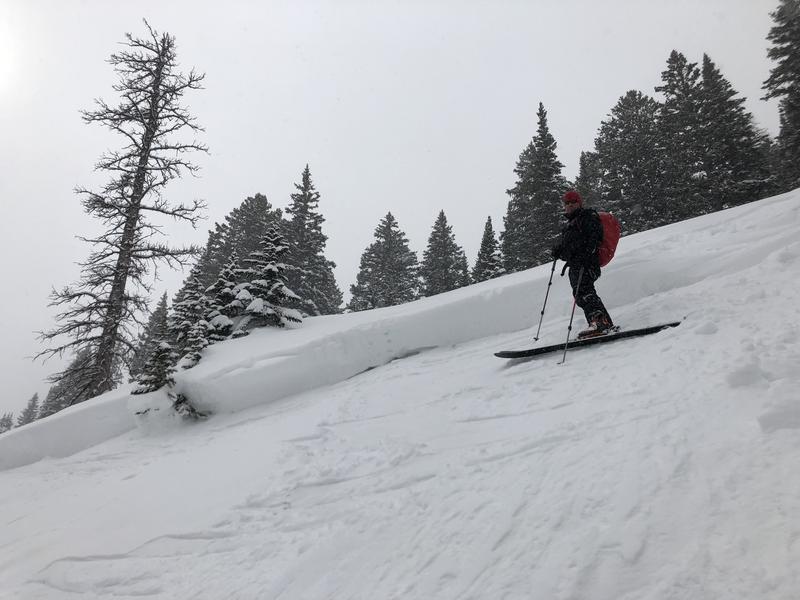 Human triggered avalanches, failing on a buried persistent weak layer, can occurr days or even weeks after the last storm.