Brett Kobernik
Forecaster, Website Coordinator
This will be a working document detailing the progression of this season's Persistent Weak Layer of loose, sugary faceted snow that formed in mid November.  This is for the Manti Skyline region but similarities exist in many other regions.
EARLY SNOW:  Nov 2 through Nov 9, 2022
A series of storms moved through leaving about 2 feet of new snow by Nov 9.  The snow was quite supportable meaning you could travel on it quite easy with skis and even snowmobiles to a certain extent.  It provided some of the best early season riding conditions we've seen in a long time.
PERSISTENT WEAK LAYER FORMATION:  Nov 10 through Nov 27, 2022
A period of dry weather happened in mid November where there were no new snow storms.  The temperatures stayed unseasonably cold.  During this dry spell, the snow (especially the surface and top few inches) changed from fresh powder to a sugary faceted snow grain.  This is very typical during long periods of cold dry weather especially when the snowpack is shallow in the early season.  It is interesting to note that southerly facing slopes did not melt down to the ground in many locations and the weak snow formed on those slopes as well as the more northerly facing slopes.
WEAK LAYER GETS BURIED:  Nov 28, 2022
Finally a storm moved through that produced around 8 inches of new snow which buried the layer of weak sugary snow that was previously on the surface.  This was a fairly small storm and didn't add enough new snow for the buried weak layer to become active and produce avalanches.  It was obvious at the time that with additional snow, the buried weak layer would become active at some point.
WEAK LAYER BECOMES ACTIVE:  Dec 2, 2022
A storm moved in that produced close to a foot of new snow.  Strong wind accompanied the snow storm.  The addition of the new snow plus wind drifted snow was enough to make the buried weak layer become active.  A number of natural avalanches were observed. (photo below:  lower Staker Bowl)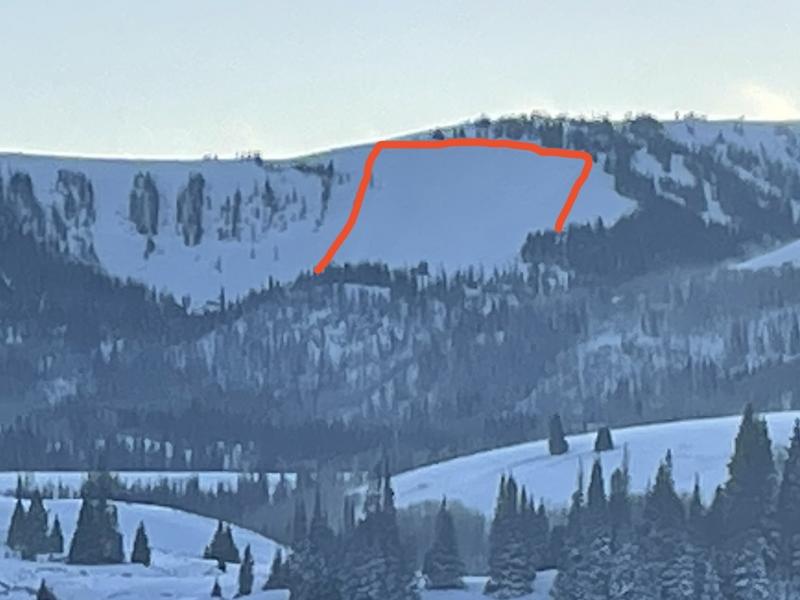 ADDITIONAL SNOW STORMS:  Dec 5 through Dec 15, 2022
More storms moved through during this period.  None of them were all that large but they continued to bury the weak layer deeper and deeper.  Collapsing of the snowpack (whumpfing noise) was common during backcountry travel.  Shooting cracks were also a normal occurrence.  There were a number of large natural avalanches that released on the 15th.  (photo below:  natural avalanche in Seeley Canyon)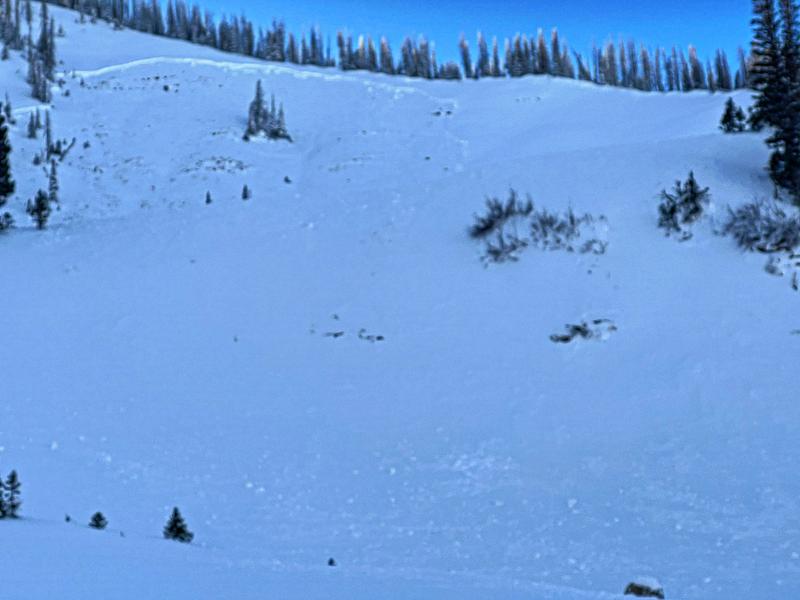 SENSITIVE CONDITIONS:  Dec 16 through Dec 18
The snowpack remained unstable and quite sensitive through this period.  On Dec 16, a snowmobiler in Ephraim Canyon was caught and buried to his waist.  His sled was completely buried.  There were remotely triggered avalanches reported from snowmobilers on Dec 17.  Cracking and collapsing continued.  (photo below:  snowmobilers dig out a buried snowmobile in Ephraim Canyon)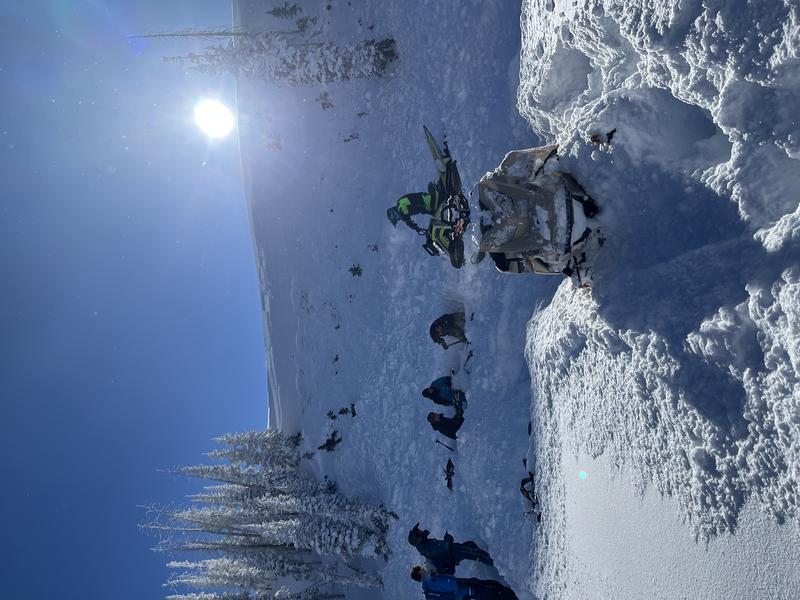 QUIET PERIOD AND WIND EVENT:  Dec 19 through Dec 26
During this time the buried weak layer of facets slowly adjusted to its load of snow on top of it.  Cracking and collapsing was not as common.  Stability tests showed the weak layer had gained some strength.  Tests were stubborn but still failed and propagated through the weak layer of faceted snow.  There was a wind event on Dec 22 where strong northwest wind blew for 24 hours.  This drifted enough snow to produce some scattered natural avalanche activity that did break into the weak layer from November.  (photo below:  natural avalanche that released on Dec 22 in Pleasant Creek)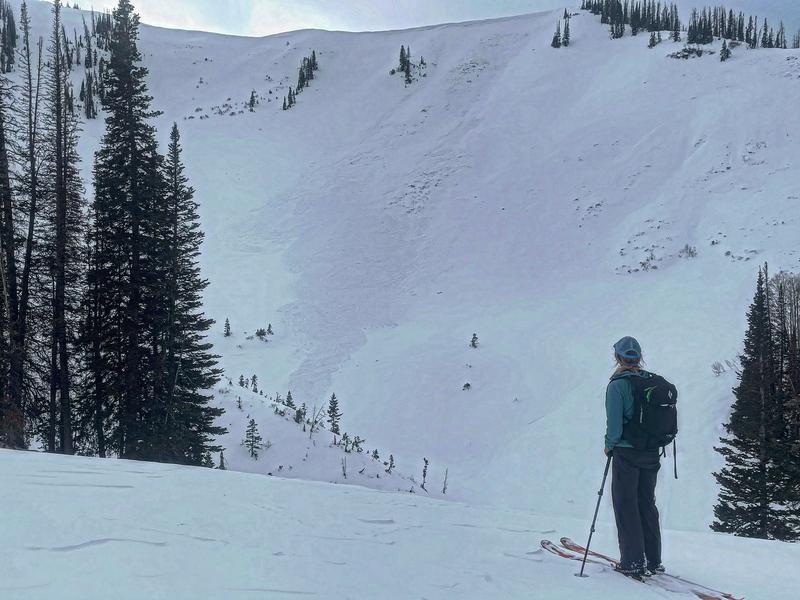 MOST ACTIVE PERIOD:  Dec 27 through Jan 2
A very warm and moist prolonged storm system moved in on Dec 27.  This produced up to five feet of VERY dense snow.  Saying that densities were unusually high is an understatement.  A widespread natural avalanche cycle occurred on Dec 31 and Jan 1 with many many slopes releasing.  These all broke deep into the old facets from November.  Photo below:  an example of the activity from the natural avalanche cycle.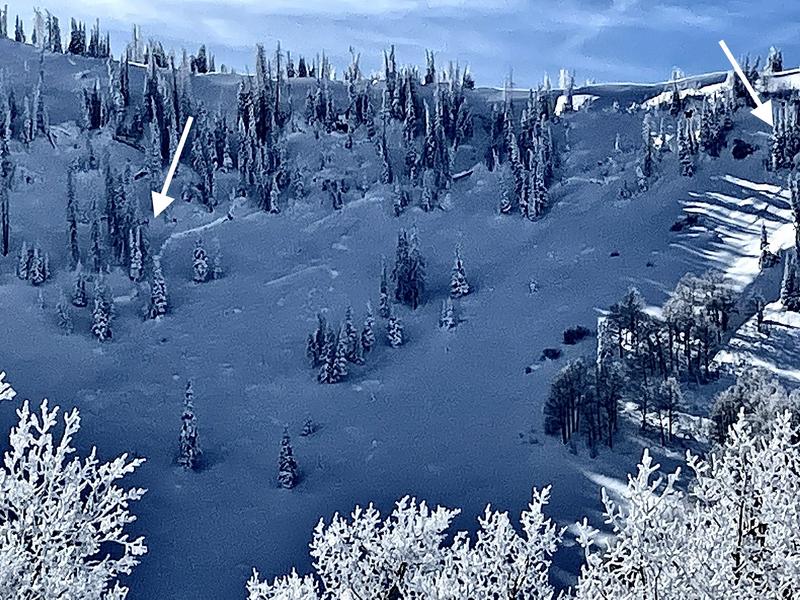 On Jan 2 the snowpack remained unstable.  Snowmobilers in Ephraim Canyon remotely triggered and very large avalanche that broke deep into the November facets.  It was destructive enough to snap large trees: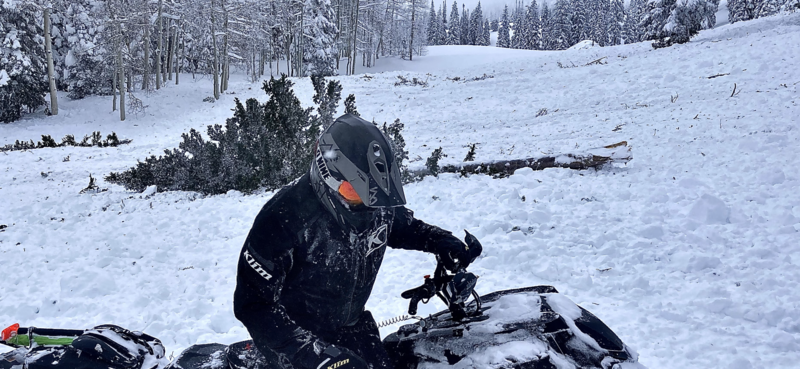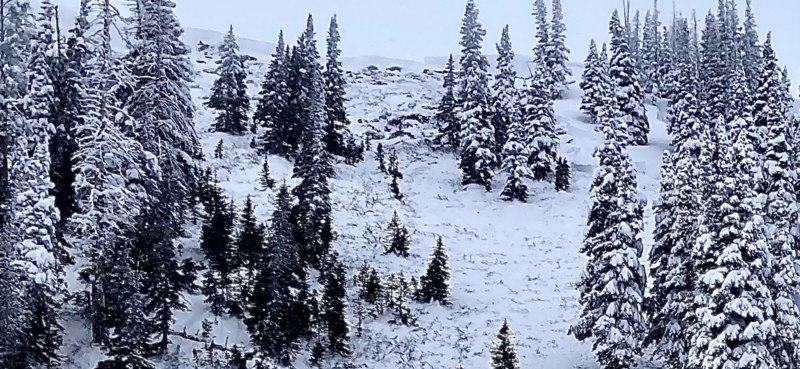 STABILIZATION:  Jan 3 through Jan 8
Small amounts of snow continued during this period but no new avalanche activity occurred.  All the heavy dense snow from the massive storm was settling.  It formed a VERY strong "bridge" over the weak facets from November and triggering an avalanche was becoming less likely.  Additionally, all the weight of the dense snow from the large storm was compressing the old facets and forcing them to gain strength.  There was no collapsing of the snowpack reported through this period.  Snowpit stability tests were quite stubborn but still showed that the weak layer could propagate.
A GOOD TEST:  Jan 9 through Jan 11
Another healthy storm moved in on Jan 9.  It again produced very high density snow at the start of it.  There was also strong wind associated with this storm.  The storm produced 1 to 2 feet of new snow.  There was some natural avalanche activity associated with the storm but it involved just the storm snow.  Photo below:  Natural storm slab at Electric Lake Bowl
No known avalanches broke into the old November facets.  This sizeable windy storm appeared to be a good indicator that the old facets were buried deep enough, bridged good enough and the weak layer had gained enough strength to not be a concern anymore.  As of January 12, it appeared that the old November facets were finally dormant.