[Note: The Week in Review is published once the winter season is firmly established, typically in early December. Given the amount of snowfall from this past week, we will publish an early-season Week in Review, with regular updates as conditions warrant.]
The danger roses for the Salt Lake mountains from Friday, November 4 through Thursday, November 10:

Summary: Early-season snow from October gets buried with several feet over the week of November 6. Snowpack depths are 3-4' along the Park City ridgeline and 4-5' in the Cottonwoods.
Friday, November 4: The UAC begins issuing danger ratings for the Salt Lake mountains. Snowpack depths are 1-3' with the highest amounts in the upper Cottonwoods. No backcountry avalanches are reported.
Saturday, November 5: A period of stormy weather begins with warm temperatures and heavy, dense snow accompanied by strong winds. Snow totals during the day are 3-6" containing nearly an inch of water.
Sunday, November 6: Snowfall overnight and into Sunday bring storm totals to 12-16" containing 1.5" of water. Warm temperatures raise the rain/snow line with rain reported up to 9,000'.
UAC director Mark Staples discusses the current state of the snowpack on Nov 6, prior to the upcoming midweek storm. What is important to note is that the existing snowpack does not contain persistent weak layers such as faceted snow or depth hoar. This is crucial information as it means snowfall expected this week will help create a deep and stable snowpack.
Monday, November 7: Strong southerly winds in excess of 50 mph ahead of a potent Pacific storm. A few inches of dense graupel is reported.
Tuesday, November 8: 24-hour snow totals since Monday morning are close to 2' containing 2" to nearly 4" of water. No human-triggered avalanches are reported, but several natural avalanches occur, including two on the south side of Little Cottonwood ridgeline.
Wednesday, November 9
: The first HIGH avalanche danger rating of the season with continued snowfall and strong winds. Temperatures begin to cool which lowers snow densities. Strong winds persist, creating widespread wind drifts at the mid and upper elevations. Snow showers continue throughout the day with 2-4" of low-density snow. A few large avalanches are reported from control work at resorts and a human-triggered avalanche on the Park City ridgeline that was 2' deep and 40' where the
rider was caught and carried
, fortunately with no injuries.
Thursday, November 10: The storm system slowly departs, but a few additional inches fall throughout the day. Storm totals since Monday are 2-3' of snow containing 3" - 4.5" of water, essentially doubling the depth of the snowpack since the start of the week. Avalanche activity involved human-triggered slides in fresh wind drifts. These were shallow (6-12" deep) and breaking out up to 75' wide, such as this avalanche on Thursay morning on Flagstaff Ridge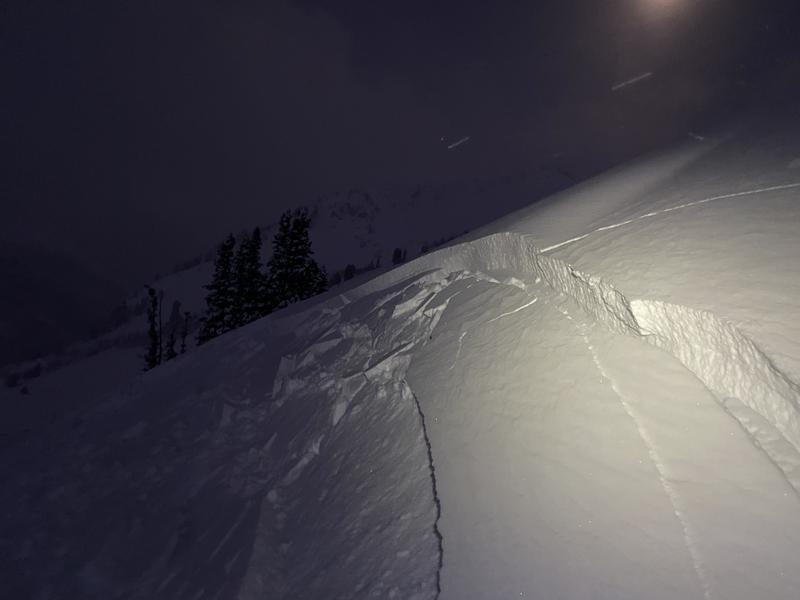 With clearing skies, evidence of natural avalanches that occurred on Tuesday and Wednesday are visible, such as in the photo below from
Pink Pine
: