---
I wanted to follow up the original
Summary
- PWL Avalanches from Feb 19-March 7th to now include March 8th-March 19.  
The first graph is the original from Feb 19-March 8.
The second graph is all inclusive:  Feb 19-March 19.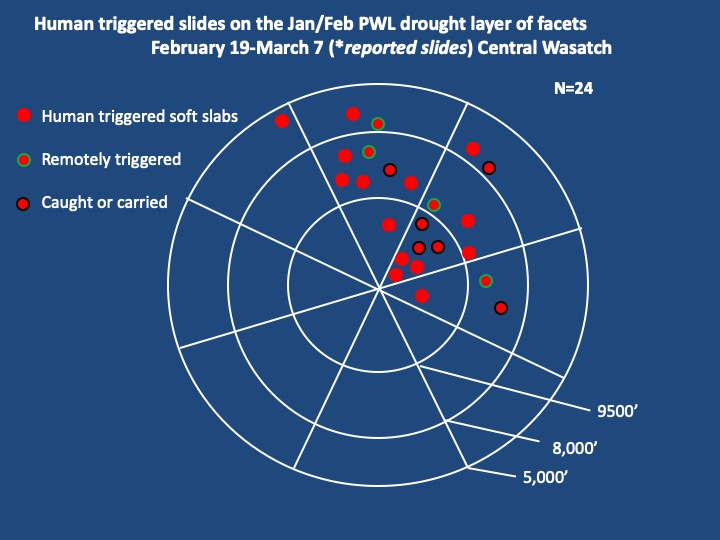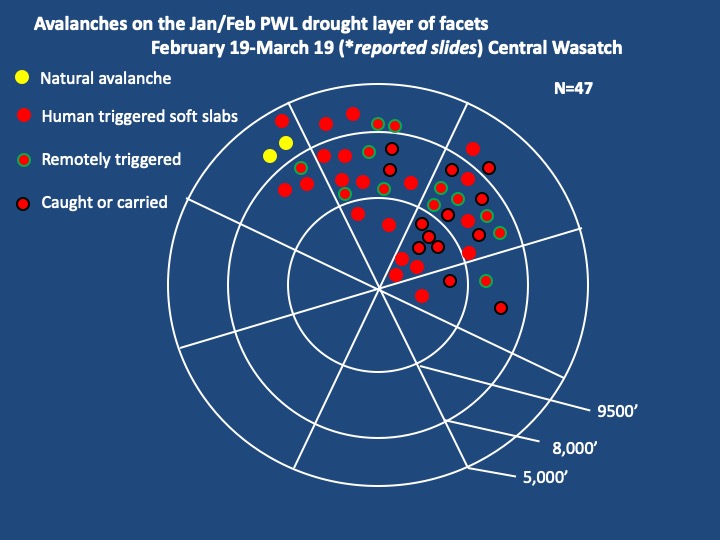 Feb 19th - Mar 19th Avalanche Activity
Total:  47 avalanches reported 
Upper Elevation: 11 avalanches
Mid-Elevation:  27 avalanches   WOW!!!!!
Low-Elevation:  9 avalanches
A few notes on the recent set of avalanches: 
Nearly all of the new PWL avalanches ran in the mid-elevations on north-northeast facing slopes. A couple new avalanches on northwest facing aspects.
Why mid-elevations?  Our hypothesis is that the upper elevations were significantly more spatially variable.  There was more wind, leading to uneven distributions of a slab.  The facets were also less continuously weak and consistent.  In the mid elevations, the slabs were less disturbed and the facets weaker and more continuous.
The two naturals (yellow) were along the highest flanks of Mt Aire.  Mt. Aire reaches to only 8671' and the elevations of the avalanches were ~7700'.  Mt Aire often has a nasty combination of weak snow and more wind.
At least 10 of the new avalanches were remotely triggered which means triggered from a distance..
Way more close calls during the second time period.  8 skiers caught of which 5 were carried.  At least 4 partial burials and one full burial (and live rescue after being buried 6' deep for 23 minutes.)
The 1st batch of slides were roughly 16" deep and 60' wide.  The second batch (March 9-March 19th) were roughly 2' deep and 200' wide.  
A couple patterns of lessons learned from these avalanches.  These are mistakes and perceptions than many of us can make:
Thanks again for everyone's reports and observations - this info helps to paint a more accurate picture of the avalanche conditions and in the end, helps save lives. 
Terrain
Steep, but short, seemingly benign openings in the forest are also dangerous.  Trees are now agents of traumatic injury.  Where are the thick trees? Mid/low elevations.
Some viewed the lower elevations as benign. Typically upper/mid elevation slopes are most dangerous but this is not the case currently.
I've never seen this slide before.  Familiarity
Human Factors
Inattention.  Head down and chatting while skinning and realized they were not where they thought they were. This led to crossing through avalanche terrain to regain the intended route.  
Party members feeling spooked but hesitant to relay concerns before the incident.
Powder fever
Too Trusting of an Unmanageable PWL
Saw other tracks on the slope.  Gave confidence.  
Drift into failure:  no previous signs of instability; no incident with skiing similar aspects/elevations
Mis-interpretation of ski cut:  since the avalanche did not release on the ski cut, it would be safe.  Instead, the avalanche released on the third or fourth turn down the slope.
Mis-application of ski cut:  avalanche broke well above person on the ski cut.  
---
---
Mark Staples has been gather information from a survey whenever people trigger an avalanche.  The data from 32 avalanches is in the attached PDF at the bottom.  The dates were Feb 23 to March 20.
It is well worth a read. 
1st photo - terrain that we picture as avalanche terrain - (West Deso)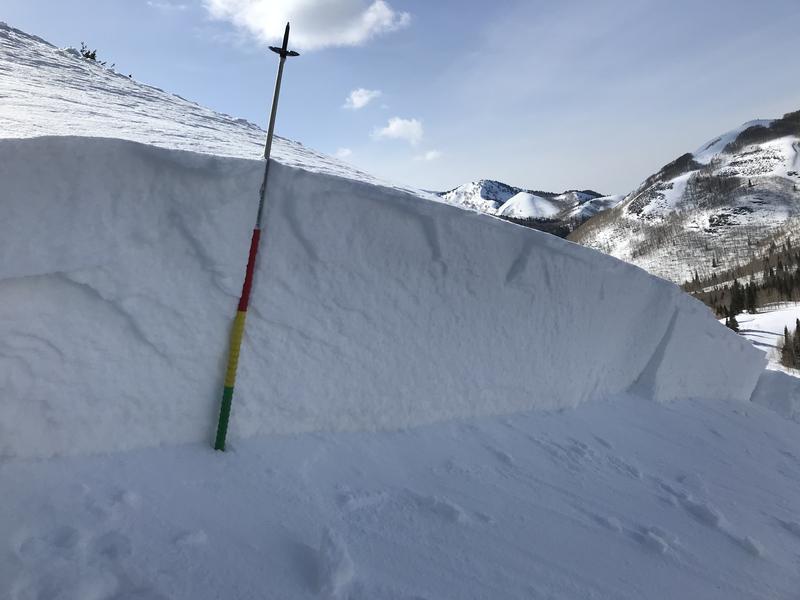 ---
---
Photos of terrain that appears more benign but may be even more dangerous due to being avalanched into the trees -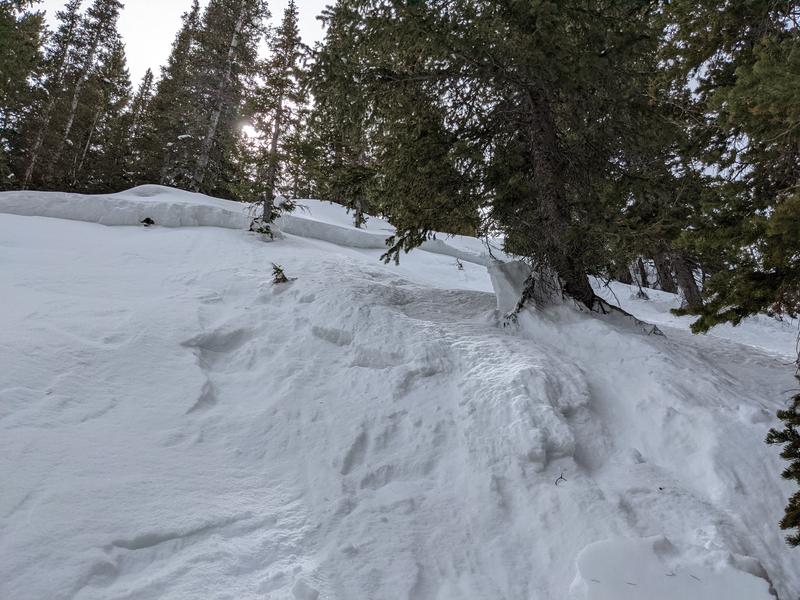 Cardiff Fork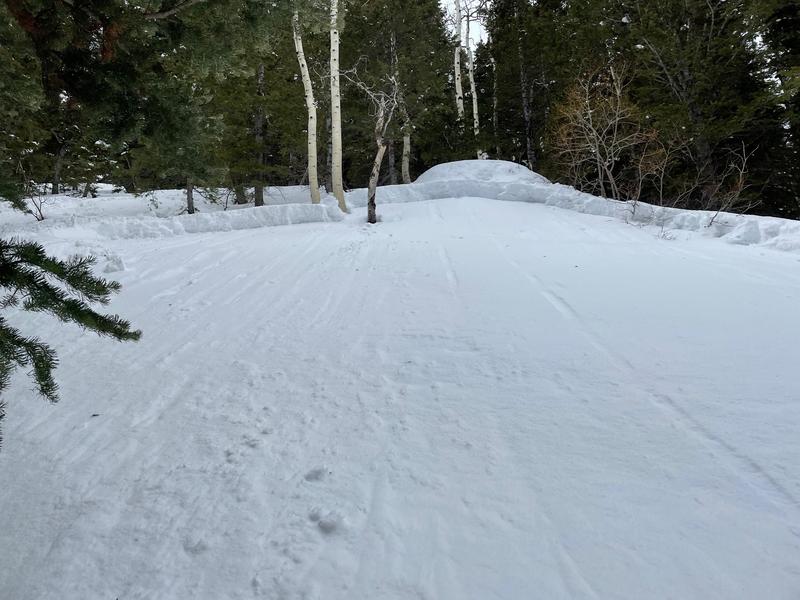 Lucky Days
Matts Basin
triggered avalanche summary.pdf