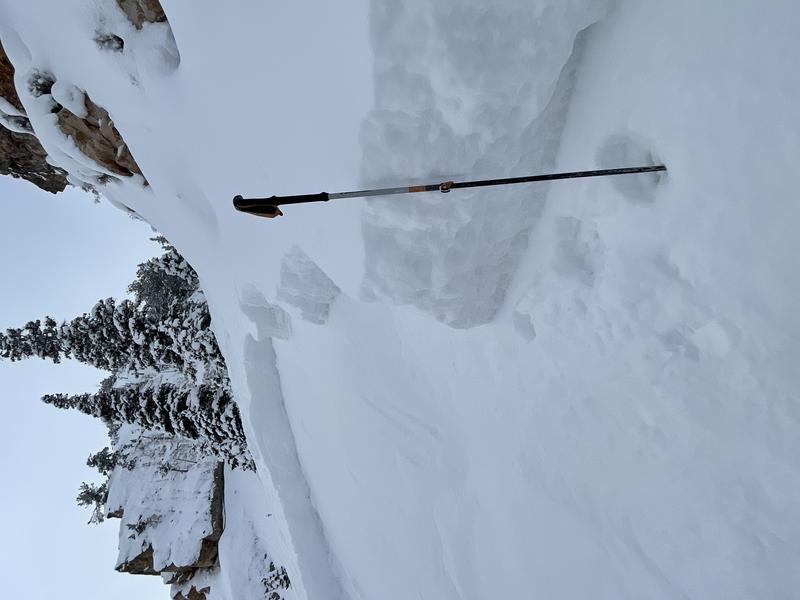 (February 25th slide in Neffs, pc-Meadows)
---
For upper Little Cottonwood Canyon, January was the third driest on record.  February was the driest on record. 
Records
go back to the winter of 1944/1945.  This long period of high pressure weakened the upper layers of the snowpack into facets: weak, sugary, cohesionless snow.  In many areas, this layer would become 15-25cm thick.  We knew this would become a problem when we finally receive significant storms. 
Unfortunately, snowfall has only arrived in dribs and drabs with no 12-hour snow interval reaching 0.5" of snow water equivalent.  (That is both a surprising and sad fact to behold.)
Thus, the slabs became soft and shallow, if they were slabs at all.  In many wind and sun protected areas, it was just low-density snow sitting above the facets.  In upper elevations, wind crusts made this layering quite variable. 
Still, slow settlement and periods of wind allowed for more concerted soft slab development and skier triggered slides have occurred nearly day since February 19th. Ten of the twenty four have occurred in the past two days, in lock-step with the most recent storm that dropped 20" and almost 1.0" snow water equivalent.  (It should also be noted that it was the best skiing/riding since early January. (!)
The diagram below provides some spatial extent of the activity.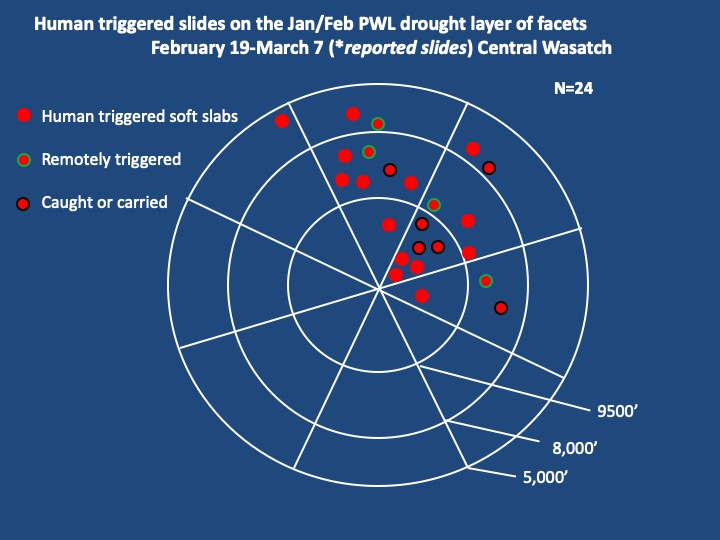 ---
A couple things of note: 
These soft slabs average roughly 16" deep and 60' wide and would be considered size 1.5 on the destructive scale.  They are big enough to kill a person.  
All of these avalanches were on polar (shady) aspects.  
Some of these avalanches were triggered remotely.  I suspect that number is actually higher.
Many parties reported being surprised by the avalanche and six people were either caught or carried.
Many of these avalanches occurred adjacent to other tracks on the slope.
Many parties had ridden similar terrain at similar aspects and elevations prior to triggering an avalanche.  
Collapsing and cracking were noted by many - but not all - of the parties.
THERE IS A LOT OF SPATIAL VARIABILITY, BOTH GEOGRAPHICALLY AND BETWEEN ELEVATION BANDS.  More than half (13) of these avalanches were triggered outside of the Cottonwood Canyon drainages - areas that are generally cold and shady and tend to harbor weak snow (ie: Neffs, Porter Fork, Mt Aire/Summit Park, Mill Creek).  After touring in Broads Fork of BCC on Feb 25th with two other avalanche professionals where we collapsed and cracked out a long angle slope, we hypothesized that the mid-elevation shady terrain may be the perfect confluence of 1- some of the weakest snow and 2 - just enough of a slab.  The diagram above might hint at that.  
OUTLOOK:  With additional snow and wind expected mid week and a dramatic warm-up this weekend, we expect the avalanches to become deeper, wider, more sensitive and more dangerous.  Our good friend, the guide Colby Stetson recently remarked, "There is an infinite variety of crusts and facets beneath the slabs out there (sic). Stepping back with the next load."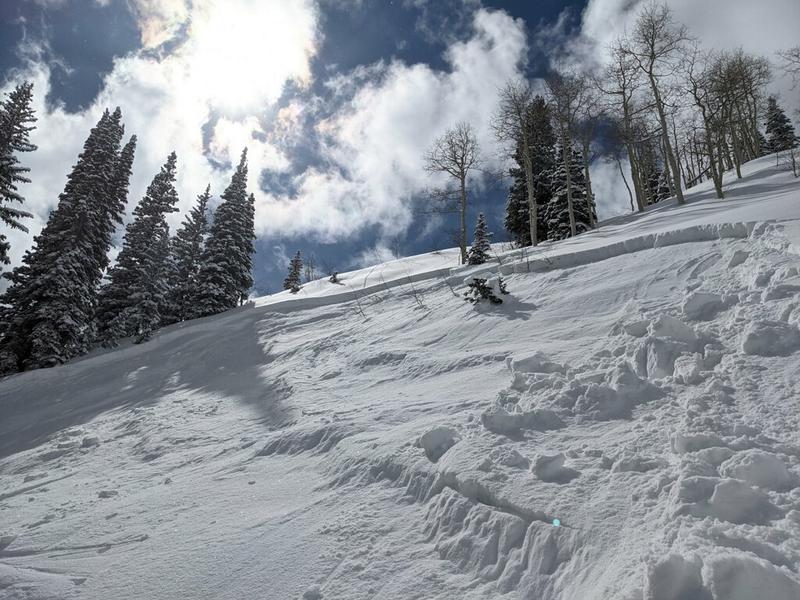 (Feb 7th soft slab avalanche along the Park City ridgeline, pc -McCann)
---
LIST OF AVALANCHES
DATE, AREA, DEPTH, WIDTH
3/7/2022 Avalanche: Park City Ridgeline 20"60'
3/7/2022 Avalanche: Main Days Skier 15"
3/7/2022 Avalanche: Neffs Skier 16"80'
3/7/2022 Avalanche: Santiago Ridge Skier 18"50'
3/7/2022 Avalanche: Summit Park Skier 10"30'
3/7/2022 Avalanche: Days Fork Skier 18"20'
3/6/2022 Avalanche: Mt Olympus Skier 12"40'
3/6/2022 Avalanche: Summit Park Skier 14"60'
3/6/2022 Avalanche: West Porter Skier 12"40'
3/6/2022 Avalanche: Yellow Jacket Snowboarder 16"50'
3/2/2022 Avalanche: Little Water Skier 10"80'
3/1/2022 Avalanche: Yellow Jacket Skier 14"50'
2/28/2022 Avalanche: Porter Fork 14"60'
2/27/2022 Avalanche: Raymond Peak 12"60'
2/26/2022 Avalanche: Spire Skier 18"50'
2/26/2022 Avalanche: Mill A Skier 12"35'
2/25/2022 Avalanche: Neffs Skier 2'100'
2/25/2022 Avalanche: Mt Aire Skier 6"80'
2/25/2022 Avalanche: Scotties Notch Snowboarder 18"30'
2/23/2022 Avalanche: Neffs Skier 10"30'
2/22/2022 Avalanche: Kessler Slabs Skier 12"20'
2/22/2022 Avalanche: Mill B South Skier 18"20'
2/22/2022 Avalanche: Broads Fork Snowboarder 10"40'
2/19/2022 Avalanche: Mill B South Snowboarder 12"30'