Greg Gagne
Our Week in Review highlights significant snowfall, weather, and avalanche events of the previous week. (Click 
here
 to review the archived forecasts for the Salt Lake mountains.) 
The danger roses for the Salt Lake mountains from Friday March 8 through Thursday March 14:

Summary: 
Friday March 8 - A strong cold front moved into the Wasatch on Friday afternoon, delivering yet again another over-achieving storm system dropping 8-18" in the Cottonwoods, and 6-10" in the Park City mountains. There was a natural cycle mid-afternoon during the height of precipitation intensity, with the most significant natural avalanches occurring in the Provo mountains (photo below). In the Salt Lake mountains, two skiers went for short rides in Cardiff Pass as well as Patsy Marley.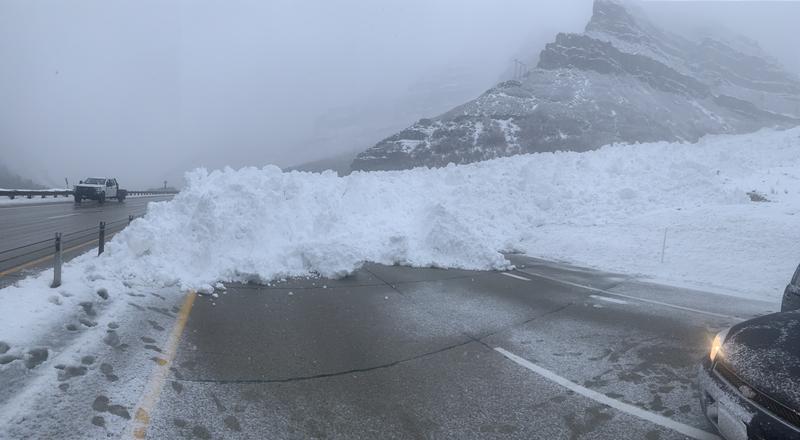 Saturday March 9
- 1-4" more inches fall, and a few avalanches are triggered including a remotely-triggered slide on the West Willow ridgeline photo below (
observation
), a cornice drop on a northeast aspect in South Monitor bowl on the Park City ridgeline (
observation
), and a snowmobiler triggered slide in Snake Creek Canyon.
Sunday March 10
- Overcast skies and some greenhousing. The only avalanche activity reported from the backcountry was in the tri-chutes area of White Pine canyon photo below (
observation
)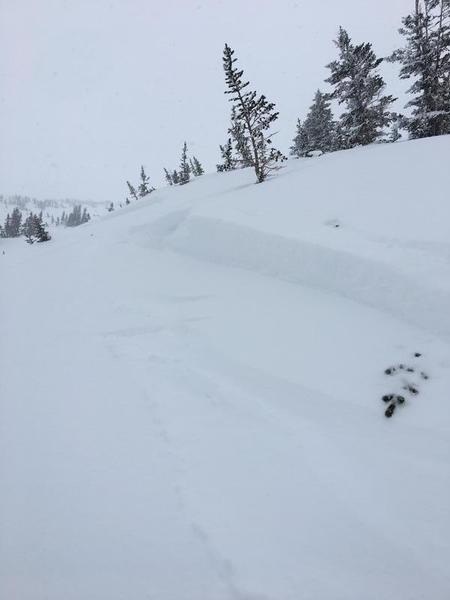 Monday March 11 - Warming with clear skies leads to wet loose activity, especially on the steep, south-facing paths in Little Cottonwood Canyon.
Tuesday March 12 - Clouds and cooler than forecasted temperatures keep a lid on wet avalanche activity.
Wednesday March 13 - An impressive cold front arrives in the early-morning hours on a cold, northwest flow, delivering 10-15" of storm snow with 1" of water in Big Cottonwood and Park City mountains. As is often the case with a northwest flow, upper Little Cottonwood fares best, with storm totals of 33" containing 1.6" of water. Widespread sluffing in the storm snow, with sensitive wind slabs and long-running slides on steep, south-facing paths in Little Cottonwood.
Thursday March 14
- Increasing stability in the storm snow, but two slides in mid Big Cottonwood are reported, including a long-running sluff on Kessler Peak shown in the photo below (
observation
)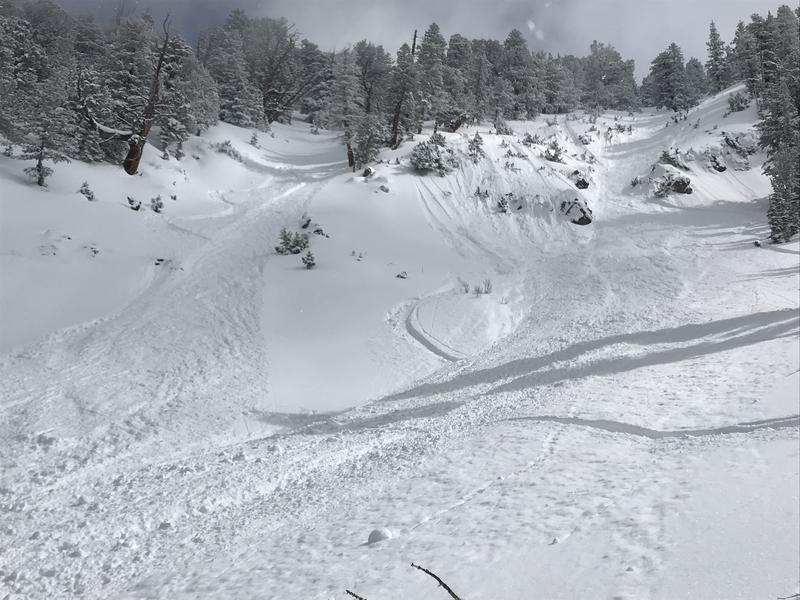 A storm slab avalanche in George's Bowl in Cardiff Fork is also reported and is shown in the photo below (
observation
).