Progression of danger roses for the Salt Lake mountains for 3/30 - 4/5. (Click on the day of the week for the archived forecast for that day.)
Friday
Saturday
Sunday
Monday
Tuesday
Wednesday
Thursday






Low Considerable Moderate Moderate Moderate Moderate Moderate
Summary - A significant rain event Friday and Saturday followed by generally stable conditions through midweek. A cold storm system enters the region late in the week.
Friday April 6 - A warm storm system enters the state with a mixture of snow and rain to high elevations. Upper reaches of the Cottonwoods record nearly 0.8" of water, most of that falling as rain. Minor wet, loose activity.
Saturday April 7 - A period of heavy rain to 10,500', with 1-2" of rain recorded. A natural avalanche cycle of wet-loose activity in the top 6-12" of snow, generally running on top of the March 22nd rain crust.
Sunday April 8 - Cooling temperatures and 3-8" of dense graupel fell on top of a frozen snow surface. The dense snow did not bond well to the icy snow surface from Saturday's rain (photo below from Todd Glew) , and several avalanches are reported from the backcountry where the dense new snow easily run on the slick bed surface. A common theme is these avalanches ran on very low-angled slopes (in some instances in the low to mid 20's in degrees) and also ran far, entraining moderate amounts of snow in the debris.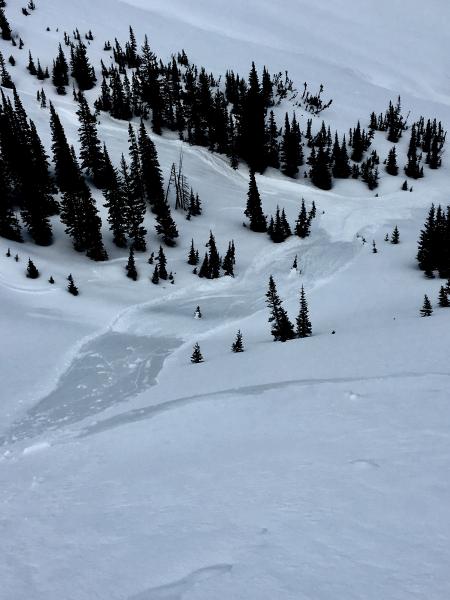 At elevations above about 10,000' the bed surface was less icy, providing the the new snow a better bond.
Monday-Wednesday (April 9-11) - Cool high pressure with only minimal wet loose activity. One larger wet loose slide occurred on East-facing Mount Raymond where the top 6" of wet snow ran on the slick rain crust from Saturday's rain event. (Bill Nalli photo)
Several mountain locations remain well-above freezing for 36-48 hours.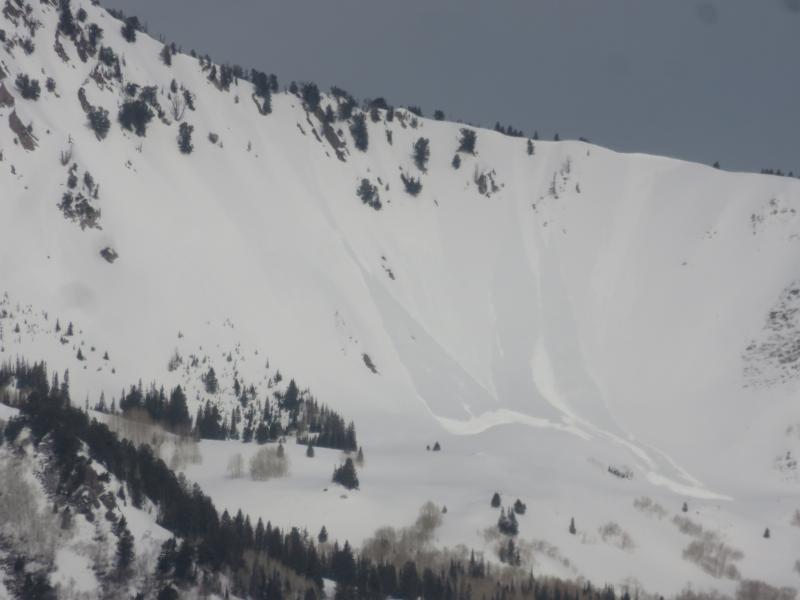 Thursday April 12 - A cold Pacific storm system enters the state and deposits 8-10" of dense snow and graupel by late Thursday afternoon. Moderate to occasionally strong winds out of the west/northwest drift snow at the upper elevations, but only small isolated loose and soft slabs are reported.