Observer Name
Craig Gordon/Ted Scroggin/Trent Meisenheimer
Observation Date
Avalanche Date
Region
Uintas » Bear River Ranger District » Gold Hill
Location Name or Route
Gold Hill
Elevation
10,200'
Aspect
North
Slope Angle
39°
Trigger
Snowmobiler
Trigger: additional info
Unintentionally Triggered
Avalanche Type
Hard Slab
Weak Layer
Depth Hoar
Depth
4'
Width
200'
Vertical
200'
Carried
1
Caught
1
Buried - Fully
1
Killed
1
Accident and Rescue Summary
Ryan A. Noorda and his brother Kevin are out for a day of riding. Late in the afternoon, they're headed back to their RV at the Bear River Trailhead and decide to play around on a popular slope in Gold Hill Basin. At approx 17:15 Ryan climbs a north facing slope and triggers a slide which breaks well above him as he's low on the slope. He's caught, carried, and consequently buried several feet deep on a benched terrain feature where the bulk of the debris stacks up. Kevin begins a beacon search, locates his brother, and begins CPR. About 20 minutes elapse when Kevin flags down a local rider and his son who assist in the rescue and notify local SAR. CPR continues for an additional 20 more minutes. While heroic efforts are made to save Ryan's life, medical crews pronounce him dead at the scene.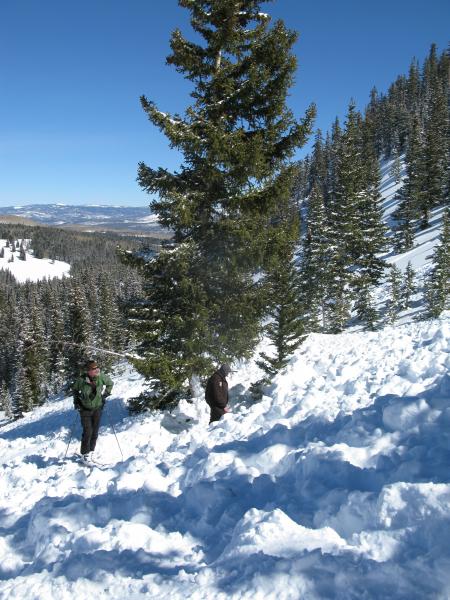 Debris stacked up deeply on this bench feature. Ted and Kevin Taylor from State Parks stand close to the tree that Ryan was located near.
Terrain Summary
Gold Hill is a quick jaunt for local riders staging out of Bear River, however the terrain is far from straight-forward. As a matter of fact, it's quite complex and the sparsely spaced trees could give a rider a false sense of security. Steep, rocky terrain tends to promote a very weak snowpack.
This is a short, steep, slope averaging 38 degrees in steepness. Looking at an entry track and given the snowpack structure, we speculate the slide was triggered low on the path, on a portion of the slope nearing 36 degrees. The slab was connected to a steep portion of the slope above nearing 40 degrees in steepness.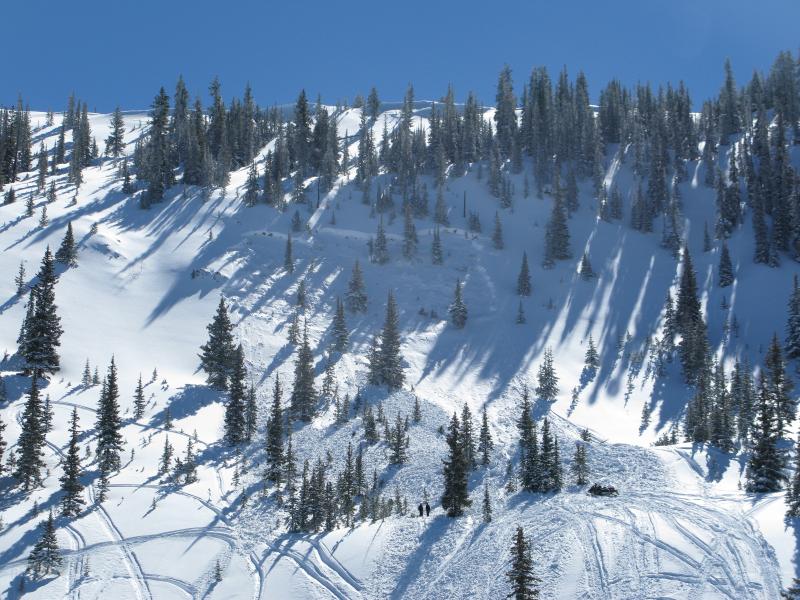 Weather Conditions and History
While the western Uinta's received early snow, sporadic storms and a dry spell from December into early January helped drive a strong temperature gradient, creating very weak basal snow. In addition, extremely cold temperatures lead to a snowpack with little to no structure. January 10th brought strong winds, heavy snow, and a widespread avalanche cycle with many slopes breaking deep and wide. A break in the action revealed an impressive avy cycle throughout the range, but many slopes remained intact. February 7th brought the next round of heavy snow, record water totals, and raging winds.
The range has remained incredibly active since mid January. Historically large and destructive avalanches breaking to the ground have become the norm. While there have been many close calls, this relatively small avalanche combined with steep terrain resulted in a tragic accident.
Snow Profile Comments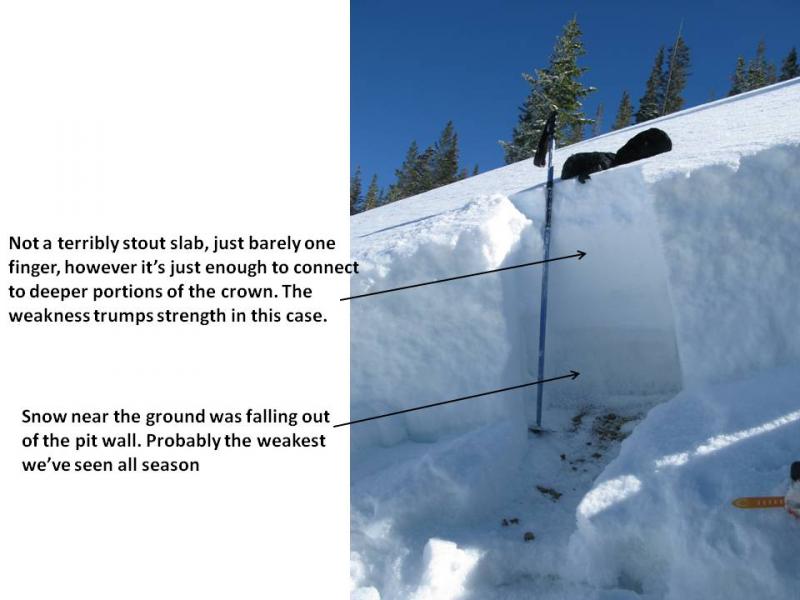 Video
Coordinates