Description:
It feels like the snowpack is adjusting to the recent storm and in most terrain across the range the pack is happy in its own skin. However, the Uinta's are a big zone and I bet there's still a surprise or two lurking out there today. Prime suspects include terrain that has already avalanched this year along with a vast majority of steep, shady slopes that have remained thin and shallow this winter. Terrain with these characteristics remains sketchy and should be considered guilty until proven otherwise. Sounds complicated, but the answer is easy. The way we manage unpredictable avalanche dragons is to simply avoid where they live. If you're looking for powder and safe riding, simply tone down your slope angles and avoid terrian with steep, wind drifted slopes hanging above you.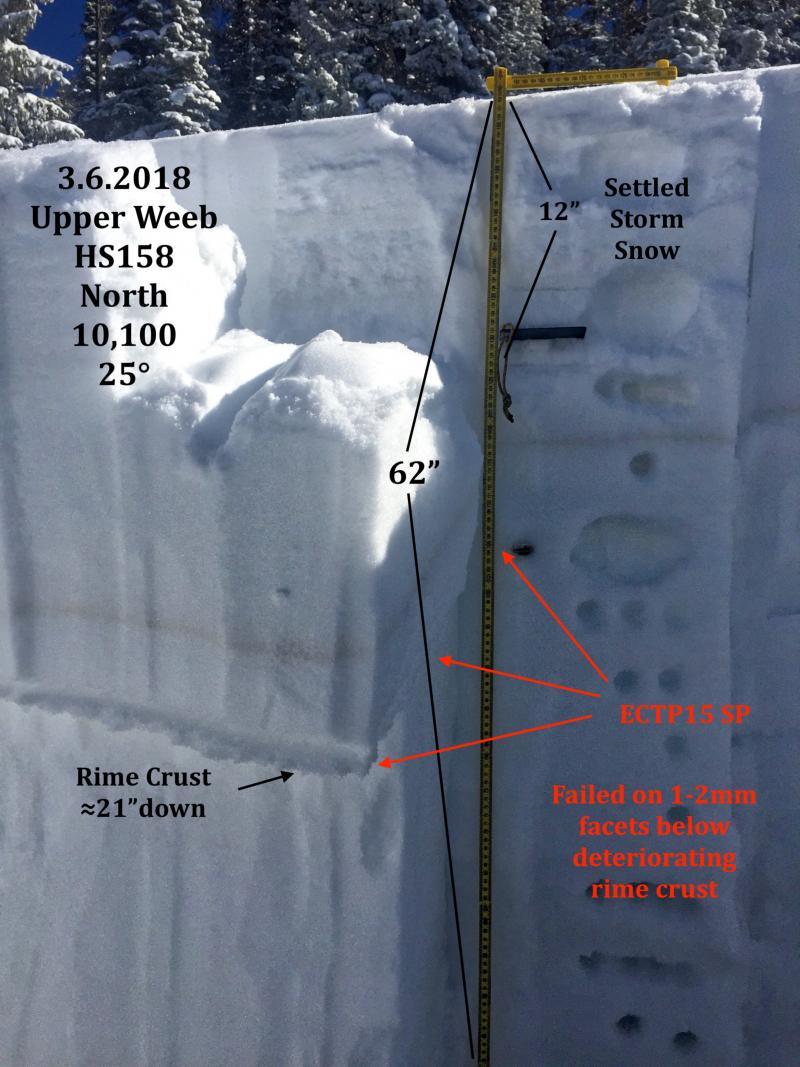 JG was in Weber Canyon yesterday and expeierinced a big, booming collapse. Here's his take on things- 
"After collapsing a slope and getting propagation with medium effort on ECT's we decided to err on the side of caution and, for the most part, kept slope angles down and tried to minimize our exposure when we did get into steeper terrain. Just when I was starting to feel a little better about the persistent slab instability, signs today told me we're not quite out of the woods yet."
Sound advice from a very savvy backcountry rider with decades of experience in the Uinta's.
Current Conditions:
Skies are clear and temperatures have risen into the teens. Along the high ridges westerly winds blow in the teens and low 20's. Sunny slopes took on some heat yesterday and have a thin crust, but riding and turning conditions remain quite good, particularly on mid elevation, wind sheltered, shady slopes.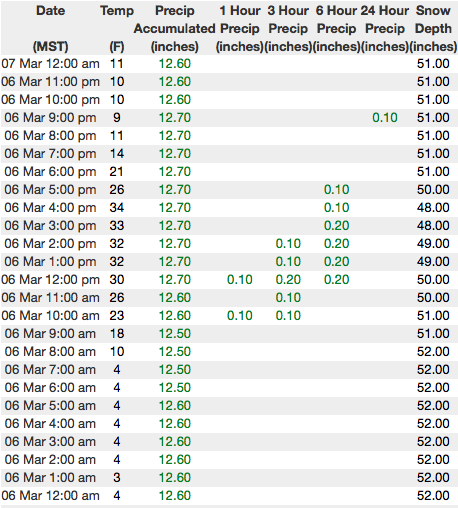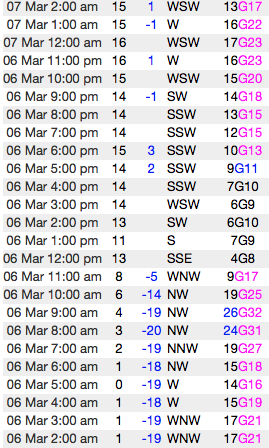 Above are 24 hour temperatures and snow depth from Trial Lake along with winds and temperatures from Windy Peak. More remote Uinta weather stations are found here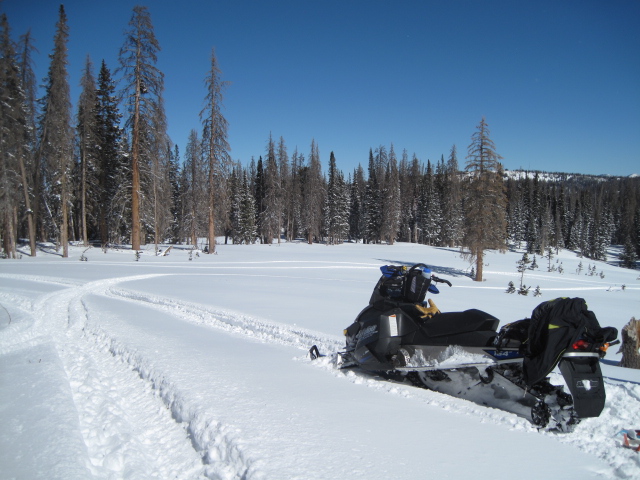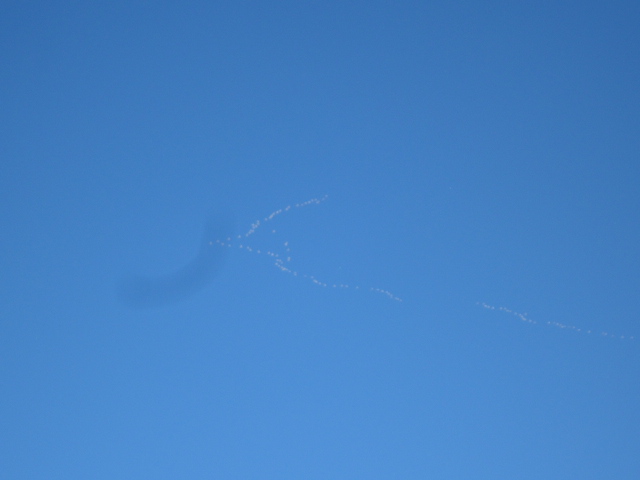 Ted was in Moffit Basin and found great riding along with an airshow provided by this flock of Cranes returning for their annual roost.
You can find a great body of recent trip reports, observations, and snow data here.  
Recent Activity: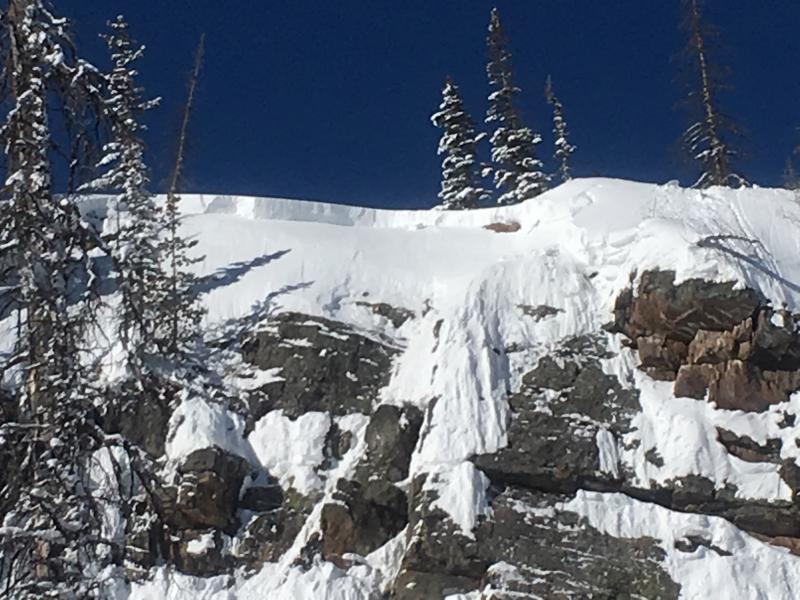 Dan Gardiner was near Mirror Lake yesterday and triggered this slab on a steep, unsupported slope, while playing around on the flats above.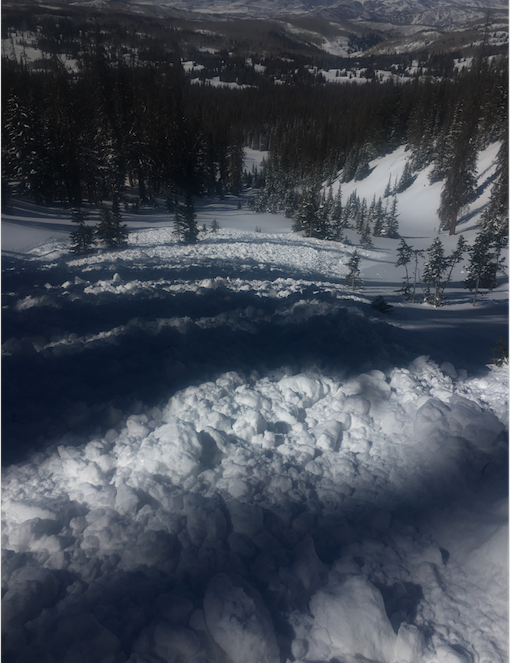 Meanwhile in Upper Moffit Basin, Jason triggered this slide on a steep northerly slope, which broke into deeply buried weak layers of snow near the ground and piled up a surprising amount of knee tweaking debris. Fortunately no knees were tweaked in the triggering of this slide.
Mountain Weather: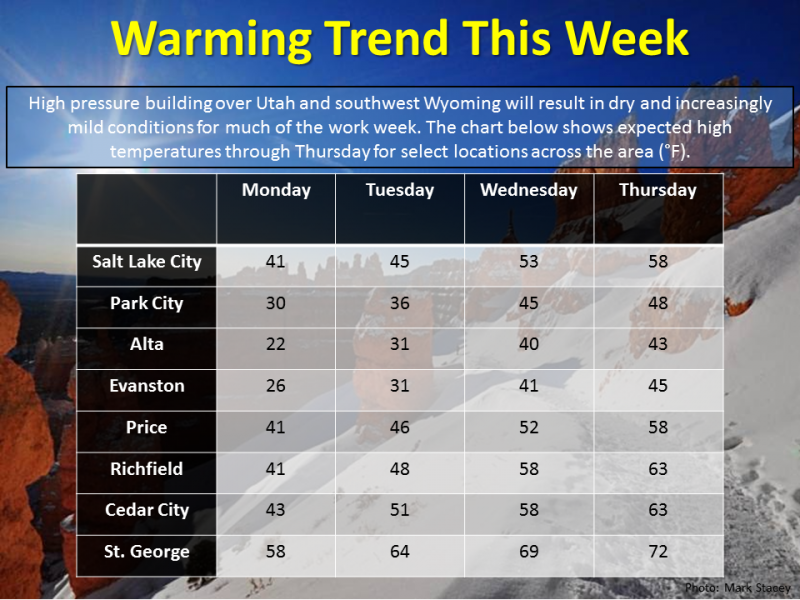 High pressure camps out over the region the next couple days. We can expect sunny skies, light winds, and temperatures climbing into the upper 30's and low 40's through Thursday. A weak cold front may produce light rain and snow showers beginning Friday.
Bottom Line:
In upper elevation terrain, especially in the wind zone at and above treeline, the avalanche danger is MODERATE. Human triggered avalanches are POSSIBLE on steep wind drifted slopes facing the north half of the compass, particularly those with an easterly component to their aspect. Any avalanche breaking into weak layers of snow, now buried deeper in our snowpack will quickly ruin your day.
LOW avalanche danger exists on mid and lower elevation, wind sheltered terrain and on most slopes facing the south half of the compass.
Description:
Prior to the storm, winds were all over the place, forming stiff wind slabs on the leeward side of upper elevation ridges and around terrain features like chutes and gullies. Today's hard slabs are gonna be a bit stubborn, but once triggered, they'll break deeper and wider than you might expect and are gonna pack a punch.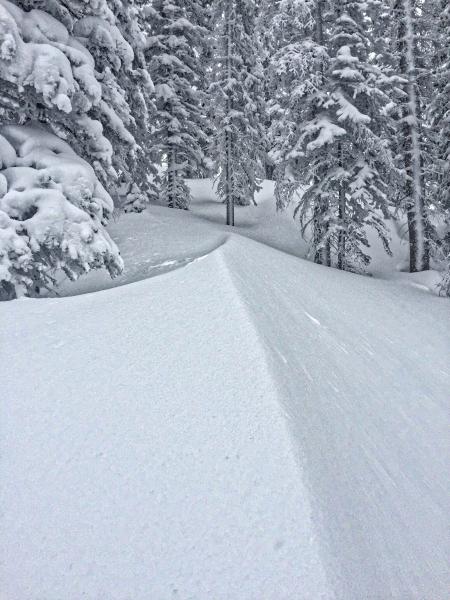 You can ride safely today by looking for and avoiding fat, rounded pillows of snow, especially if they sound hollow like a drum.
General Announcements:
The information in this advisory expires 24 hours after the date and time posted, but will be updated by 7:00 AM Thursday March 8th, 2018.
If you're getting out and about, please let me know what you're seeing especially if you see or trigger and avalanche. I can be reached at craig@utahavalanchecenter.org or 801-231-2170
It's also a good time to set up one of our very popular avalanche awareness classes. Reach out to me and I'll make it happen.
This information does not apply to developed ski areas or highways where avalanche control is normally done. This advisory is from the U.S.D.A. Forest Service, which is solely responsible for its content. This advisory describes general avalanche conditions and local variations always occur.
Rose: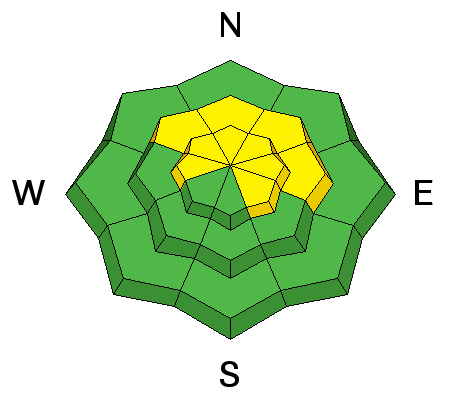 Rose: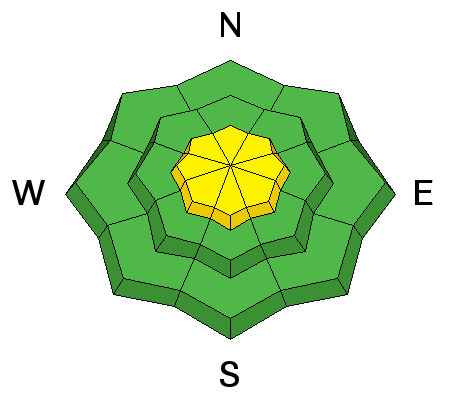 Rose: