Description:
Today's west/northwest winds will easily transport the abundant loose snow into sensitive wind drifts. These will primarily be found on leeward aspects facing north through southeast, but with so much loose snow available for transport, these gusty winds can quickly create fresh drifts on any aspect at the upper elevations.
Fortunately, as the winds are forecasted to primarily be a concern along upper elevation ridgelines, this means if you stick to the low and mid elevations, you are less likely to encounter drifting and also find the best riding conditions.
 (click here to learn more about wind slabs.) Getting caught in even a small windslab could be dangerous as it could step down into older, weak snow and become bigger and more consequential. 
Cornices are becoming more widespread along ridgelines and will continue to grow larger and more sensitive with today's winds and heavy snowfall. Cornices often break back further than expected, on to what looks like flat terrain. Give them a wide berth and avoid travel below them.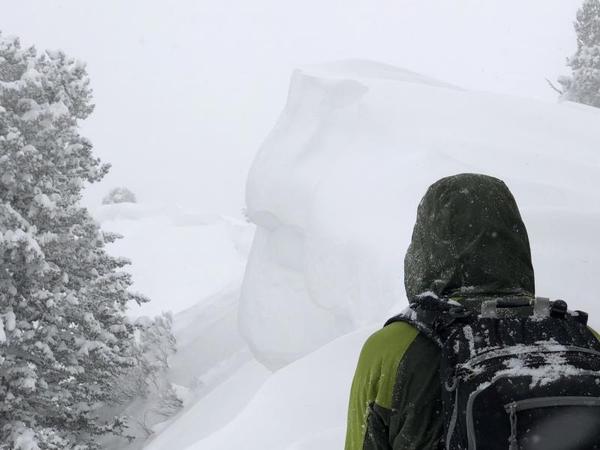 Special Announcement:
To get help in an emergency (to request a rescue) in the Wasatch, call 911. Be prepared to give your GPS coordinates or the run name.
If you trigger an avalanche in the backcountry, but no one is hurt and you do not need assistance, please notify the nearest ski area dispatch to avoid a needless response by rescue teams. Thanks.
*****************************************************************************************************************************************************************************************
Episode 6 of the UAC podcast "A Conversation with Tom Kimbrough, Hemingway of the Wasatch" is live. We explore ideas about lifetime exposure to risk and what role Buddhism has played in his life as a climber, as a skier, and as a soon-to-be octogenarian. We talk about what has changed over the years in snow science and the role of mentorship in the world of forecasting and other professions and pursuits. Check it out on ITunes, Stitcher, the UAC blog.
We have discount lift tickets for Alta, Snowbird, Brighton, Solitude, Snowbasin,and Beaver Mountain. Details and order information here. All proceeds from these go towards paying for avalanche forecasting and education!
The UAC Marketplace is still open. Our online marketplace still has deals on skis, packs, airbag packs, beacons, snowshoes, soft goods and much more.
Current Conditions:
Temperatures in the Ogden mountains range throughout the teens, and winds are blowing from the southwest to northwest, gusting into the 20's mph. Snowfall in the Ogden mountains since Saturday night generally ranges from 12-18".
Recent Activity:
Reports from Ogden mountain resorts included sluffing and soft slabs in the storm snow, as well as pockets of wind-drifted snow at the upper elevations. One observer noted the wind-drifted slabs were particularly hard. All avalanche activity was within storm snow. You can find all Ogden-specific observations HERE.
Mountain Weather:
We have a beautiful winter day in store with mountain temperatures rising into the teens under mostly cloudy skies. We may scrape out a trace of snow early this morning. Winds will be out of the west/northwest and gusty, especially along the upper elevation ridgelines. At the mid elevations, winds will average in the teens, with gusts in the 20's and 30's mph. At the upper elevations, winds will average in the 20's and 30's, with even stronger gusts.
Bottom Line:
The avalanche hazard is CONSIDERABLE in upper elevations for fresh wind drifts, and at the mid and upper elevations for persistent slabs. There is a MODERATE hazard for sluffing in the loose storm snow on steeper aspects. Fortunately, plenty of safer, 5-star riding conditions can be found on lower-angled slopes as well as southerly aspects.
With what many are describing as the best conditions of the year, it is easy to let the brilliant riding cloud good judgement. Be sure to practice the usual safe protocol of exposing one person on a slope at a time and getting out of the runout zone at the bottom. Clearly communicate plans with your partner(s). If you do drop cornices or ski cut slopes, be absolutely sure no one is below you.
Description:
The late weekend storm quickly added over an inch of water weight to the snowpack in the Ogden mountains. As the retired director of the UAC - Bruce Tremper - would often say, "snow is like humans, and does not respond well to rapid changes". This past week slides breaking down into older, faceted snow occurred from both backcountry riders as well as control work on Saturday. This recent storm load may be enough to get faceted layers at the mid-pack as well as down near the ground to be become even more reactive once again. Today's gusty west/northwest winds will put additional loading on these slopes.
Fortunately, the terrain where these persistent weaknesses reside can be avoided. This includes the southerly aspects which will ride quite nicely, as well as lower-angled terrain as yesterday's storm snow settles out.
Description:
Other than fresh wind drifts and persistent slab concerns, watch for sluffing in the loose storm snow on steeper slopes. These sluffs can run long distances, and entrain lots of snow. Be sure to avoid getting carried over steeper cliff bands or into terrain traps. Ski cuts at the top of steeper rollovers are very effective at managing this hazard. This concern will be greatest in areas that received the most snow, such as terrain in the Powder Mountain backcountry.
Although today's winds, cool temperatures, and mostly cloudy skies should keep the snow surface cool, if the sun does come out for any period, wet loose sluffs will be possible on steeper aspects. This is especially a concern at the lower elevations and in wind-sheltered areas.
General Announcements:
CLICK HERE FOR MORE GENERAL INFO AND FAQ
The UAC has new support programs with Outdoor Research and Darn Tough. Support the UAC through your daily shopping. When you shop at Smith's, or online at Outdoor Research, REI, Backcountry.com, Darn Tough, Patagonia, NRS, Stio, Amazon, and eBay, a portion of your purchase will be donated to the FUAC. See our Donate Page for more details on how you can support the UAC when you shop.
Benefit the Utah Avalanche Center when you buy or sell on eBay - set the Utah Avalanche Center as a favorite non-profit in your eBay account here and click on eBay gives when you buy or sell. You can choose to have your seller fees donated to the UAC, which doesn't cost you a penny
This information does not apply to developed ski areas or highways where avalanche control is normally done. This advisory is from the U.S.D.A. Forest Service, which is solely responsible for its content. This advisory describes general avalanche conditions and local variations always occur.
Rose: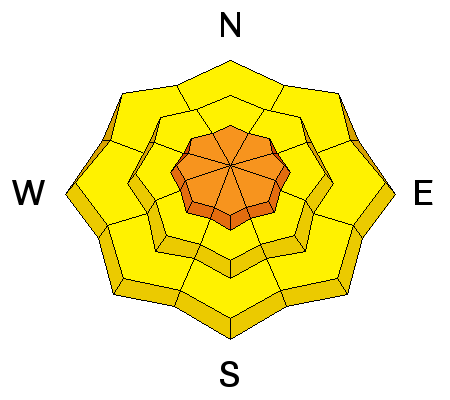 Rose: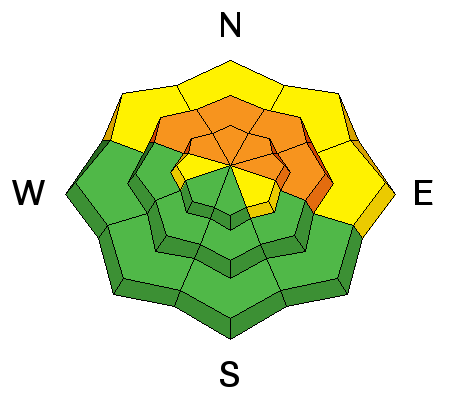 Rose: