Description:
Slow, very slow…like watching paint dry on a humid day.  The weak faceted layers in the snowpack were overloaded with the Christmas storms, and are still talking to us. Slides can still be triggered on this layer.  And while the likelihood of triggering a slide is slowly decreasing, the expected size remains the same – one to two feet deep, around 100 to 200' wide.  The facets are most widespread on northwest through easterly facing slopes at the mid and upper elevations, and can be triggered from a distance or from below.
Nothing can hurry the process, so patience and your inclinometer are your friends - there are lots of free aps for your phone, or a wide variety of styles and prices for hand held inclinometers.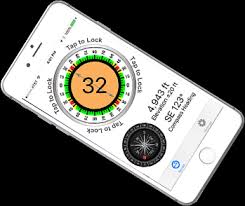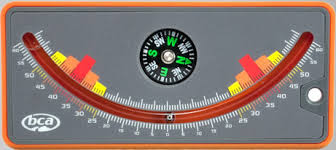 If you didn't see it yesterday, here's Trent's video again of the recent skier triggered slide in Dry Fork – an incredibly clear explanation of the current northern Utah snowpack and avalanche problem.
Current Conditions:
It's 2018 - Happy New Year!  And here's hoping for a "new" weather pattern, too.   
Under high thin clouds, temperatures in the Ogden area mountains are in the 20s, with a strange 33 degree reading at the Ben Lomand Peak site, and 18 degrees at the trail.    The southwesterly winds are in the 10 to 15 mph range, and Mt Ogden is up and running again (thanks Snowbasin patrol!).  There, speeds are averaging 35 mph, gusting in the 40s.  
Snow surface conditions are "variable" – a mix of sun and wind crusts, damp snow mid day, with soft, recrystallized powder on wind and sun sheltered slopes.  Snow depths are still quite shallow.
Recent Activity:
Avalanche activity has slowed – there have been two days in a row with no backcountry avalanches reported.  However, large collapses continued yesterday on the less traveled slopes of Little Water, Willows, and near Whiskey Hill.  The avalanche list is here.  Recent Ogden area mountain observations are here.
Mike Fogg was near Whiskey Hill yesterday - here's his profile and the photo of the snowpack and an ECT that broke while he was cutting the block. Observation.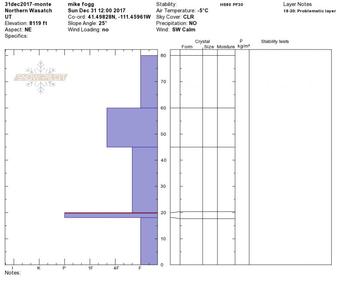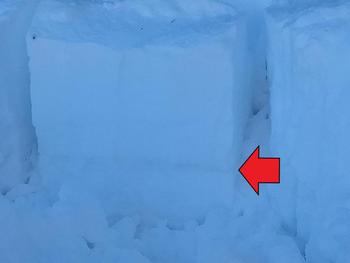 Mountain Weather:
The stubborn high pressure plaguing the western US will strengthen through the middle of the week.  For today, temperatures will warm into the mid 30s at 9,500'.    The southwesterly winds will increase, with 20 mph averages and gusts to 30 mph at the mid elevations, and 35 mph averages with gusts to 55 along the high ridgelines. Clear skies tonight, lows in the teens and twenties, and continued breezy winds.  No storms in the future through at least Friday.
Bottom Line:
The Avalanche Danger is CONSIDERABLE on steep, mid and upper elevation slopes facing northerly through easterly.   Here, avalanches 1 to 2 feet deep and up to 200' wide can be triggered, failing on sugary, faceted snow.  Avalanches can still be triggered from a distance and from below.
Avoid avalanche terrain by heading to slopes less steep about 30 degrees, which are not below steeper terrain, such as meadows and rolling, low angle terrain.
As wind speeds pick up today, any sensitive drifts forming along the high ridgelines should be avoided.
General Announcements:
FOR MORE GENERAL INFORMATION AND FAQ, CLICK HERE
Support the UAC through your daily shopping. When you shop at Smith's, or online at REI, Backcountry.com, Patagonia, NRS, Amazon, eBay a portion of your purchase will be donated to the FUAC. See our Donate Page for more details on how you can support the UAC when you shop.
Benefit the Utah Avalanche Center when you buy or sell on eBay - set the Utah Avalanche Center as a favorite non-profit in your eBay account here and click on eBay gives when you buy or sell. You can choose to have your seller fees donated to the UAC, which doesn't cost you a penny
This information does not apply to developed ski areas or highways where avalanche control is normally done. This advisory is from the U.S.D.A. Forest Service, which is solely responsible for its content. This advisory describes general avalanche conditions and local variations always occur.
Date:
Sunday, December 31, 2017
Rose: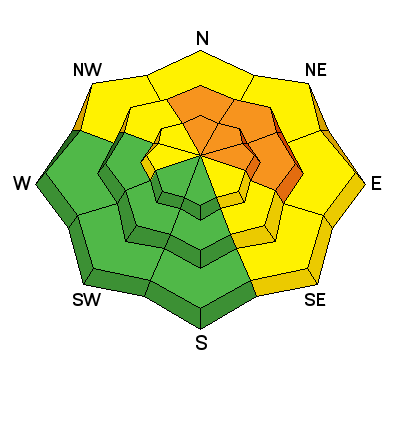 Rose: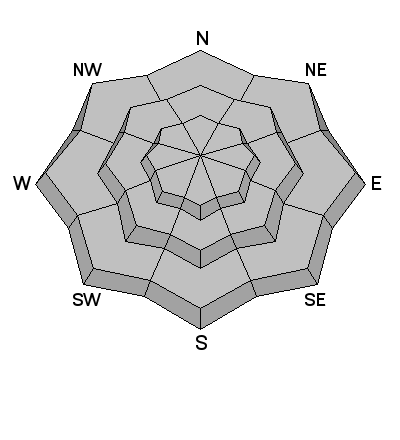 Rose: