Location Name or Route:
PC Ridgeline, Radar Love, No Name, USA Bowl
Comments:
Skied USA Bowl, Radar Love and No Name Bowl today, the snow went from bottomless yesterday to ankle deep, fast and creamy today on all aspects in the terrain covered. There was no signs of instability on the slopes skied or in W or S Monitor for that matter, no natural activity was noted except for cornice falls. I dropped a large cornice off of Scotts Peak onto the steep wind-loaded N facing slope, with no result. Continued on to No Name Bowl and by no means just dove in, first did the ski cutting that is possible in the bowl which doesn't amount to much, then side stepped down onto the slope and probed the snow which revealed 12 inches of right side up snow that was dense at the bottom and lightened up through the pack, this new snow was resting on a heat crust from our heat up last week and the crust was resting on top of lighter density snow and faceted layers, poor snow-pack structure box checked. But to get a avalanche you must also have a slab which was lacking in No Name, and the heat crust was fairly stout, and the new snow did not have enough weight to overload the crust. I felt good about skiing the slope but I still avoided the rocky roll-over in the top of the bowl that I have been avoiding all year. Only activity noted today was long running sluffs in steep NE- E facing slopes, they would run quite a ways but didn't pack much of a punch. I don't think the S facing went off today because of little to no sun and colder temps.
Photos: long running sluffs in No Name, the cornice I dropped into Scott's, and the wind transporting snow on the ridge line of No Name which is fairly well protected and at around 9400ft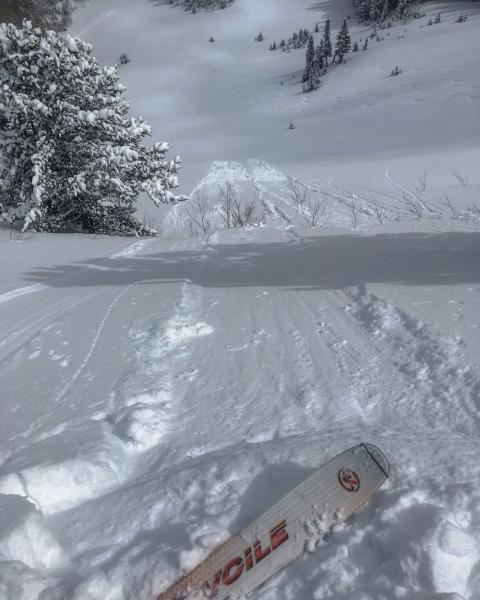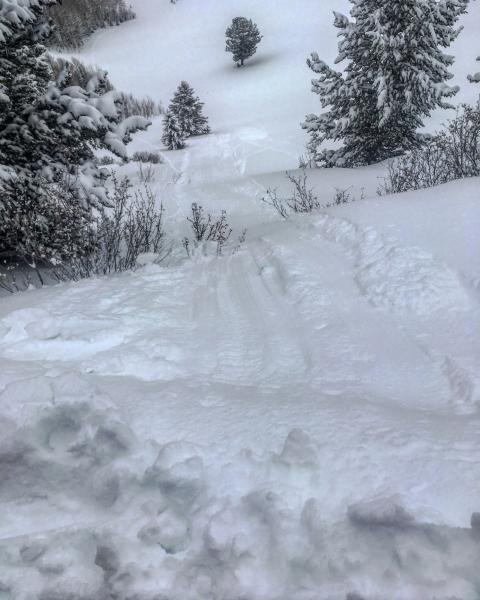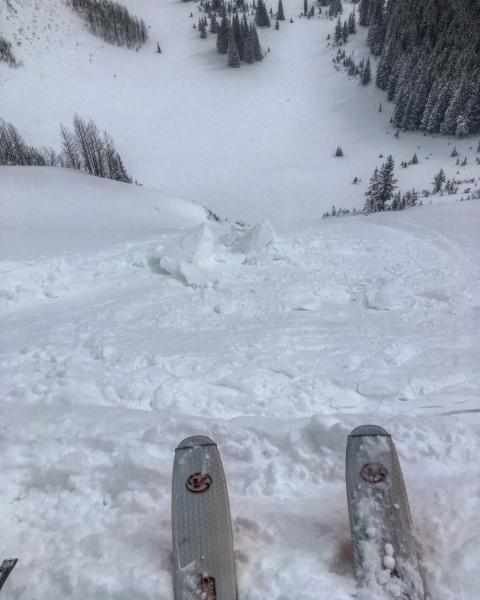 Moderate today in the terrain covered, not sure about the high alpine
Snow Profile Coordinates: