Comments:
Pits photos below:
Photo #1 - Was curious about damp snow at lower/mid elevations. This was on a NE aspect at 8500. Snow in bottom 65 cms (26") of the snowpack is damp with some facets. Only weak layer was down 50 cms (interface layer between Wednesday and Friday storms) with ECTN25.
Photo #2 - NW aspect at 9000'. ECTN15 down 35 at lower-density layer of Friday night storm. Faceted layer ~15 cms (6") below 2/18 dust layer has been a concern, but it was 4F at this location, and I was unable to pry the slab after performing formal stability tests.
Two other quick pits:
9200' N aspect ECTN15 down 50 cms (interface layer between Wednesday and Friday storms)
9500' N aspect ECTP23 down 50 cms. This had received a bit more wind loading from Friday night/Sat morning and the slab was stronger. Unsurprised to get the column to propagate across the column, but it didn't pop out with much energy, and am expecting this layer of lower-density snow to heal quickly.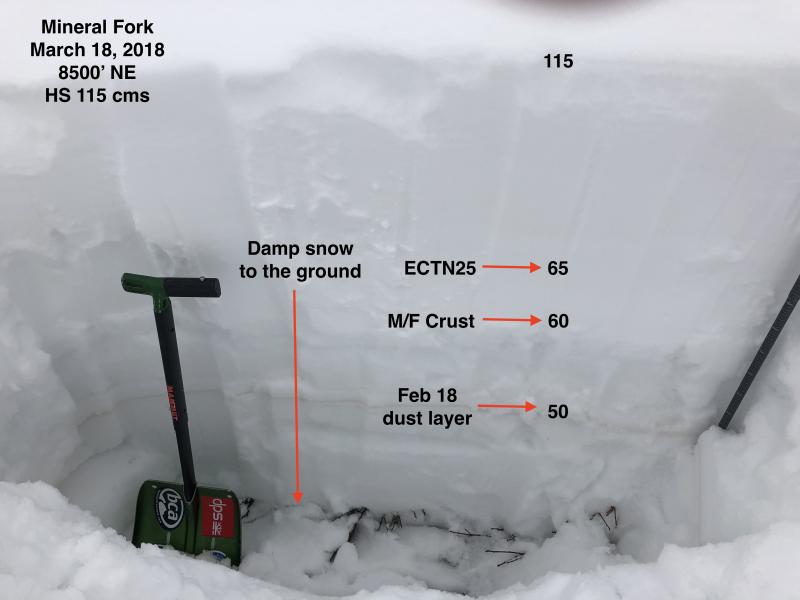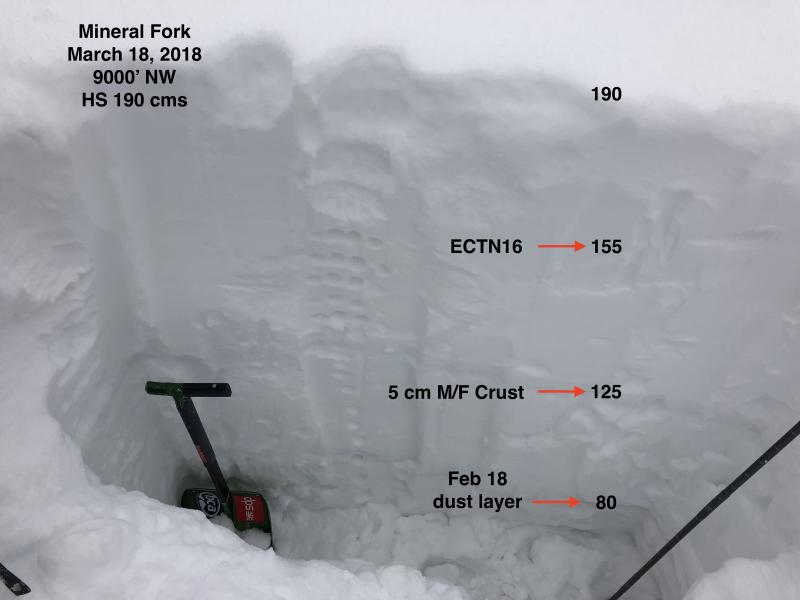 Sluffing in the top of the storm snow from steeper slope above. Generally harmless, but did find one area where the sluff was on the uphill side of the tree with a ~1.5m (~4.5') deposition.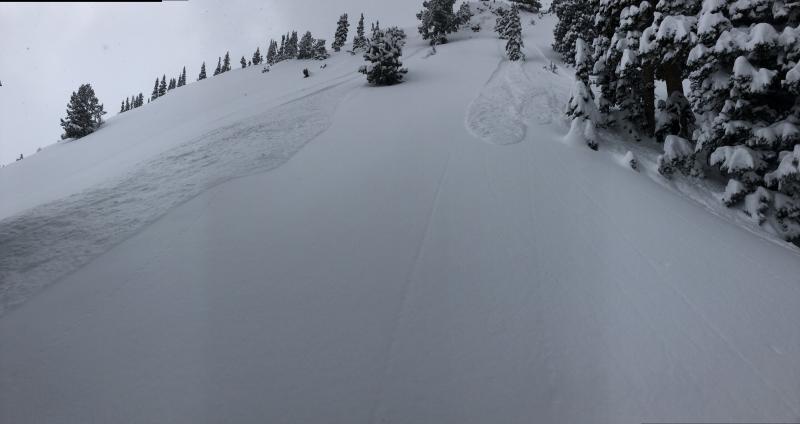 Stable snowpack where I was traveling today. In looking at the snowpack over the past two days, am finding general stability with a deep (2m+) snowpack and faceted layers down 1 - 1.5 meters showing signs of strengthening (now 4F). Storm snow instabilities healing quickly as well.
I wouldn't be surprised to hear of someone getting avalanching in storm snow today, especially where it was recently wind-loaded.
Mineral Fork to me is the poster child for what continues to spook me with our snowpack. Overall quite stable from what I saw today, but places such as Mineral have thinner snowpack areas around rocks and cliff bands. Today we descended a steeper line, but carefully chose our way around a rollover in a steep, thin, rocky area (an area I hit rocks 12 days ago) - exactly the type of terrain where you could trigger a deeper, persistent slab avalanche.
Snow Profile Coordinates: