Comments:
Was curious about faceting going on around the obvious dust layer that formed on Sunday Feb 18 and is now buried 60-80 cms (24-30") down from the snow surface. There have been reports of faceting above and below this crust, with a particular focus on weak facets below the crust. (See Drew's report from Butler Basin as evidence.)
Dug three pits today in East-facing Mineral. These were all on a northeast aspect at 8500', 9000' and 9500' What they all had in common was very weak facets and depth hoar in the bottom 15-30 cms of the snowpack down near the ground. There were facets below the dust layer, but not especially weak and I could not get any collapses or shears in the faceted snow below the dust layer. The photo below is from one of the pits, showing the obvious dust layer as well as layer of facets and depth hoar down near the ground.
Pit #1: 8500' NE aspect HS 105 cms
ECTP23 down 90 failing in very weak snow at the ground.
Pit #2: 9000' NE aspect HS 140 cms
ECTX
​Pit #3: 9500' NE aspect HS 130 cms
​ECTP23 down 105 cms down in very weak snow near the ground
Take Home Summary:
This is only three data points separated by elevation, so hard to draw conclusions. But in pits I have dug in upper LCC (3/1), Millcreek (3/4) and today in Mineral (3/6), I have not seen especially weak snow underneath the dust layer. This has been the weak layer in some of the recent avalanches, so it obviously is a concern. But from what I have seen, it just reinforces the spatial variability of this problem. Fortunately, the dust layer is an easy point to mark, and the weaker facets are about 5-15 cms below this layer. It is easy to get out the shovel and dig to evaluate its strength.
The weak snow at the ground is also a good reminder of how the deeper instabilities are a concern in thin snowpack areas as well as repeater slopes.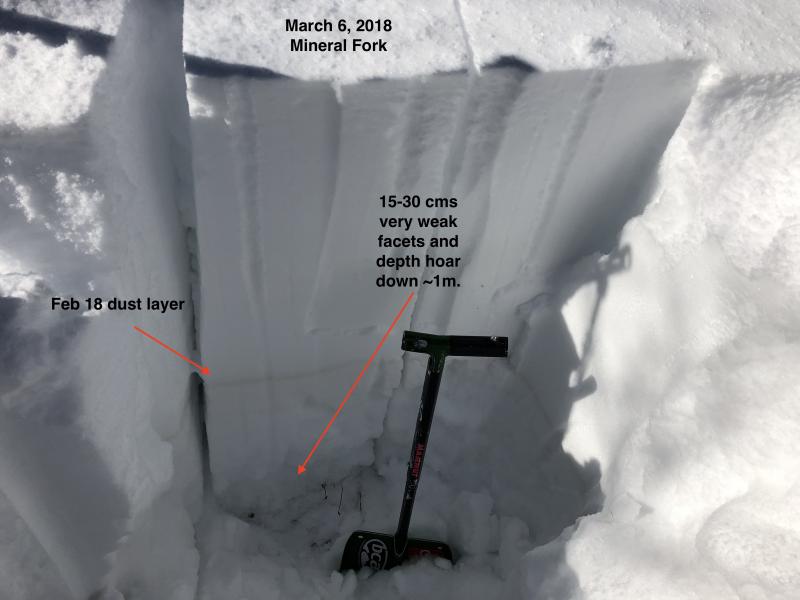 Other than some evidence of sluffing during Sunday's storm, no signs of avalanching from the views I got of the big terrain in Mill B, Broads, and upper Mineral. We had exited the canyon by late morning, so very possible wet loose occurred during the afternoon. [Photo Andrew Reich]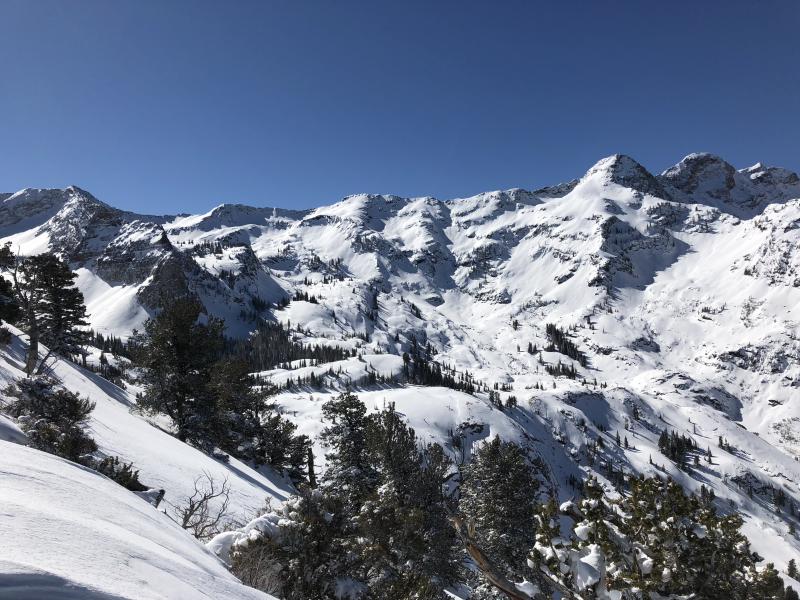 Snow Profile Coordinates: