Observer Name:
T.Matthews S.Zimmermam Wall
Location Name or Route:
Very low on the N. No Name Ridgeline
Comments:
Today we had a White Pine Touring AIARE Rec Level 1 avalanche course out in the field. Within the group we worked on our departure checks. Including transceiver function checks. Verifying that everyone is carrying the necessary rescue equipment. A beacon, shovel and probe. That we are all up for the task of a day spent traveling in the mountains. That we would all travel together and remain within sight of one another. We all agreed we would alert each other, if we saw anything alarming observations. We worked on strategic shoveling practices. Ran our students through multiple companion rescue scenarios. Showed a few informal snowpack test which included a quick hand pit, a kick turn test, probing with ski pole for strong over weak layers. Demo'd a snow pit profile. Using their field books the students learned how to take snow pit profile observations. Site location, aspect, elevation, slope angle, Demo'd how to run through the process of layer I.D. Ran through hand hardness assessment. Showed the group a couple of snowpack tests including an informal STT, a CT and an ECT with a emphasis on tying these test results gathered in the pit back to the UAC bulletin's forecasted avalanche problem types. Overall a great day with a very engaged group of students.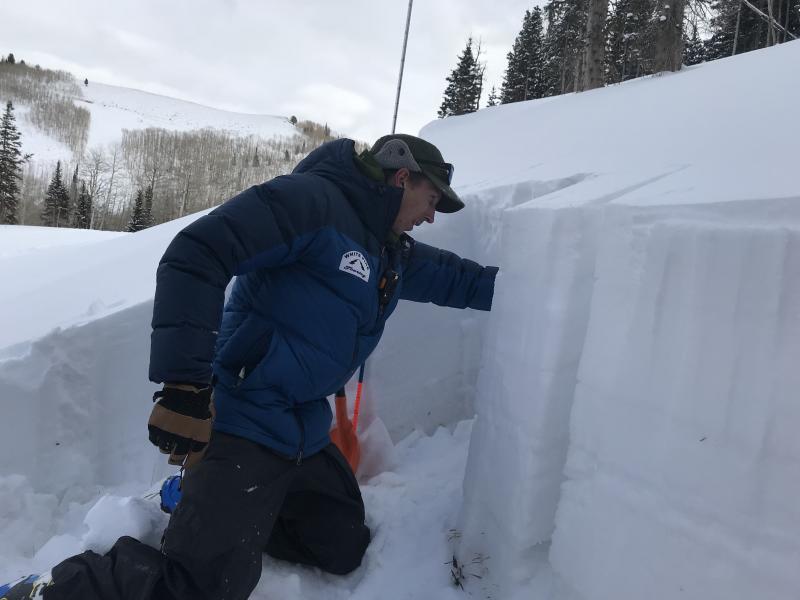 Snow Profile Coordinates: