Location Name or Route:
Reynolds Peak, The Nipple
Comments:
Skied the NE face of Reynolds first this morning knowing that there was a hard bed surface with no underlying facets, you could still feel old ski tracks from before the storm. We then moved on to a lower angle N facing slope off of Reynolds which still has the suspect snow structure but was not steep enough to slide, all you have to do on these N facing slopes is shove your pole into the snow-pack and when it hits air (facets) you know the structure is bad. We then moved on to the Nipple in Butler, which was kinda the some deal dust on crust but not holding much facets in the basement. We did not experience any cracking or collapsing but that doesn't prove anything right now. A couple of my best friends were involved in the avalanche in the Meadow Chutes today, between them they have about 50 plus years experience in the Wasatch backcountry and it just goes to show that this season is tricky and dangerous and the mountains don't care how much experience you have, weak snow pack structure are not to be trusted.
Photo: Cracking in the cornice formed by the SW winds on the NE face of Reynolds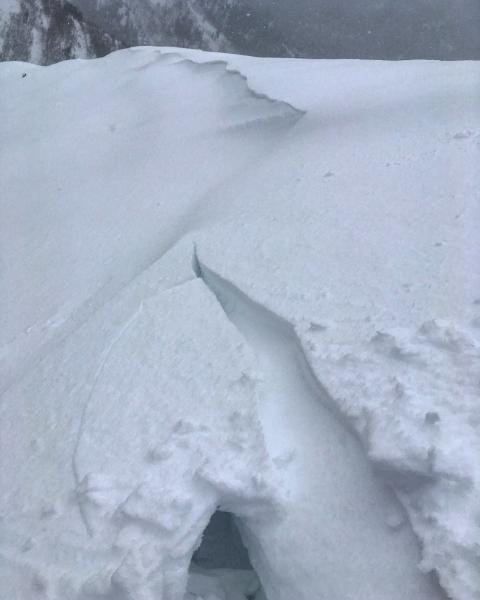 Snow Profile Coordinates: