Comments:
Figured it was time to get on Cardiac Ridge before the next storm to see how the snow pack was, to my knowledge the Ridge proper has not been skied since the storm around Christmas Eve. The snow on the SE facing was damp but not as damp as you would think it would be with todays warm temperatures, the sun angle still is not high enough to produce a lot of wet activity. Once we broke trail to the hot spot [thermal], keeping the track mostly on the SE aspect, we ventured out onto the E facing just below the ridge line, this is where we knew the snow-pack structure would change from the S facing benign structure to the persistent slab environment of the E-NE aspects. Cautiously working my way out on the E facing I realized with pole probes that the slab on top of the facets was not much of a slab anymore, you could still feel it but it has faceted out and relaxed quite a bit from what I was seeing earlier in the week. We elected not to go the last 20ft to the ridge line to avoid any thin rocky spots that might be problematic. No cracking or collapsing was experienced breaking trail or traversing out on the ridge proper. The surface of the snow is loose and faceted and will probably not hold much of a load when tomorrows storm hits.
Photos: minimal wet activity on the SE facing even though the temps were balmy, surface surviving the heat down to 9000ft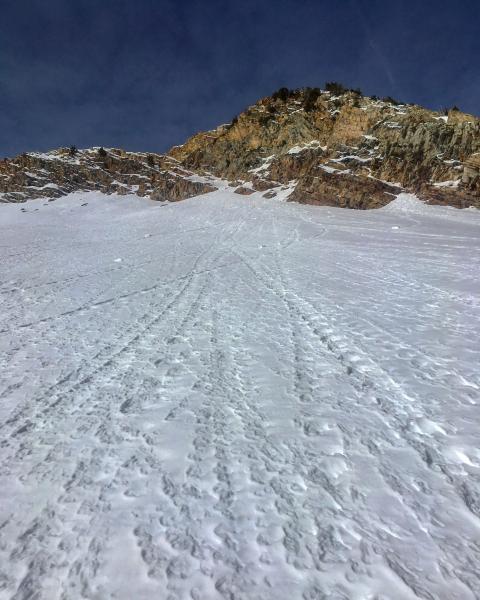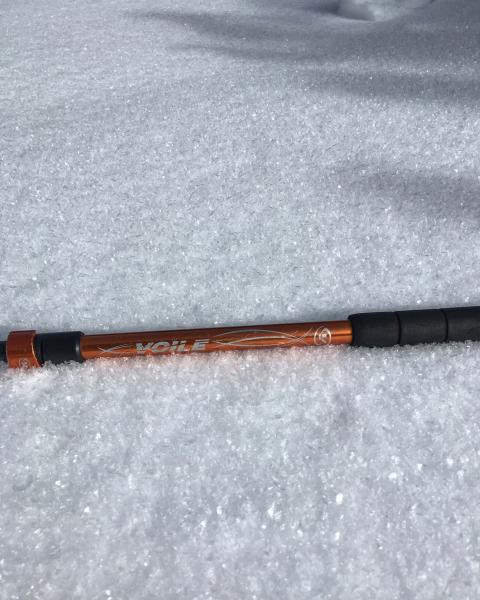 Moderate for now Considerable when the wind speeds increase and the storm rolls in.
And just a FYI quarter lapping the bottom of a big run like Cardiac ridge is frowned on by most of the BC community
Snow Profile Coordinates: