Comments:
I was expecting to see more signs of instability but didn't see much. No old slides observed. This small test slope was really the only sign I noted in my travels today.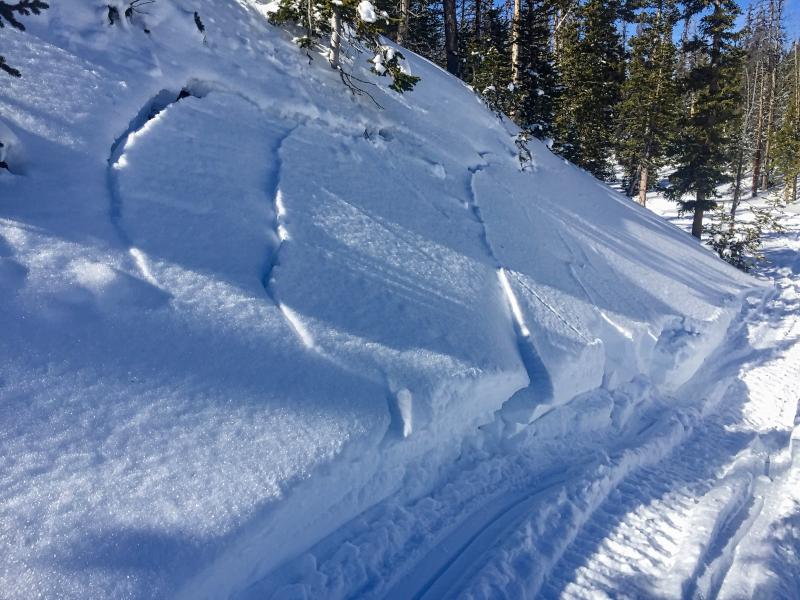 Melt freeze crust about 66cms (26") down. Small grain facets above crust and large (2-3mm) grains below.
Cruised around in the alpine today and found about 3 to 4 feet of total snow. Still lots of rocks but the terrain is starting to fill in. As usual for the Uintas, saw lot of signs of wind with many slopes blown bare down to rock. I was a bit surprised to not see signs of recent avalanches. Sleds have been high pointing on the north aspect of Murdock Mountain with no "results".
My snow stability tests varied as to where they failed but CT's and ECT's were failing with moderate effort and fairly clean shears. Failures in tests were within and just below the Christmas storm, as well as deeper in the pack in the well developed large grain facets. I feel like the conditions are getting a little trickier now that the upper portion of the pack has become more cohesive. The fact of the matter is that we have poor snowpack structure but it feels pretty good underneathyou. When you're traveling around and the snow "feels" good and you don't see much in the way of instabilities, it's easy to get into a position where you are more exposed and all it takes is finding that trigger point to collapse the slope.
I still think the avalanche danger is considerable on steep slopes facing the north half of the compass especially in the wind zone and in areas where the snowpack is shallower. High consequence scenario with slides most likely taking out most of the season's snow and having to take a ride over rock, stumps and downed trees.
Snow Profile Coordinates: