Comments:
Was interested in two things today:
(1) Is the Thanksgiving crust (now buried 10-20 cms or 4-8" down) showing any signs of deteriorating?
(2) How weak is the snow on top of the crust.
Answer to (1) is that, despite the thin snowpack, the crust is still a supportable 1-2 cm layer with very weak faceted snow and depth hoar below.
Answer to (2) is that there is weak faceted snow on top of the crust on southwest through southeast aspects.
(This is similar to what I was seeing on Saturday in the Brighton backcountry.)
With possible storms arriving midweek, there are plenty of weaknesses in the snowpack to pay attention to - take your pick.
What is especially concerning is the Thanksgiving crust, and this may complicate any upcoming avalanche problems. Despite 3+ weeks of prime faceting conditions with a very thin snowpack, the crust remains supportable and with weak snow both above and especially below the crust. General concerns are:
- The crust is widespread and may connect slopes, possibly creating larger/wider avalanching.
- The crust may support (or bridge) weaknesses below, and failures may occur in the faceted snow above the crust, with the crust acting as a bed surface.
- Where the snow on top of the crust isn't as weak, the crust may support a stronger load, but only until it reaches a tipping point and fails in the facets and depth hoar down near the ground, creating larger avalanching.
Compression tests Saturday and Sunday were producing failures in a variety of faceted layers below the Thanksgiving crust. No propagation with ECTs.
Regardless, any pre-existing snow has some weaknesses, and once we get a sufficient load on top we can expect widespread avalanches. With our predominant persistent weaknesses in the snowpack, these may be triggered remotely from lower-angled terrain.
Once we place a large enough load on our snowpack, the only go-to terrain will be south aspects and lower-elevation terrain that currently do not hold pre-existing snow.
Photos and video of snowpack structure, with focus on Thanksgiving crust.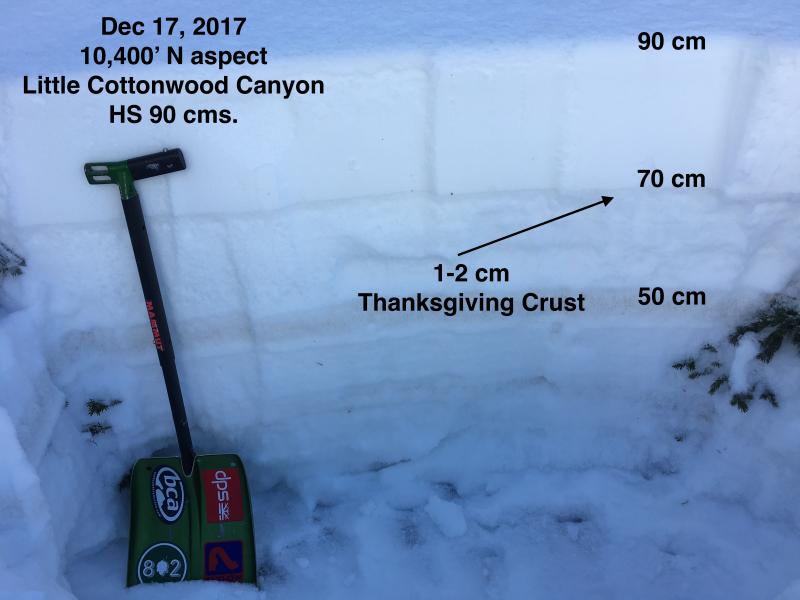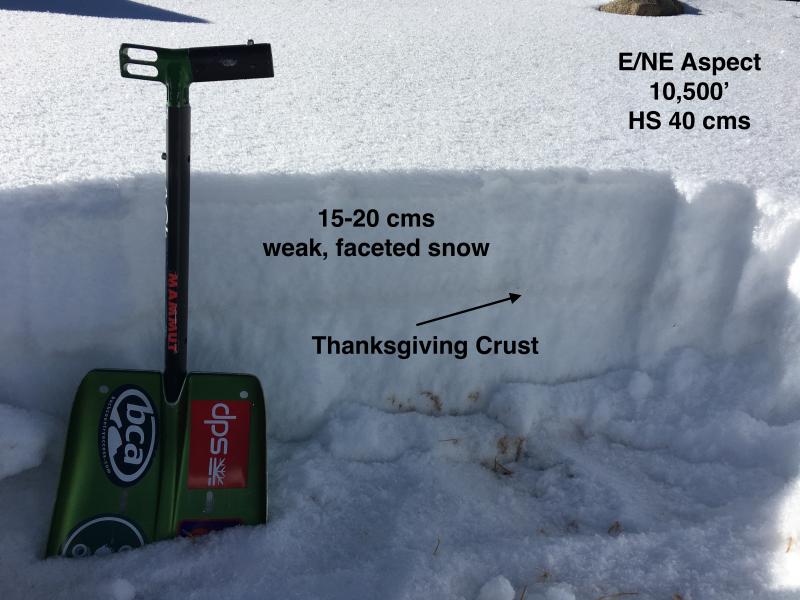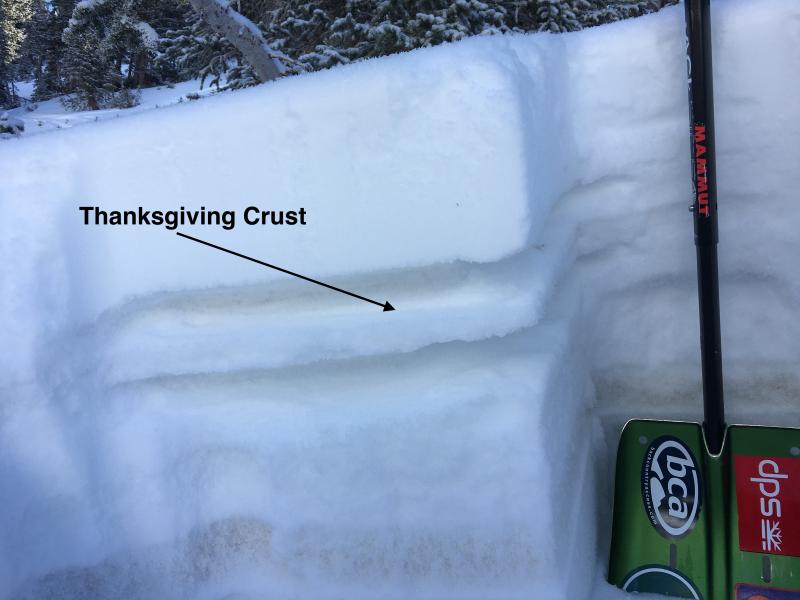 Snow Profile Coordinates: