Location Name or Route:
Big Springs, South Fork of Provo Canyon
Comments:
Overall stability is good, and I found that the low hazard forecasted for the day was accurate. South facing slopes up to 9500 feet received enough heating yesterday to consolidate and refreeze into a supportable surface. On the north facing slopes that held powder, there was no evidence of instability from isolated columns, ski cuts, and skiing in 35 degree terrain. There were widespread wind crusts, but they were shallow and breakable, 1-2 inches in depth and not an avalanche hazard, just poor skiing!
On north facing slopes there is ~16 inches of new snow on top of the mid-March consolidated surface (which is effectively the ground). Within that 16 inches, there is a shear plane that is visibile, but does not produce clean shears in tests. Small facets are visible in this layer, but it isn't overburdened at the moment, and I think it will heal before it gets another load on it this weekend. But I would be looking for it once it snows again.
Wind was out of the north today, but I observed no snow transport.
Also of interest (although probably primarily academic), is the widespread shallow slab avalanches that I observed around 8500-9000 feet. There were probably a dozen, all on the same aspect and elevation band, that probably ran yesterday. I have attached a picture of one of them. They appear to be only 3-4 inches in depth, but they were wide enough that they could have potentially buried a person, even if not deeply. I suspect they ran yesterday when the sun came out, and it appeared that the hazard was diminished by heating and refreezing overnight, because skiing similar slopes did not produce an signs of instability. Still, it was interesting and a reminder that "low doesn't mean no", and shallow slabs can still pack a punch if they propagate wide enough.
Bottom line: low hazard on all aspects up to the observed elevation of 9500 feet. Hazard will be low again tomorrow, with a rising danger of wet avalanches as it finally warms up (this will be the first warm day since the last snow event, so there will be new snow that could be shed as it warms up). North facing slopes should provide decent powder skiing with low slab avalanche hazard.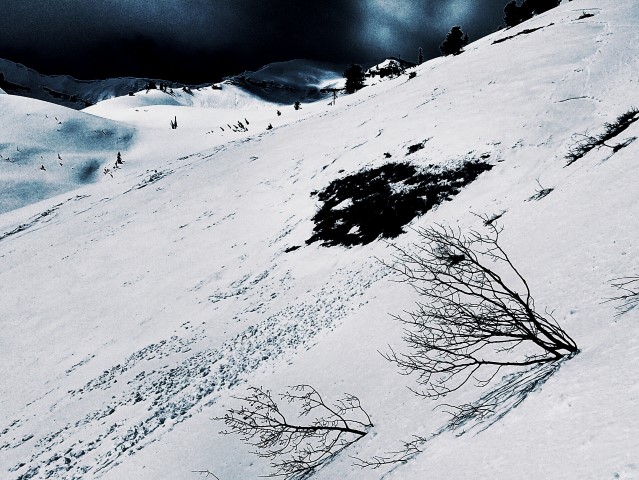 Snow Profile Coordinates: