Comments:
I was surprised at how little point release action we saw today. Yesterday there was wind at upper elevations and that kept all aspects cool enough but today no wind to speak of. With an inversion here in the Ogden Valley we are seeing ok freeze at lower elevations but as you climb so does the temp. Some mid elevation today at 6 a.m. were only to the 40's.
What I am worried about is the very superficial freeze that we are seeing out there. Only the top 4 inches at mid and upper elevations froze. The only reason for this was our super clear nights cooling down the snow surface. In areas with tree cover even north aspects around 8,000 feet were still very wet and you could create small point release with pole.
All and all I have been surprised by the great snow and actually cool snow surface. I was in the shed by high noon today so I am really unsure what happened later. I am planning on starting my day substantially earlier tomorrow because I am worried about the lack of cool down tonight.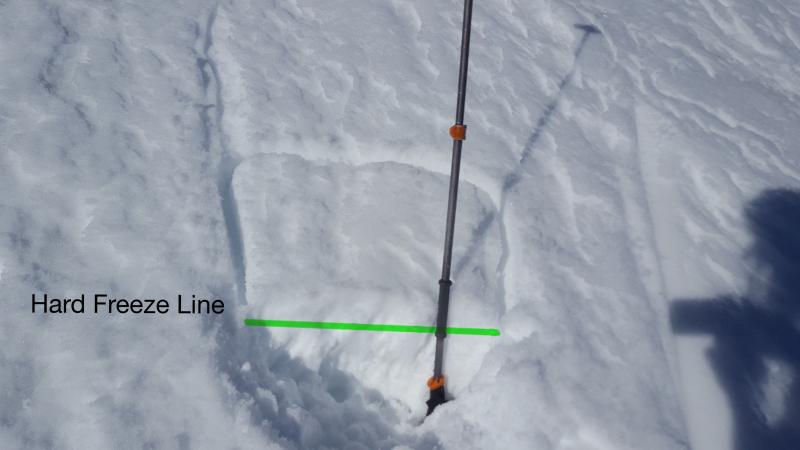 Quick on the go pole tests to look for wet loose activity. Globulating as I called it today (Very Technical Terminology). This is around 8,000 ft at 11:00am SE aspect.
On a very separate note non-observational.
If you enjoy to recreate in the Farmington Canyon area the Forest Service is asking for public comment on winter motorized access to Farmington Canyon road. The current plan is to close the road for all motorized access from November 1 to June 15. That means no Snowmobile, Tracked ATV, or Snowbike access to that area for that period of time. Human powered access will still be allowed during those months. I understand that this area is difficult to access as is due to lack of snow at lower elevations since the road was closed in the winter about 5 years ago. If you enjoy recreating in the Farmington Canyon area or have a stance on use please contact the Forest Service at 801-222-2103.
Sorry about the public message but this seems pertinent to Ogden area winter recreation users.
Snow Profile Coordinates: