Comments:
General snowpack observation from 2 days of skiing in Snake Creek and Aspen Grove: at the mid elevations the saturated layer underneath the top 6 inches of powder is freezing and consolidating nicely. I have not found a place yet where it isn't supportable (sticking to mostly N and E facing slopes... this may not be the case on S facing, which I have avoided). The frozen layer is 4-6 inches thick and feels incredibly solid. I am always wary of "bridging" but in this case, I am trusting it in areas where I can feel it. Below the frozen layer another 4-6 inches of saturated snow. Below that is older well consolidated snow. The snow I have observed at the mid elevations is generally stable in terms of deep slab avalanches.
Surface snow, however, is a mixed bag and contains some hazardous elements, although they mostly lack punch and are of the manageable variety. As noted above, I observed cracking (see photo) in some recent wind deposition about 2/3 of the way up Primrose. I was only 3-4 inches thick and didn't pose a threat in that form, but that is quite low down so I would expect the thickness of the deposition to increase with elevation. It is very likely that this snow was deposited on recrystalized facets, so adhesion could be poor.
In the steeper rollovers in the cirque, there were numerous skier triggered sluffs in the top 6 inches of snow. None were of the hazardous variety because the rollovers are short, but the top layer of snow is quite weak and should be treated with caution on longer steep slopes.
Finally, numerous heating-induced wet snow avalanches were observed between 9 and 10am this morning, both on Robert's Horn and 2 sizeable and attention-grabbing avalanches pouring over the cliffs on East Peak (an observation of this was previously submitted by another skier). This is not the time of year to be hanging out under any cliff band, and certainly not the big, "old faithful" avalanche paths like East Peak, or along the N side of the cirque. There is still plenty of snow left to come down with each morning's warming cycle.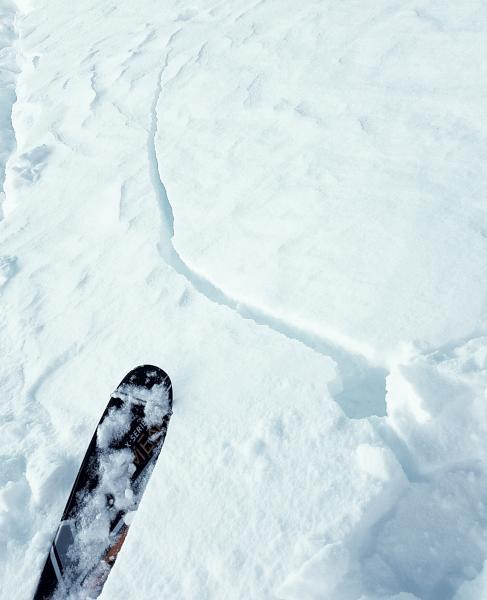 Snow Profile Coordinates: