Location Name or Route:
Laurel Highway > Tele Gold > Gold Basin Moraines
Comments:
Pit Details: East Facing Slope, 33 degrees, 10,200 ft, total pit depth 103.5cm. This pit was on a steep rollover in the moraines in the middle part of Gold Basin. These slopes are seen to the climber's right as you ascend the Gold Basin drainage. I'm happy to report strong snow in this pit location. If you look at the pit profile you can see some thin interfaces between the layers of strong snow. These layers are mostly a mix of graupel and rounding older snow. That storm cycle that began on 1/4 put down and impressive amount of graupel in several different rounds of snowfall. This is seen in between the layers of stronger snow. Some of my pits last week were showing the graupel mixed with facets. Today it is showing the graupel mixed with rounds. This is good news. The graupel pellets will hold their shape for a long time, but it is good to see rounded grains mixed in with them. A quick shovel shear test got shears at 70.5 cm down (Q3) and 28.5 cm down (Q2). The layer at 70.5 cm reacted to a compression test CTE5 Q3. Not many taps, but the shear was irregular and rough. The layer at 28.5 cm did not react to compression testing. I was a little curious about the layer at 70.5cm so I conducted a propagation saw test. I was able to saw all the way through the weak layer and the slab on top did not move. This is a good result. The big picture here is that these test results do not indicate unstable snow in this location. I put some ski cuts on similar steep rollovers in the same area with no signs of instability as well.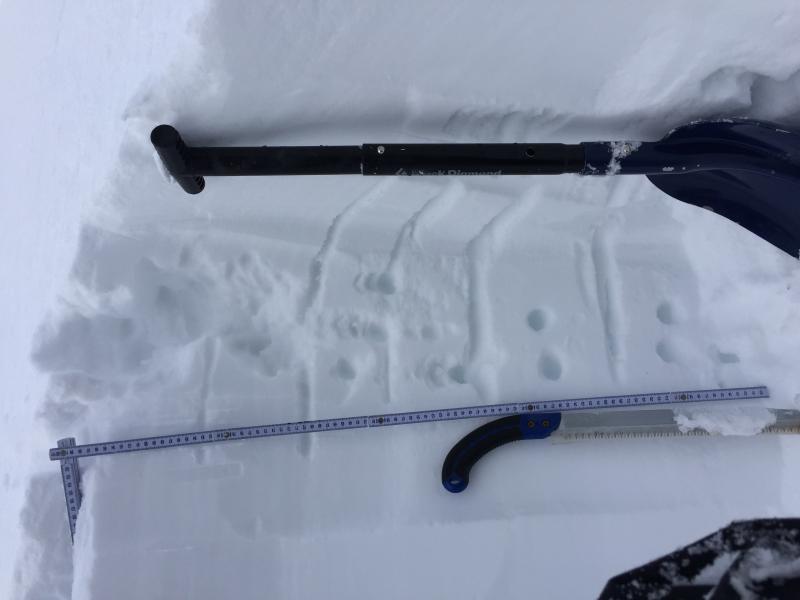 This photo shows the different interfaces between the strong snow. These interfaces showed good strength in today's stability tests.
Check out this big column of strong snow I pulled out. After the layer at 70.5 failed CTE5 Q3, I couldn't get anything below it to fail. I had to work to pull out this big column that was sitting below it.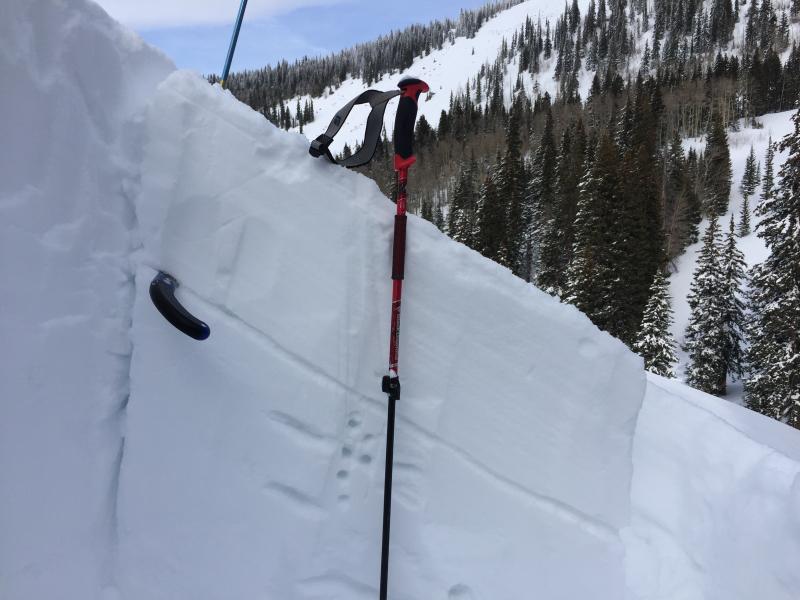 A shot of the propagation saw test. I was able to saw all the way through the suspected weak layer at 70.5 cm, and the slab on top did not move at all.
Snow Profile Coordinates: